Marketing Management Major Assignment – Reebok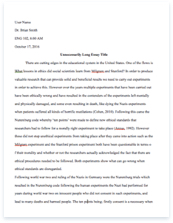 The whole doc is available only for registered users
OPEN DOC
A limited time offer! Get a custom sample essay written according to your requirements urgent 3h delivery guaranteed
Order Now
Reebok's performance and competitiveness in the athletic shoe market is hindered by some base marketing problems. The most fundamental is a long-term problem of ineffectively scanning the environment. This translates to a more short-term problem of either not targeting, or failing to effectively target, the most profitable segments of the athletic shoe market.
Reebok is strongest in the over-45 age segments and weakest in the 12-34 age segments. The over-45 group has the most disposable income, but the 12-34 age groups purchase athletic shoes much more frequently and are willing to spend more on shoes for fashion.
These problems contribute to a secondary problem of an ineffective marketing mix. Reebok is focused more on placing relatively less expensive shoes in department stores and promoting them with weak and confusing promotional campaigns. Nike is the dominant market leader and focuses on placing more expensive and more stylish shoes in athletic stores and supporting them with sustained promotional campaigns that appeal to younger consumers.
Several alternatives are available to address these problems. We have identified three viable alternatives. Of these, we recommend that Reebok defend its current market share in the over-45 age groups and expand market share in the 12-35 age groups. Reebok should realize the buying power of these younger age groups and focus on meeting the needs of these age groups. The marketing strategy should be adjusted to reach the 12-35 age groups by launching a new brand that focuses on the extreme sports market. Reebok should seek product endorsements from well-known, successful and respected extreme sports athletes and role models. Pricing strategy should be set at the high end of the market to elevate the perception of the brand's image. Higher prices will enable the company to capitalize on younger consumer's willingness to spend more on shoes.
Major Case Problem/ Issues
Reebok have fundamental marketing problems that hinder their performance in the athletic shoe industry. Long-term strategic problems lead to more immediate short-term problems:
* Long-term: Reebok does not effectively scan the environment in order to determine target markets and marketing-mix strategies. Reebok is slow to respond to developments in the athletic shoe market. Reebok no longer the innovator it was during the 1980s. The company follows the lead of its competitors who claim an early lead in new markets.
* Short-term: Reebok does not effectively target the most profitable segments in the athletic-shoe market. The company is strongest in the 35+ age group segments, who spend the least on athletic shoes, and weak in the younger, more profitable segments. The Reebok brand appeals to women, who on average spend $US7 less per pair of athletic shoes. Due to Reebok's poor environmental scanning, age and gender segmentation are not properly aligned with the most profitable segments of the market.
* Secondary: Reebok has an inefficient marketing mix. Their channel, product, promotion, and price focuses are not properly aligned with those of the market. This is a consequent of poor environmental scanning. Table 1 illustrates the differences between the marketing-mix focuses of Reebok and the athletic shoe market.
The leadership of Reebok is diverse and experienced in the field of sports marketing. The Board of Directors is composed of proven business leaders. Reebok is a 44 year-old company that has enjoyed financial success. Sales of the Reebok brand globally reached $2.5 billion in 2001 (Linnett, 2003) and net income for the December 2002 quarter was over $US16 million. Reebok is currently in a position to execute a change in marketing strategy.
SWOT Analysis
Strengths
Reebok leads the market in the 45-54 and 55+ age segments. Both groups are near the middle of the spending profile for all athletic footwear. Reebok holds a commanding lead in the predominantly female aerobic footwear market at 52%.
The Reebok Development Center is a premium design and manufacturing facility that can put Reebok at the market forefront in technological innovation.
Substantial financial resources at the disposal of Reebok allow the company to exploit economies of scale. By outsourcing production to lower-cost producers, Reebok are able to maintain a high profit margin. (Senthil, 2003)
Reebok has a strong brand image, having been at or near the top of the athletic shoe market for decades as a well-established company and brand. Brands give the seller the opportunity to attract a loyal and profitable set of customers. Strong brands help build corporate image, making it easier to launch new brands and products and gain acceptance by distributors and consumers. (Kotler, 2000)
In February 2003, Reebok introduced a new brand, RBK. The brand will start as the moniker for a street-inspired young men's collection. It will then include other Reebok products, including women's footwear and a new chain of retail outlets. RBK will initially cover about 10% of Reebok's total sales. (Linnett, 2003)
The integrated campaign for RBK, called "Sounds ; Rhythm of Sport," was created by Omnicom Group's Arnell Group. The strategy behind RBK is to associate it with a hip-hop, urban basketball scene, with endorsements from National Basketball Association star Alan Iverson, street ball players from Harlem's Ruckers Park team, and musicians such as Jay-Z, R Kelly and Missy Elliot. RBK has commissioned Arnell to take out Nike said Steve Stoute, head of black music at Universal Music Group's Interscope Records and partner with Arnell Group which will handle event marketing for RBK. (Linnett, 2003)
The RBK logo will not be used for either Reebok's Classic line or any alliance products. RBK will be used for launching leading edge, brand-defining products.
The new logo and hip-hop positioning are intended to compete directly with the Nike brand and its ubiquitous logo. (Linnett, 2003)
Weaknesses
The development process at Reebok is inefficient. The development cycle of 18 months to 3 years is far too large. Reebok is slow to bring new products to the market.
Large gaps exist in Reebok's product line rendering it incomplete with no demographic/psychographic focus and lacking in variance. Reebok has virtually no apparel for kids (except football jerseys) and no shoes aimed at the extreme sports market. Reebok makes golf shoes, but no golf apparel or equipment. Reebok's equipment division in all sporting areas is lacking.
It appears that Reebok has lost its brand identity. The company has changed its image between function and fashion at different points in its history. Reebok has too many images and associated technologies. The frequency of the introduction of these new technologies has diluted Reebok's overall brand image. Although RBK is a new brand, it adds to the stable of Reebok brands and may serve to confuse or dilute Reebok's established brand.
Reebok's short-lived ad campaigns do not provide direction for the company. Consumers have no strong image with which to identify and become confused. Currently Reebok has Shakira (former Pepsi icon turned pop queen) to endorse the Reebok Classic range, Jay-Z (a negro rapper) to promote RBK, Reebok recently signed Venus Williams (February 2003) to promote tennis range yet feature only1 item on their women's tennis apparel page. (Reebok Store, 2003)
Opportunities
Reebok can take advantage of the upward trend toward health consciousness in American society. This trend will expand Reebok's market.
Reebok may increase prices. Prices are relatively low compared to that of Nike and cheapen brand image in the eyes of consumers. Reebok are in a position to exploit the rising alternative and extreme sport markets. The recent popularity explosion of snowboarding, rollerblading, golf and yoga shows potential in the new market.
The portfolio of Reebok signed sports professionals is inferior to that of Nike's. Reebok can elevate their brand image by signing more high-profile teams and athletes.
Traditional sports like basketball have suffered a decline in favour by teens and young adults. This has created a new market for alternative brands, such as Airwalk and Vans. These brands are positioned for targeting the emerging and lucrative alternative pop culture and extreme sports markets. (Advertising, Sales and Promotion, 2003)
Threats
The athletic shoe market is mature, competitive and saturated. The trend in athletic shoes is toward function and fashion. Reebok must work on both fronts to be successful in the new market.
Consumer aggravation with the bad-boy behavior of professional athletes has eroded the effectiveness of traditional sports star endorsements. Further, experts believe consumers are tired of branded products and endorsed sports stars. College students have rallied against exploitation of child labor in Asia and for over commercialization of sports. (Advertising, Sales and Promotion, 2003)
As the majority of Reebok's production capabilities are overseas, the company is subject to foreign politics and trade practices that are out of its control. There is significant debate over responsibilities of corporations. If some companies promote and monitor for higher standards and others do not, does this erode the competitive edge of 'responsible' corporate citizens? The standards implemented and those who set them will have dramatic consequences on the future winners and losers of globalization. (Locke, 2003)
Positioning
The primary problem Reebok faces is one of positioning. This is directly related to its target markets, which are misaligned with the focus targets of the athletic shoe market. Figure 1 shows that Reebok's strengths in age segments lie where Nike, its largest competitor, is the weakest. While Nike dominates the 12- to 34-year old segments, Reebok is strongest in the 45+ age segments. (Gulledge, 2001)
Figure 1: Age Segment Market Share
This may seem like an advantage for Reebok, however Figure 2 shows that the three segments controlled by Nike are the three highest-spending segments in the market (at averages of $53, $51, and $43 per pair), while the three in which Reebok is strongest spend the least, an average of $40.67 per pair.
Figure 2: Age Segment Spending
Reebok's gender target does not coincide with the most profitable target of the market. Reebok's strongest product segments are aerobic and walking shoes, as evidenced by their market shares of 52% and 24%, respectively, in the segments. These segments are traditionally dominated by women. (Gulledge, 2001)
Reebok favors female athletic endorsement. The entire portfolio of Reebok basketball athletes is composed of women and Venus Williams now promotes their tennis shoe collection. Market data shows that women spend about $7 less per pair on athletic shoes than men. (Gulledge, 2001) Although Reebok is the market leader in this target segment, the company is missing potential revenue by ignoring the male segment of the athletic shoe market.
In targeting the female and the older market segments, Reebok have incorrectly evaluated the purchasing habits of these segments. This has thereby caused Reebok to select target markets that are not growing in the same direction as the overall market.
Marketing Mix
Because Reebok is poorly positioned in the market and is not targeting the most profitable market segments, it has an ineffective marketing mix. Their product, promotion, price, and place focuses are not properly aligned with those of the market.
Product
Among athletic footwear categories, Reebok is strongest in the smaller categories and weaker in the larger categories. Its two strongest segments, aerobics (52% share) and walking (24% share) are not in the top six-selling footwear categories. The top three-selling categories-basketball, cross-training, and running-rank 5th, 3rd, and 7th in Reebok's market shares, respectively, at 17%, 20%, and 12%. (Gulledge, 2001) Although the walking and alternative sports categories are growing, they represent a very small portion of the overall athletic shoe market. Because athletic shoes are in the maturity phase of the product life cycle, it is not going to be easy for Reebok to regain the top rank in the market. (Porter, 1985)
Promotion
Reebok does not invest enough in stable athletes or advertising campaigns. Nike outspends all competitors in all types of advertising and its portfolio of successful athletes is unparalleled. Reebok appears to be strong in its Major League Baseball assets, but those in basketball (the strongest category in the athletic shoe market) are all in smaller leagues, the WNBA and the ABL. (Gulledge, 2001)
The average lifespan of a Reebok campaign in the 1990s was less than 2 years, while those of competitors, such as Nike's "Just Do It," lasted throughout the decade and established product identity with consumers. (Gulledge, 2001) Reebok's inconsistent advertising scheme seems to break down at the initial "Visitors" stage of the advertising process (Kotler, 2000). Reebok changes its promotion direction too often to be effective.
Related Topics