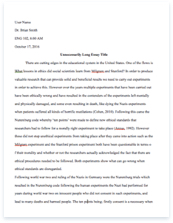 The whole doc is available only for registered users
A limited time offer! Get a custom sample essay written according to your requirements urgent 3h delivery guaranteed
Order Now
Starbucks was founded in the 1970s, opening their first location in 1971 in Seattle's Pike Place. In 1982, Seattle's Best began to sell to restaurants and coffee bars. In 1987, the company's name became Starbucks. The same year stores in Chicago and Canada were opened. In 1988 Starbucks began mail-order sales of their products.
In 1991, Starbucks established a relationship with care an international humanitarian organization, distributing coffee samplers, the beginning of the company's international expansion effort. In 1996, first stores in the Pacific were opened and their product line expanded into food. In 1998-9 expansion continued abroad and distribution efforts were made to include supermarket sales domestically. Further development of stores and product dissemination was continued through 2005.
Today Starbucks sells hot and cold beverages, complementary food items, coffee-related accessories and equipment, teas and other non-food products through retail stores in 37 countries. The company operates primarily in the US, is headquartered in Seattle, Washington and employs about 115,000 people. The company recorded revenues of $6.4 billion during the 2005 fiscal year.
Starbucks has experienced expansion globally, and has created licenses throughout Asia, the Middle East, Africa, and the Americas, and maintains a 40% market share internationally.
The goal of the company is to create brand awareness through the Starbucks Experience. This experience translates well, helping folks start their day with an aromatic cup of coffee, pleasant customer service, and each person's finding a niche while enjoying their favorite drink and listen to music or read a book. While language and culture may vary, the experience is universal, creating a positive encounter and consumers who will return over and again.
Recently, the company has realized increasing financial sales and market share (See Appendix 1). Starbucks has found global appeal, even in tea drinking countries such as China and the UK. Therefore, they should continue expanding their product line and number of stores to increase exposure in the burgeoning global market, hedging revenue gains versus domestic saturation and economic downturn.
Starbucks' customers are generally well educated, in the upper middle socioeconomic class, health aware, and up with the latest trends. Keeping this demographic satisfied is paramount to this company's success. Further, Starbucks should innovate more drinks and complementary products. This is one of this company's strengths and must continue to do so to maintain global superiority.
Starbucks has much competition internationally for the consumer's money. A few are Dunkin Donuts, Diedrich also known as Gloria Jean, and Caffe Nero. While domestically there is no doubt who the leader is in this market, their competition is gaining international share more rapidly and outperforming Starbucks in many benchmarks. Moreover, Starbucks Corp. must continue to streamline their processes and train their employees. The company's human resources produce significantly lower than industry average, and the aforementioned competition, in revenue per employee. Customers will not wait for poor service. They will go down the street to Dunkin Donuts or some other purveyor for a cup of specialty coffee. Slow service relates into lost customers and revenue, and this should be of significant attention to Starbucks management while maintaining the "Experience".
Furthermore, Starbucks must continue to expand their distribution arrangements domestically, if they are to meeting their objective of becoming the best and largest purveyor of specialty coffee products in the world. While they currently have successful domestic delivery through grocery stores, foodservice, and giants such as Kraft, PepsiCo, Japan's Sazaby Inc., and Dryers, they must find ways into more grocery stores, foodservice distribution as well as more introductions with the North American Coffee Partnership to proliferate the Starbucks brand.
Additionally, they must find ways to control Green Bean Coffee prices through more cooperative agreements with farmers internationally and should consider domestically growing their own beans, limiting some of the potential causes of price fluctuations such as volatile economic and political climates. Another consideration is to bundle food with specialty drinks or either with value-added services. Lastly, this company should expand into tea beverages, particularly in international locations where the beverage is more popular than specialty coffee.
Related Topics