Attributes of a Peace Educator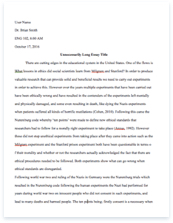 The whole doc is available only for registered users
Pages: 2
Word count: 433
Category: Peace
A limited time offer! Get a custom sample essay written according to your requirements urgent 3h delivery guaranteed
Order Now
A Transformative Response To Major Societal Stages "Attributes of a Peace Educator" "The medium Is the message. " This phrase – trom the book: understanding the Media by Marshall McLuhan – as used in a school setting, says that teachers has the ability to affect the lives of children. Students look at the teacher as a representation of what they should be in the future, The attributes, values, and actions of their teacher are the ones who can help them learn better. Indeed, teachers must be a good model for the qualities and skills that they will develop in their students.
In order for a person to make a change Into other, he himself must make the first change ( Lantlerl and Pattl:1996). According to Betty Reardon (2001), a globally renowned peace educator, the following are the attributes that a teacher of peace must possess: * A teacher of peace is a responsible global citizen. an intentional agent of a culture of peace. a person of vision. capable of hope and the imaging of positive change * She is otivated by service and is actively involved in the community.
She is a life-long learner. She Is both a transmitter and transformer of cultures. * she Is a seeker of mutually enhancing relationships that nurture peace and a sense of community. * She's gender sensitive and alert to any possibility of gender bias in self or students. * A teacher of peace intentionally develops the capacity to care by knowing the learners in their charge as individuals, * She is an inquirer, * She has the skills of reflective learning through which she applies what is learned rom teaching to deepen her own understanding of the students and the learning process.
A teacher of peace has the skills of communication and conflict resolution. * she pracuces cooperauve learning by encouraging cooperauve learning tasks and discouraging negative competition or in-group – out-group behaviour among students. * A teacher of peace inspires understanding of alternative possibilities for the future and for the culture of peace. These attributes are neither exhaustive nor definitive.
It can and will grow as we elve deeper Into our own concepts of peace, peace education, and a peace teacher. All we need to remember Is that It Is best to start our Journey as a peace educator with our own personal or Inner transformation. "Toward a Whole School Approach" In a whole school approach, we try to engage all the learning areas, all the members of the school community and the wider community. It is important because the peace ' reinforce and facilitate the intended learning.
Related Topics