Positionning Analysis Herborist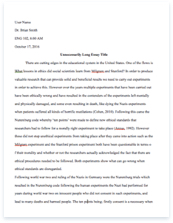 The whole doc is available only for registered users
A limited time offer! Get a custom sample essay written according to your requirements urgent 3h delivery guaranteed
Order Now
Herborist determined high-end positioning in the market from the beginning, and thus formed a complete set of brand-building system, use the herbal beauty theory concept as core characteristic, with "store + Spa + counter" trinity marketing network, member activities and member publications as the carrier to establish customer relationships. They also combined fresh and natural factors, highly China culture and advertising style.
Segment of customers : (for Europe : France and Italia )
The respondents are divided into four age groups. The division of age group is based on the situation of their skin. Young people under 17 years need only basic cosmetic care for their skins. The people at the age group from 18 to 25 years need deep cosmetic care for their skin because their skin is changing to mature skin. The ages from 26 to 35 need deeper cosmetic care because their skin already needs special treatment to maintain youthful appearance. The ages over 36 years old need overall cosmetic care to prevent any damages caused by growing old. The survey results show the main age groups of respondents are the age covering from 18 to 25 and from 26 to 35, in which the number of respondents is 151 and 187. Next age group is over 36 years old and the number of respondents is 98. And the number of respondents in age group under 17 is 20. This chart shows that the main age groups of respondents are the age covering from 18 to 25 and from 26 to 35. So the young and the middle-aged people pay more attention to cosmetics products than other age groups. They are the main consumer group for cosmetic industry. Thus, they could be the target customer group for Herborist.
These figures can help to find out the potential consumers' average monthly incomes and it would be useful for Herborist to make reasonable product price.
The results show that the most common places to buy the cosmetics are cosmetics counters and supermarkets which have separately 145 and 137 respondents. 21 percent of respondents chose brand outlet stores with the number of 98. 53 respondents chose internet and 23 respondents chose commodity wholesale market. Compared with previous figures, there is no difference between different genders in choosing the place for buying cosmetic products. The buying behavior of different age groups varies to some extent because some young people prefer to buy cosmetics from internet.
The respondents which have used Chinese herbal medicine cosmetics before are mostly middle-aged people with high income. There are also some young people who bought Herborist products according to their friends' recommendation. It shows that, Herborist still has a big potential market to extend because only a few people who have used Chinese herbal medicine cosmetics before. However, because of the same reason, it will be a challenge for Herborist to increase their brand awareness and to attract more people to use Chinese herbal medicine cosmetics.
The statistics show that there are many people who are interested in Herborist products. Among these, young respondents are more interested in Herborist products than middle aged and older people. Finally there is no difference between men and women.
The feedback shows that, young people would like to get the information from magazines and internet. Middle- aged respondents refer to get the information from TV advertising and sales promotion. The aim of this question is to help Herborist to find out their main sales channels.
From the feedback of the question, most young people chose ―Beauty salon and lectures‖ and lots of middle-age people chose ―Promotion activities‖. It requires Herborist pay more attention on after-sales service to attract more customers. Promotion activities and beauty salon and lectures will be good choices.
Feedback :
Through comprehensive analysis of the questionnaires' feedback, several conclusions can be summarized as the basic information for Herborist's international marketing strategy: 1) Target consumers: the target consumers for Herborist are from 17 to 40 year- old female, with middle level income. 2) Sales channel: most consumers buy cosmetics from cosmetic counters in the department stores or supermarkets. 3) Price position: the acceptable price is between 5 and 20 euro for 100ml. 4) Channels for sale promotion: most consumers would like to get information on Herborist from internet, magazine and TV advertising. 5) Key factors on sale promotion: according to the feedback, it can be concluded some factors which may affect sales promotion, that is, effectiveness of the products, price and brand reputation.
As Herborist does not have the ability to develop business in very many European countries at the same time, market segmentation seems important at present. Because Herborist has already developed its business in France, it has a certain brand reputation and consumer base there. France can be recommended as Herborist's European market center. Herborist should apply new sales channel to consolidate the French market. On the other hand, also neighboring countries be considered, such as Italy.
From the SWOT analysis we can conclude as follows:
1) Herborist should insist counter plus store plus SPA channel as well as apply Chinese culture in order to create a unique brand style. 2) Herborist should make good use of their professional research and development team to develop innovative cosmetics and meet the various needs of consumer. 3) Herborist has to develop a new sales channel and separate from Sephora. 4) As soon as Herborist has certain foundation in France, it can think about using France as their European market center. Only by having a fixed customer base they have chance to expand step by step.
Related Topics