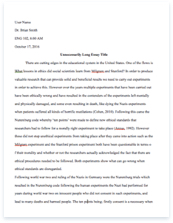 The whole doc is available only for registered users
A limited time offer! Get a custom sample essay written according to your requirements urgent 3h delivery guaranteed
Order Now
     Three days before Christmas in 1994, Anthony Baez and his three brothers were in front of their family home, located at Cameron Place – University Heights section of the Bronx, playing catch with a football.   While tossing the football between them, the ball gets away and hits a police car sitting nearby.  Upon impact and angry police officer, Francis Livoti, springs from his car to assess the situation.  Livoti, who was joined by other officers begin arguing with the four brothers and this leads to a scuffle with Anthony Baez, one of the three brothers involved in the scuffle.  Officer Livoti, who had 14 prior complaints of police brutality against him, places an illegal chokehold on Anthony during the scuffle and continued the chokehold until Baez lost consciousness.  While unconscious, face down on the pavement offers continue to hold Baez and put him into handcuffs. (Revolutionary Worker, 1998)  The Baez family was outraged and cried out for officers to call for an ambulance, however they did not.  (Garcia & Rivera, 1999)  Anthony Baez would never regain consciousness; on December 22, 1994 his life would come to an end.   (Revolutionary Worker, 1998)
   After Anthony's murder the family had to fight to get the legal system of New York to bring Officer Livoti to trial.  Prior to Anthony's burial the family began staging demonstrations outside of the New York Police Department to draw attention to this unnecessary crime.  As the family and close friends demonstrated their disgust surrounding the crime, police officers would walk by and laugh and insult their attempts to bring justice to such a horrific crime.  The Civilian Complaint Review Board would not make a case against Livoti and the community continued its rage.  (Butterfield, 1998)  On March 25, 1995 – 3 months after the death of Anthony Baez – Officer Francis Livoti was indicted for the murder.  (Revolutionary Worker, 1998)
     This indictment was to the credit of the efforts of the Baez family and their supporters, however unfortunately their fight was not over.  The first indictment was thrown out do to a "typographical error" and again the family had to stand up and force the system to take notice.  After Baez's family "occupied the Bronx DA's office" another indictment was issued, however this indictment charged Livoti with "criminally negligent homicide" with a maximum charge of one to four years in prison. (Revolutionary Worker, 1998)
     In September 1996 Livoti's trial began and the police officer immediately waived a jury trial as Bronx juries are "known for not believing the lies of the police."  (Revolutionary Worker, 1998)  Judge Gerald Sheindland would be assigned and he immediately ruled that the "14 prior complaints of brutality against Livito were irrelevant."  (Revolutionary Worker, 1998)  According to a staff writer for the Revolutionary Worker Judge Sheindlin "ignored the testimony of the Baez family and six medical experts, including the city's own medical examiner.  He ignored the testimony of one cop whose story was consistent with the medical experts and that of the Baez family."  (Revolutionary Worker, 1998)  As a result, Anthony Baez's murder was ruled a "tragic, unnecessary and avoidable" and Sheindlin would rule that the prosecution would not prove this case murder beyond a reasonable doubt.   (Revolutionary Worker, 1998)  After the trial, New York Mayor Rudy Giuliani would publicly support the court's ruling.
     This ruling outraged the Latino Community and Baez's family – all refused to sit silent.  Iris Baez, Anthony's mother not only came to actively defend her son's murder at the hands of the police; she became an "outspoken opponent of racist police brutality."  (Butterfield, 1998)  Mrs. Baez "led a grass-roots campaign" to bring her son's murderer to justice.  (Garcia & Rivera, 1999)
     In December 1996, Francil Livoti would once again return to trial alongside the New York Police Department in a civil lawsuit brought about by the Baez family.  During this court battle the City of New York, an institution that stood behind the corrupt officer during his criminal trial, did not claim responsibility for Livoti's actions because the officer "was not acting in furtherance of city business but for furtherance of his own business."  The city also claimed that Livoti's actions were "beyond the copy of his duty" as a police officer.  (Revolutionary Worker, 1998)
     In October of 1997, Livoti was convicted of assault and reckless endangerment in another case.  This particular case surrounded a teenager who had been slapped by the officer.  Again, this attracted attention to this officer's history of brutality against the people of New York – Livoti received his second indictment in the murder of Anthony Baez on February 13, 1998.   (Butterfield, 1998)
     During this trial Federal prosecutors revealed that there had been a "broad cover-up by police" as the three police officers with Livtoi during Baez's murder did not reveal the truth behind the murder.  These same prosecutors also illustrated that there had been 9 brutality complaints "lodged against Livoti before the murder of Anthony Baez."   (Butterfield, 1998)      The prosecutors also revealed that Livoti's dismissal from the New York Police Department was not due to the institution's concern for the victims he had harmed during his employment, it was merely due to the fact that protestors had gathered together to force the NYPD to make the right decision. (Butterfield, 1998)
     On June 26, 1998 – four years after the death of Anthony Baez – Francis Livoti was found guilty of violating Baez's civil rights.  This was not the only positive result from the trial.  The corruption and dishonesty of Livoti's first trial would surface and what was unjust would be rectified.  The prosecution would be labeled corrupt and Mary Jo White, prosecutor for the defense in the original trial, would be charged in a NYPD cover up.  The two officers who had originally testified in the defense of Francis Livoti would be charged with perjury.
     After the close of the trial, a juror who spoke anonymously was quoted as saying, "All three [of the cops] lied.  It wasn't that they were trying to cover up for Livoti, but for themselves, because if they were witnesses to a crime, they were conspirators in the act."  (Butterfield, 1998)     Other comments would surface after Livoti was convicted in support of the conviction – New York Mayor Giuliani would support federal prosecutors in the conviction and claim that "the system works" for victims who are faced with police brutality.
     Livoti, who at the end of the trial, would be allowed to walk free until his sentencing September 24, 1998.  Though outraged by Livoti's freedom and the fact that the former officer was not convicted of murder, Baez's family felt some type of justice had been served.  On September 24, 1998 Livoti was sentenced to 7 ½ years in prison for violating the rights of Anthony Baez.
     Anthony Baez's murder was an unfortunate result of Mayor Rudy Giuliani's active response to remove "guns and crime off the streets" of New York and in an effort to do so the mayor instructed the NYPD to "get more aggressive" with its tactics.  (Dettelbach, 2000)  This unarmed man was brutally murdered by a man in uniformed charged to uphold the law and the community would not stand by quietly.   Iris Baez, Anthony's mother, began a campaign against police brutality that led to the formation of The Anthony Baez Foundation.  Her active stance against NYPD's history of police brutality brought the abuse of many individuals into the public light.  Prior to Livoti's conviction Iris was described as "articulate, impassioned" and as "leaving no stone unturned" as she put forth a heroic effort to "clear her son's name and see his killer brought to justice."  (Dettelbach, 2000)  While she was not able to bring Anthony back, she set out to hold the New York City Police Department accountable for the actions of its officers and after a long battle she and family members of other victims of police brutality were successful. (Dettelbach, 2000)
     On May 12, 1999 the New York City Council released The NYPD Blueprint for Reform that provided an outline for improvements within the NYPD.  These improvements were broken into the following categories:  Residency Initiatives, Police Officer Training, Police Accountability and Police/Community Relations.
     The report immediately addressed the fact that a residency requirement be enforced for all NYPD officers.  This requirement was proposed because officers must "have a vested interest in their welfare because they live in them."  (Vallone, 1999, p. 5)  The report maintains that a true sympathetic stance towards residents can be taken if an officer is a direct member of the community he is protecting. Vallone, 1999, p. 5)
     Educational assistance programs were imposed that not only required officers receive further education directly associated with their chosen field of employment but also provided financial assistance to do so.  The council believed that "college educated officers are an asset to the NYPD."  This educational requirement also requires officers to receive further education prior to promotions.  (Vallone, 1999, p. 9)
     Since many of the police brutality incidents were due to racial prejudices the council felt that in order to eliminate these hate crimes, they must directly address the issue.  Looking at the statistics the council found that only 39% of New York City was white and that was a significant contrast to the NYPD, which had a 67.5% of white officers.  Efforts to recruit minority officers were actively pursued with hopes that this racial prejudice would stop.  (Vallone, 1999, p. 13)  Other imposed changes required outside consultants to be called in to evaluate and study "all phases of NYPD training" and new requirements were set forth for in-service training.  (Vallone, 1999, p. 14)
     Perhaps the most relevant to the crimes of police brutality were the policies implemented within the department that pertained to Police Accountability.  New regulations were established for civilian complaint processing in order to establish that the people of New York believe "they have a means of reporting complaints against officers and that their complaints will be acknowledged and resolved in a timely manner." (Vallone, 1999, p. 14) An Independent Police Investigation and Audit Board was established in order to combat the fact that "officers who cross the line into unacceptable behavior like corruption or brutality find it easier to cross the line into the same or some other area of unacceptable behavior."  (Vallone, 1999, p. 17)  Also, the council established a public survey so that the citizens of New York City can offer their opinion and the NYPD can "ascertain to the degree to which the public is satisfied with the amount and quality of policing in its communities."  (Vallone, 1999, p. 17)
     Taking into consideration the murder of Anthony Baez and other victims of the NYPD police brutality cases the council's purpose was to establish measures that would prevent and ensure that these tragedies never happen again.  The implementation of the suggestions provided in this blueprint lessened the "outpouring of anguish and frustration" that came to exist between the NYPD and its communities.  (Vallone, 1999, p. 5)  Activists such as Iris Baez continue to fight for the rights of those unjustly abused by the hands of legal institutions and because of this continuous struggle for justice the system will continue to improve.
References
Butterfield, G. (1998). Community struggle forces conviction of killer cop. Worker's World. Retrieved from http://www.workers.org/ww/1998/livoti0709.php
Dettelbach, C. (2000). Three women seeking justice for 'Every Mother's Son'. JewishNews.com. Retrieved from http://www.clevelandjewishnews.com/articles/2004/08/27/community/editor/ddet0813.txt
Garcia, R., & Rivera, A. (1999). Iris Baez: a mother's cause against brutality. People's Weekly World. Retrieved from http://www.pww.org/past-weeks-1999/A%20mother%20against%20brutality.htm
Revolutionary Worker. (1998, June 21). The NYPD Murder of Anthony Baez. Revolutionary Worker, 962. Retrieved from http://www.rwor.org/a/v20/960-69/962/baez.htm
Vallone, P. F. (1999). The NYPD Blueprint for Reform (Rep.). New York, New York: New York City Council.
Related Topics