Police Brutality in America Definition and Brief History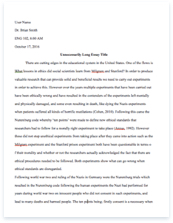 The whole doc is available only for registered users
A limited time offer! Get a custom sample essay written according to your requirements urgent 3h delivery guaranteed
Order Now
Introduction 
For this research, I plan to analyze how "Police Brutality" is defined in America's society. Furthermore, I hope to answer the question: What are some examples of Police Brutality and whom does it affect in society? This annotated bibliography will help to explore various authors articles on Police Brutality, whom it happens to and why it happens. These articles will serve as primary sources to my research. Alang, Sirry.The More Things Change, the More Things Stay the Same: Race, Ethnicity, and Police Brutality.American Journal of Public Health. Sep 2018, Vol. 108 Issue 9, p 1127-1128. 2p. The author, Alang Sirry explains why people are more than likely fear for their lives, especially African Americans and Hispanics when they have an encounter with the police. Sirry went in further to provide evidence of the history behind the fear. He detailed that since the early 1600s, African Americans were always targets to injustice. African slaves would be policed and whipped by their masters. Similar events still translate to the present era when police are paid to monitor and often harm Black people because they are "dangerous". For hispanics, he described that they would be patrolled and are still being patrolled by the police and repatriated for not having documents. They don't consider how dangerous it could be to send them back to a land that they haven't lived in for decades or even at all. The police (ICE) dehumanize them by separating them away from their families like animals. This article is very reliable and included current source and event that still happen. The documents are well documented and include evidence. 
The writing style is also very easy to comprehend. Billings, Colette.Texas Journal on Civil Liberties & Civil Rights. Remedying Police Brutality in America's Public Schools Through Private Structural Reform Under 42 U.S.C. § 1983.Fall 2017, Vol. 23 Issue 1, p55-78. 24p.. The author Colette Billings describes the importance of police patrol in schools. The police are there to protect the students and sustain peace. Unfortunately the reason why there is police brutality comes from many factors. The most important one he discussed was the lack of proper racial training. Police officers are being trained to notice color and not how to identify if the person has mental health or trauma related issues. This leads to misunderstandings and sometimes in very bad cases death because the police officers fear for their life in certain altercations. He suggested that if police training schools could teach the officers how to identify different characteristics and moods the rate of tension would decrease,resulting in less misunderstandings and death. This article is a reliable source and clearly identifies the problems with police and public schools and even gives suggestions to relieve the problem. I think this article was biased, the arthur is being general and didn't write about a certain group of students. However, writing style was also very easy to read and understand. Cooper, Hannah LF.War on Drugs Policing and Police Brutality.Substance Use & Misuse. Jun/Jul 2015, Vol. 50 Issue 8/9, p1188-1194. 7p. Hannah Cooper explains two interconnected topics in this article, drug war and police brutality. She first started by describing the drug war. She writes that the police's strategies to eliminate the drugs have continually failed.
From raids of crack houses and going undercover as a buyer to send the crack sellers to jail,all of them haven't seemed to end crack and other drugs. She does state that compared to the late 1900s the dilemma has decreased. She uses this topic to explain why their is police brutality. One of the things explained was that the policing strategies used on the war on drugs was very violent and was centered mainly on African Americans and Latinos, regardless of the fact that they weren't the only races selling drugs.These events separated many African American and Latino families apart with many of the men behind bars. The author thinks these events were very racist considering the fact that some of the sources giving the minorities the drugs were rich caucasian males. The article was very reliable and included many documents and news events for evidence. The writing format was also very clear and easy to access. Taylor, Jack.'We Are All Oscar Grant': Police Brutality, Death, and the Work of Mourning.Transforming Anthropology. Oct2013, Vol. 21 Issue 2, p 187-197. 11p. In the article Jack Taylor dissected a Anthropology text and gives his opinion about police brutality and how it is justified by state laws. He first starts of the article by explaining that there are two types of anthropological thinkers : Giorgio Agamben and Michel Foucault when it comes to state power and state exception. He further explains that state exception is when the government has certain authority to take away citizens rights. He then continues the article by connecting police brutality with state laws.. " violence of the police has been an ongoing presence in the United States, especially against African Americans. The idea that killable bodies are in fact (re)produced by the law is fundamental to understanding how the deadly side of biopolitics manifests and mobilizes itself against African Americans." This article was pretty reliable because it provided evidence from current events and even included the law in his evidence. However it was biased because he only talked about the anthropological views and cons of African Americans but not how it affects other races. The documents are not really easy to comprehend, I feel Taylor kept jumping from topic to topic.
Mark brown and ann carnahan.police brutality in spotlight sometimes an officer overreacts, says chief, and when one does, 'we all pay a price.Rocky Mountain News (CO), Mar 15, 1991, p8 In this article Mark Brown and Ann Carnahan describe how dangerous it can be for people when a police officer overreacts. They first started off the article by explaining that the levels of police racism and brutality in places like Denver have decreased, however the number of substantiated cases are still up. This is makes it hard to say that there really is a change with police officers making the citizens feel safe and secure when they might be in fear of their lives being taken by the police. The authors then continues by adding examples of police brutality incidents, like in Los Angeles, where some white officers were filmed brutally beating a black man in LA. Finally the authors finish the article by explaining that as a way of punishment for the brutal police officers that terrorize people they only get fired and sometimes are placed on PAID LEAVE, like a slap on the wrist. This article was definitely a reliable article and well documented, they included a lot of news articles and current events for their evidence. The article is really easy to read, they have easy words that you don't have to look the definition up to understand.
Aymer, Samuel R."I can't breathe": A case study—Helping Black men cope with race-related trauma stemming from police killing and brutality. Journal of Human Behavior in the Social Environment. Apr-Jun2016, Vol. 26 Issue 3/4, p 367-376. 10p Samuel wrote a case study that helps victimized African Americans who have been abused from police officers in the past cope. In his case study he starts his abstract by describing what Eric Garner, an unarmed Black man, uttered " I cant breath " during an arrest by the police, who placed him on chokehold and caused his death. The author explained that after this incident happened the judge failed to indict the police officer who killed Mr. Garner, and this sparked civil protests, which birthed the notion "Black Lives Matter". The author then continued by explaining the history of racism African American have witnessed in the history of America. He said that in America's history, violence against Black people occurred during enslavement, Jim Crow, and the civil rights movement. Men, women, and children endured physical, psychological, sexual, and emotional terror. This study was very reliable and well documented, it included a lot of other documents and trusted news services as its evidence. It was really easy to read because it was set up in a Case Study format that had Abstract and evidence. Chaney, cassandra and robertson, ray V.'Can We All Get Along?' Blacks' Historical and Contemporary (In) Justice With Law Enforcement. Western Journal of Black Studies.
Summer 2014, Vol. 38 Issue 2, p 108-122. 15p. In the article the authors first start off by writing about, Rodney Glen King, a black man who endured a brutal beating by Los Angeles Police Department (LAPD) officers on March 3, 1991. They then continue by explaining that after being terrorized by those police officers Rodney King influenced how the public generally perceived the police, he was even quoted " CAN WE ALL GET ALONG " when he was was asked how he felt. He instantly became a catalyst for hope and change against a law enforcement system that has been historically harsh to Black males. The authors also explained why police brutality is an important topic that must be discussed. The first reason they gave was police brutality against people of color, primarily African Americans, remains an ever present and persis­tent problem. The second reason was police departments have increasingly be­come objects of government scrutiny and observation. This study was very reliable and well documented, it included a lot of other documents and trusted news services as its evidence. It was very easy to read and understand what the authors were trying to say. 
Chaney, cassandra; davis, dannielle joy.introduction: 'No Justice, No Peace': Social Unrest in Ferguson.Western Journal of Black Studies. Winter 2015, Vol. 39 Issue 4, p 267-271. 5p. Historical Period: 1894 to 2014. In this article the author, Chaney Cassandra and Dannielle Joy describe the city of Ferguson, located in St. Louis County Missouri was once known for its nickname "Community of Choice" and its motto "Proud Past. Promising Future!" but after the the tragic death of an unarmed Black man, Michael Brown, the national attention given to his death resulted in the word Ferguson being known for police misconduct, violence, and social unrest. The authors then went into detail about the incident and explained that on August 9,2014, Michael Brown, an 18-year old Black man, was fatally shot by Darren Wilson, a white policeman with the Ferguson Police Department. When the news spread the city of Ferguson responded with protests and vandalized a lot of business stores. It got so bad that the FBI had to put matters in their own hands and opened a civil rights inquiry into the shooting of Mr. Brown on August 11th, unfortunately on November 24 of 2014, a grand jury decided it would not indict Wilson for the shooting of Brown.This study was very reliable and well documented, it included a lot of other documents and trusted news services as its evidence. It was very easy to read and I understand what the authors were trying to say. Siff, Sarah Brady.Policing the Police: A Civil Rights Story.Current Events in Historical Perspective. 
May 2016, Vol. 9 Issue 8, p1-14. 14p. Historical Period: ca 1851 to ca 2016. In the article Sarah Siff explained the story of Freddie Gray. He died of injuries sustained while in the custody of Baltimore police. His death was one among several recent cases where African Americans have been killed by police officers, and had prompted serious discussions about policing around the country. The author then details how the problem of 'policing the police' stretches back decades and is rooted in the structure of America's past. America's system has always been racist towards people of color, especially African Americans and there just seems to be no change no matter what action is taken to prevent it. This study was very reliable and well documented, it included a lot of other documents and trusted news services as its evidence. It was very easy to read and I understand what the authors were trying to say. Ellis, Arthur L.Where Is Social Work? Police Brutality and the Inner City.Social Work. Nov 81, Vol. 26 Issue 6, p 511-514. 4p. In the article Ellis Author explains the statistics of police brutality in America and includes that out of the whole population African Americans and other minorities have a high percentage of being shot by the police. This percentage is responsible for increased tensions and violent disturbances in Inner City neighborhoods.The author include a statement made by The Police Foundation reported that blacks comprise 14 percent of the United states but 50 percentage are killed by the police. The police use of deadly force is a big concern and the fact that the government isn't doing anything to change this or taking action to balance the officers for their wrongs make the matters worse and only shows that they don't care about the minorities in America. This study was very reliable and well documented, it included a statements and statistics. It was also very easy to read and I understand what the authors were trying to convey.     
Related Topics