Police Brutality and Racial Prejudice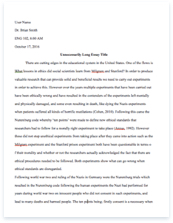 The whole doc is available only for registered users
A limited time offer! Get a custom sample essay written according to your requirements urgent 3h delivery guaranteed
Order Now
Since the establishment of our nation, there has been tension present between the white and black populations. In the eighteenth century it entailed slavery then after the abolishment of slavery during the Restoration period the era of Jim Crow plagued the blacks of the south with racial laws designed to have two separate societies living in the south, one black and one white. The Jim Crow era directly contributed to the police brutality culture that plagues the United States today due to the simple fact that during the 1950s and 60s white police officers would deliberately attack black citizens during protest. Post civil rights era America still witnesses brutal police attacks that are reminiscent to the white slave masters seeking out and abusing their black slaves. The modernized setting and applications of law alter the situation, but at its core, the principals mirror each other. Police brutality in the United States is an epidemic and can only be resolved through investigation, intervention and prevention.
Investigation is significant when finding a resolution for a destructive culture because uncovering the source of hatred and violence allows for it to be stopped at the source. This idea can be compared to dry hair. Dry hair is not going to be fixed if moisture is applied to the split and brittle ends, it will only retain its moisture if it is applied to the scalp. The motive behind the violent attacks by white police officers is vital in resolving this issue. This year a stand up student and recent high school graduate was killed by a white police officer while unarmed. ​The Nation ​writes about the incident when saying 'recent high-school graduate and organizer of his school's walkout for gun violence, read from a poem by Antwon Rose, the 17 year old black teenager who earlier that week was shot in the back by police as he ran away from them, unarmed'(Rosenfeld, 2018). Like much of the police brutality incidents concerning a white officer and a black student, it was senseless and an innocent life was lost for no reason at all. It appears to the public eye that the root cause for this unbridled hatred is racial prejudice. That fact is true but it is not a proper motive. 
According to ​CNN ​the number of police shootings each year in the United States is at approximately one thousand, so the fact is established that the United States has an issue with violent police officers. Further, African Americans and other minorities tend to live in lower income neighborhoods yielding higher crime and police officers who are on the lookout for trouble because of the high crime rate and probably gang presence. Putting racial prejudice aside, the reason why some many African American young men are killed by police is because of the neighborhood they live in and the association that goes along with it. That is when racial prejudice and hatred are intertwined with stereotypes of neighborhoods and group of people. Officer Jeronimo Yanez was acquitted for 'manslaughter in the shooting death of thirty two year old Philando Castile'(​Nodjimbadem, 2017). Large protests were staged after this killing and the reaction to this murder shows that this pre-Biblical era level violence needs to come to an end in the modern age. ​Fundamentally, the motive is neighborhood association and fear of danger the reasoning behind their violence is racial tension and prejudice.
The next step in pursuing a world where black men are not targeted for the color of their skin is intervention. Once the source and reasoning is established, it needs to be applied to an action. This is the stage that is being showcased and publicized in the media as of right now. Protester, politicians and media outlets all give their piece to this matter, creating a mass ball of confusion. In the midst of confusion good point sare being made like in the ​New York Times article written by Matthew Haag speaking about the murder of Tamir Rice. Haag writes 'former Cleveland patrol officer who fatally shot Tamir Rice, a 12 year old boy whose death in 2014
intensified national outrage over the killing of unarmed black men and boys, has been hired by a police department in a small Ohio village' and that he was not charged for the boy's death (Haag, 2018). This dismissal of Officer Loehmann's crime is a clear depiction of how United States lawmakers need to implement stricter laws concerning this matter. Office Loehmann was responsible for the murder of an innocent minor and is allowed to continue working in the industry of law enforcement, that is neither safe or just in the eyes of the law, so why are practices like this allowed to continue? Protesting is a step in the right direction but it is not doing enough to change anything. The intervention needs to come from within. Concerned citizens need to educate themselves then obtain jobs adjacent or in the lawmaking department, changing the system from within. That is the best way that one can intervene and change things for the better.
Once a decent way of intervention, whether through infiltration or speaking out, prevention needs to be encouraged and cemented within the society of this country. Another ​New York Times a​ rticle speaks about how an officer in Chicago shot a black teenager sixteen times and 'three other Chicago police officers were charged with conspiring to cover up the shooting'(2018). Additionally, the epidemic of police brutality has made such an impact it has reached across the globe. 'We haven't seen mayors step up and make clear commitments to eliminate the level of police violence in their communities' making the point that not only the federal government should be paying attention to the violence but so should politicians on a lower level like city mayors. They have more of a direct effect on the community than the President would (2015). Prevention lies within lawmaking and within hiring processes. Police stations and departments should be more mindful when hiring police officers and look past their statistics in the police academy. Personality should be a major factor in hiring an officer, for, they are law enforcers, not oppressors.
Police brutality is something that has deep rooted history in our country. The racial tension established during the colonial days of slavery have never fully disappeared. Yes, the lives of African Americans have improved and more opportunities are available, but the underlying problem needs to be addressed. Police officers, lawmakers and all of those in authority need to be held accountable for their lack of action in this epidemic plaguing the country. The steps towards ending brutality are doable, especially in a community that promotes it.
References
Haag, M. (2018, October 08). Cleveland Officer Who Killed Tamir Rice Is Hired by an Ohio Police Department. Retrieved from ​https://www.nytimes.com/2018/10/08/us/timothy-loehmann- tamir-rice-shooting.html?rref=collection/timestopic/Police Brutality and Misconduct&action= click&contentCollection=timestopics®ion=stream&module=stream_unit&version=latest&conte ntPlacement=20&pgtype=collection

Khazan, O. (2018, May 08). In One Year, 57,375 Years of Life Were Lost to Police Violence. Retrieved from ​https://www.theatlantic.com/health/archive/2018/05/the-57375-years-of-life -lost-to-police-violence/559835/

Nodjimbadem, K. (2017, July 27). The Long, Painful History of Police Brutality in the U.S. Retrieved from ​https://www.smithsonianmag.com/smithsonian-institution/long-painful-history- police-brutality-in-the-us-180964098/

Park, M. (2018, October 03). Police shootings: Trials, convictions are rare for officers. Retrieved from https://www.cnn.com/2017/05/18/us/police-involved-shooting-cases/index.html

Rosenfeld, J. (2018, June 25). Another Black Teen's Death by Police Brutality Drew Hundreds to Protest in Pittsburgh. Retrieved from https://www.thenation.com/article/another-black -teens-death-police-brutality-drew-hundreds-protest-pittsburgh/

The Police Shooting That Rocked Chicago. (2018, October 12). Retrieved from https:// www.nytimes.com/2018/10/12/podcasts/the-daily/laquan-mcdonald-van-dyke-chicago-police-sh ooting-guilty.html?rref=collection/timestopic/Police Brutality and Misconduct&action=click&contentCollection=timestopics®ion=stream&module=stream_unit&version=latest &contentPlacement=16&pgtype=collection

Why do US police keep killing unarmed black men? (2015, May 26). Retrieved from https://www.bbc.com/news/world-us-canada-327405235
Related Topics