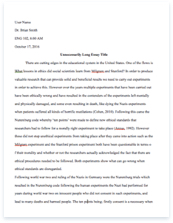 The whole doc is available only for registered users
A limited time offer! Get a custom sample essay written according to your requirements urgent 3h delivery guaranteed
Order Now
"JEM WAS TWELVE. He was difficult to live with, inconsistent, moody…several times he went so far as to tell me what to do…Jem hollered,'It's time you started bein' a girl and acting right!" Chapter 12, pg. 153
The way that scout describes the way Jem is when he turns twelve allows you to know that Jem is growing up. As you get older, you tend not to want to hang out with younger children, and that is what Jem is doing here. As he turns twelve, he thinks that he is more mature than scout and that being older means that he can do what he wants. The point of view allows you to know the theme of coming of age because through the eyes of Scout he is being more rude to her and he has his hormones setting in. He is getting older and feels a certain way towards kids that are younger than him just because he is getting older.
Description/Imagery
"Maycomb was an old town, but it was a tired old town when I first knew it. In rainy weather the streets turned red slop; grass grew on the sidewalks, the courthouse sagged in the square. Somehow it was hotter then: a black dog suffered on a summers day; bony mules hitched to Hoover carts flicked flies in the sweltering shade of the live oaks on the square. Men's stiff collars wilted by nine in the morning. Ladies bathed before noon, after their three-o'clock naps, and by nightfall were like soft teacakes with frostings of sweat and sweet talcum."
The description or imagery that Harper Lee puts into this part allows you to make a wonderful vivid picture in your mind. This vivid picture allows you to see the town of Maycomb. This imagery also gives you some insight into the way that Scout feels about the town.The narrator also has set a mode that has considered to be quiet and a dull town, and sets the stage for the conflict that later comes up in the book of Tom Robinson's trial.
Diction
"As Atticus once advised me to do, I tried to climb into Jem's skin and walk around in it: if I had alone to the Radley Place at two in the morning, my funeral would have been held the next afternoon. So I left Jem alone and tried not to bother him."
The diction in this quote allows you to look at the way the author put these words to make you think about what Scout is saying. This is just one example of many where Scout decides to use Atticus' advice that ends up resolving a problem in her life. Through the diction you tell that the theme of coming of age is presented because she is getting older and with the high maturity she has, you can tell that she has respect for her family. Also the theme of family is presented because of the respect she has for them shown through this quote. 
Related Topics