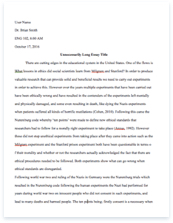 The whole doc is available only for registered users
A limited time offer! Get a custom sample essay written according to your requirements urgent 3h delivery guaranteed
Order Now
1. Why have you chosen this particular profession?
Teaching is not my first profession because I am a Bachelor of Science in Commerce major in Accounting graduate but due to financial constraints, I was not able to take the CPA board exam, so I took the Civil Service Eligibility Test Professional. After passing, I applied for any position in our Municipal Government Office. With God's blessings, I was hired and rendered my service for one and a half years as Civilian clearance Officer. When I got married, somebody pushed and inspired me to take up units in BEED so that I can teach. I took the Professional Board Examination for Teachers and luckily, I've passed. Because of the love and concern I have to the children under my care, enjoyment in my work, lots of blessings from our Almighty God are the rewards. I am saying that I am one of the successful individuals, not in terms of financial gain but in terms of achievement I've shared to others especially to the pupils I've handled. I think, this is God's will and it is my destiny.
2. What interests you about this job?
"Teaching is not only a profession but devotion", a quotation I always heard not only now but ever since so it is not easy to handle the responsibilities intended to me. I am always thinking how I can help for the nation building in my simple way and to become the agent of change for the better is the best way I can contribute to mold the young minds and to inculcate values of every individual whom I am teaching.
3. How would you describe your management/leadership style?
The saying goes this way, "Lead by example, to be a good leader, you must be a good follower". This saying became my leadership principle. As a leader, you must lead with heart and mind, lead not only for yourself interest but for the welfare of all. Another one is be transparent to your co-workers and do not treat yourself as the boss or manager but as a driver so that everyone will feel that they are all accepted and belong to the group. Having fair treatment and just decision to maintain the harmonious relationship in an organization – these are how i can describe my leadership/management style.
4. What do you think is your most outstanding contribution to your present school district?
The services I've been rendered, not only during official time, the knowledge and skills I've shared to my co-workers, to the pupils and to others which I think, in my own little way, I've been a part of the achievements of the school.
5. What tasks or responsibilities do you typically delegate and what do you do yourself?
Tapping my co-workers based on their skills, abilities and potentials is the most important tasks I've been assigned for them. I know I am helping them to develop and grow professionally. This is the way how I can develop as a leader because a good leader builds/develops another good leader.
6. What programs or projects have you been responsible for implementing? Tell me how you planned and executed those.
Programs, projects and activities which help develop the school holistically and those ordered by the higher offices for implementation are those which I'm responsible for implementing. Based from the DepEd Memo/Orders, I analyse and interpret it, think and plan the best way on how to implement those programs/activities effectively and successfully with my co-workers.
7. How will you encourage teachers to keep in close contact with parents? Also, how would you monitor to assure this takes place?
Through Parent Teacher Conference, home visits, they are establishing a friendly relationship between them. Parents are properly informed on the need of their children and they are involved in the activities done in the school. I assure this takes place by close supervision during the PTA conferences and the minutes of the meeting they had signed for.
8. What discipline standards or procedures have you found to be effective when dealing with students?
Treat students as your own children, show and make them feel the love and your concern and let them feel that they are important to you.
9. How do you handle tension?
There's a saying that nobody is perfect. Everyone commits mistakes because we are but humans. Having self-control and balancing the situations are the best ways to handle problem or tension. Another one is always think that committing mistakes is not a failure but as lessons to be learned so you can easily understand and handle situations.
10. What has been the hardest change for you to adapt over the years? How did you handle it at first?
The hardest change for me to adapt was the time when I was promoted as the school head, because I really love the children I am teaching for that time, it's very hard for me to leave them to move to other school that was assigned to me to manage. I handled it in a way that I think and look at the positive sides. I said that God has a plan for me and maybe somebody else needs me.
11. Can you give some advice for those who want to be like you in the near future?
Dedication, commitment and strong determination, always think for the general welfare, not for own self and the positive attitudes toward work are the best weapons for success. The most important, put God first in all the undertakings and He will guide and help you to fulfill your dreams.
Related Topics