Personality, Perception and Attitude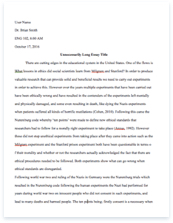 The whole doc is available only for registered users
A limited time offer! Get a custom sample essay written according to your requirements urgent 3h delivery guaranteed
Order Now
This assignment is dealing with the Development of personality, perceptions and attitude. This will help to understand how the employs and customers thinking, that helps us to make correct decision and to develop our business. Also by this we can make our personality and attitude in the right way. Analyzing a case study of "Sayyed's" is also included for analyzing and discussing his personality and attitude in his certain lifetime. Explained the relevance of values and beliefs in Organizational life and also if the values/ beliefs can be changed is also included in this study. Attitudes in Organisational Life
The importance of attitude of the individuals in an organisation is tremendous. A human resource manager must be able to identify, categorize and mould attitudes as far as possible. The employees come from different social and financial backgrounds. Even if two people belong to the same family, there can be a big difference between their attitudes. The way a person performs a task may differ according to the type of attitude he possesses. What is attitude? First of all, let us try to understand the importance of attitude in an individual's personal life. An attitude means a positive or a negative evaluation of some object – a thing, a person, a place or an environment. A person can be ambivalent towards an object by possessing both a negative and positive attitude. It is totally upto the individual to decide what his attitude towards life should. There is also scope for change in attitudes. The right type of learning at an early age can lead to tremendous changes in attitudes. For a person to be successful in his personal and public life he should adopt the most balanced attitude: positive at the right time and negative at others. In an organization too, the employee's attitude is very important.
Compared to one's personal life, an employee has to interact with many other employees to achieve an organizational goal. If, for example, an employee who works in a restaurant has a negative attitude towards selling energy drinks and while others are strongly supportive of it, he may have unnecessary fallout with them. Attitudes can be changed using two tools: Education and Experience. The basis of this statement is that our attitudes are based on some sort of 'belief'. We shape our beliefs in the course of our lives and we may grow biased against something due to this belief. Research suggests that attitudes can be changed by regulating and modifying behaviour. If employees of an organization are made to repeatedly greet their customers with a smile, the employees may indeed think that being friendly with customers is very important. Through education, employees can be alerted of their negative attitudes and the right attitudes to be followed in a situation.
Employees can also be provided with attitude changing experience with which they can think in a new and positive way. The fact about an organizational life is that, there are rules which are laid down in an organization which have to be followed. Under such a circumstance, an employee will make a definite effort to change his attitude sooner or later, instead of suffering consequences. In the case of Sayyed, it is quite evident how his attitudes towards certain objects like his parents and education took a looping turn as a result of various events in his life. He was very much attached to his mother at a very young age. But his failure to get through medical entrance in Poona, sent him spiralling into a situation of apathy and self ridicule.
He started hating his parents for not having money to get him a seat in a medical college. He started fighting with them and started demanding money incessantly. He wanted to escape from the truth that only he was to be blamed for his failure. His attitude towards education too underwent many changes as a result of other failures and disappointments in life. He was exposed to a different atmosphere when his father got a better job in Poona. Though their family could afford little luxuries like cinemas in the weekend, his father forced him to study. Sayyed purposely stopped studying in retaliation to his father. Further on, his very bad performance in his S.S.C. Exams led in shattering his ego, and for a very long time he had an indifferent attitude towards education. Importance of Values in an Organisation
Compared to attitudes, values are a little more constant. It is something we acquire at a very young age and we go to carry it on throughout the rest of our lives. It is usually something taught to us by our parents, our elders, our teachers, our spiritual leaders or some profound experience in life. Values may pertain to friendship, helping others, hard work, honesty, conservation of money, hospitality etc. All our day to day decisions are centred on our values and beliefs. Our attitudes are also shaped by our values and beliefs. What exactly are our values and why are they so significant in an organization? Values are principles, standards, or qualities you consider worthwhile or desirable. Values will vary greatly from person to person because they depend on one's personal judgment. They are the foundation of much of our psycho-behavioral makeup. Why we act the way we do, why we talk the way we do and why we react the way we do is all dependant on our values. Our relationships, our choices, our behaviours are all shaped by these values.
Even though these are invisible to us, these still affect every aspect of our life. An organisation too has a set of values, which are usually a prominent piece in its marketing or advertising content. At the outside, these values may seem to be very altruistic, but the truth is that the organisation may sidetrack from these values time and again for personal benefit. Even at a smaller level, which is at the level of an employee, values claim a very major role. It decides how the employee works, takes decisions and measures success. Organizational values establish standards of behavior, which serve to encourage or discourage certain behaviors. In other words organizational values help people to identify priorities at workplace. Putting the values in writing is important and more important is to create common understanding of the values in the organization. Leaders must clearly communicate why the value is important for achievement of goals. The credo statement clearly articulates organization's responsibility towards each of the stakeholder. In Sayyed's case, we may be able to a core set of values that has helped him make judgments and take decision in his life.
A lot of his decisions and his general outlook were based on a small incident in his childhood, the one about the Californian grapes. This incident led him to understand the importance of hard work. This also made him give priority to being successful and famous. It made him feel that going to the US was important for a man's success. His ultimate aim for an extended period of his life was to go to the US, though he never made it. He never recognized the play of luck or chance in his life. A lot of incidents happened not as a result of his own doing. Failing to recognize this, he blamed himself and the people around him for the consequences. Wading in the disappointment, he never made an attempt to revaluate his life or to stand back again. But the childhood values of hard work and success were always buried in his psyche. These values sprang up as soon as he joined for B.Sc, consequently after facing a failure in Poona. He got his admission in XLRI, but was rejected admission in UCLA, California. By that time, he had gained some emotional maturity to understand that this was a tremendous success and not a failure. Various Theory of Personality
The more we understand about personality, the better able to judge what motivates people and our self. The more we understand about our own personality and that of other people, the better able to realize how others perceive you, and how they react to your own personality and style. Used appropriately, psychometrics and personality tests can be hugely beneficial in improving knowledge of self and other people – motivations, strengths, weaknesses, preferred thinking and working styles, and also strengths and preferred styles for communications, learning, management, being managed, and team-working. The ability to adapt or bring into play different personal styles in response to different situations is arguably the most powerful capability that anyone can possess. Understanding personality models such as the Four Temperaments is therefore of direct help in achieving such personal awareness and adaptability.
Understanding personality helps you recognize behavior and type in others – and yourself. Recognizing behavior is an obvious pre-requisite for adapting behavior – in yourself, and in helping others to adapt too. The Four Temperaments; also known as the Four Humors, is questionably the oldest of all personality profiling systems, and it is fascinating that there are so many echoes of these ancient ideas found in modern psychology. The Four Temperaments ideas can be traced back to the traditions of the Egyptian and Mesopotamian civilizations over 5,000 years ago, in which the health of the body was connected with the elements, fire, water, earth and air, which in turn were related to body organs, fluids, and treatments. Some of this thinking survives today in traditional Eastern ideas and medicine. Four Temperaments – earliest origins
Ezekiel c.590BC | Hippocrates c.370BC |
lion| bold| blood| cheerful|
ox| sturdy| black bile| somber|
man| humane| yellow bile| enthusiastic|
eagle| far-seeing| phlegm| calm|
Four Temperaments or Four Humors, The words in this framework (from Hippocrates onwards) can be seen as possible describing words for each of the temperaments concerned, although do not attach precise significance to any of the words – they are guide only and not definitive or scientifically reliable. The correlations prior to Hippocrates are far less reliable and included here more for interest than for scientific relevance. In Sayyed's case, we may be able to a core set of values that has helped him make judgments and take decision in his life. A lot of his decisions and his general outlook were based on a small incident in his childhood, the one about the Californian grapes. This incident led to a group in four temperaments. Conclusion
By this assignment we can conclude that about the importance of Developing the Personality, Perceptions and Attitudes, and the ways to develop that. Also this report went through the relevance of attitudes in Organisational life that helps to run a company. Then it explains about the relevance of values and beliefs in Organisational life.
Related Topics