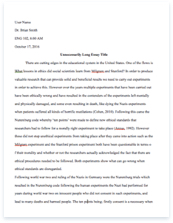 The whole doc is available only for registered users
A limited time offer! Get a custom sample essay written according to your requirements urgent 3h delivery guaranteed
Order Now
In our day to day life, each and every person is responsible to make personal decisions, which can have great influence on their workplace, family, colleagues, their country and the entire world. Personal ethics means that an individual recognized within respect to other people and some situations which they face in their day to day life. Personal ethics are formed according to the beliefs about the morality, right things and wrong things. These decisions can have positive or negative impacts on society.
Personal ethics play a crucial role in each and every people's life and it represents the specific features and characteristics of their own family and the community, where they reside. The main focus of this paper is to identify the difference of a person based on their cultural beliefs, morals, personal values and ethics, spiritual values, which has a great influence on their and others personal life. In addition to that, this paper also evaluates an individual personal ethics, her views and nursing philosophy, and the influence of nursing profession.
"Ethics is a systematic study of and reflection on morality. It is systematic because it is a discipline that uses special methods and approaches to examine moral situation, it is also reflection because it consciously calls into question assumptions about existing components of our moralities that fall into the category of habits, customs, or traditions" (Purtilo and Doherty, 2011). Moral and ethics are two different components, but they are related to each other. Ethics means the content of principles which is used to determine the behaviors which are good, proper and right. However morality means the habits or the principles according to right or wrong behavior that explains the way of work based on the personal attitudes and beliefs. "Morality is habitual, shaping the character of individuals and communities, most of the time without them ever realizing it" (Purtilo and Doherty, 2011).
The nurses are playing an important and consequential role, which has a great influence on the health and the outcome of the patients. So, our profession should have appropriate regulation according to clear and positive reinforced ethical values. ANA provided these provisions as the Code of Ethics for nurses and, in my experiences, are imperative for determine how we, as professionals, are expected to interact with the patients and colleagues and trained in order to respect dignity and humanity. The relation between standard of care and ethics determines my personal worldview as well as the broader field of nursing. My practice in the nursing field has a strong basics and foundation, which was developed from my cultural background. The period of pregnancy and child labor helped to develop compassion to the mother and baby, to ensure the safety and to maintain the health through upbringing the family background. I think that prior planning, proper education regarding the patient and his condition and up gradation with professional knowledge is more important.
It is one of the main responsibilities of the nurses to collaborate with diverse patients and various situations, because nurses have to take care of patients from various culture, religion, educational status and linguistics from different populations. As a nurse it is my responsibility to identify these diversities with complete respect for their cultural beliefs and spiritual beliefs of my patients and also aims to provide the better care to the patient. "Nurses strive to resolve conflicts in ways that ensure patient safety, guard the patient's best interests and preserve the profession integrity of the nurse." (American Nurses Association, 2010).
I use my own methods to solve the conflicts according to my cultural beliefs and values through establishing a good rapport with the patient by proper communication and open relationship with the patient and their family members. I believe it is important to build a trustworthy relationship. This is the best and easy method to assist the patient in understanding and accepting treatment plans which are unfamiliar to their culture or totally different from a preoccupied set of religious ideals.
Using open communication and trust for the patient care is very relevant to my practice area to establish my personal views, behavior and decision-making. Especially, good inter-personal relationships are the cornerstone of my care approach to the patients and this method is specifically based on my own real-life and personal experiences. Nurses can surely make a difference, I believe so. I experienced this when I was admitted in the hospital for my first delivery and my baby was premature. The nurses who presented there during that time provided a compassionate care and they were open minded and very communicative and they assisted me to go through the most critical times of my life. During that time I came to understand that even the most frightening medical dilemma can be alleviated by the guiding hand of a high-quality nursing staff. That is, ethical compassion ultimately ensures the standard of care. Conclusion
Nurses are facing a lot of challenges and ethical dilemmas every day. Most of the times, these problems cannot handle by the nurses himself or herself. They will try to understand that patient condition and their cultural beliefs, personal values and morals. They must be treated equally irrespective of their individual differences. Based on my own experiences, I have always put hard work to make sure that I use enough time with each patient in order to yield the best health outcomes and to provide the best treatment experience.
References
Allen, D. E., & Vitale-Nolen, R. A. (2005). Patient care delivery model improves nurse job satisfaction. Journal of Continuing Education in Nursing, 36(6), 277-282. American Nurses Association. (2010). Code of ethics. Retrieved from http://nursingworld.org/MainMenuCategories/EthicsStandards/CodeofEthicsforNurses/Code-of-Ethics.pdf. Purtilo, R., & Doherty, R. (2011). Ethical dimensions in the health professions. (5th Ed.). St. Louis, MO: Elsevier. ISBN-13: 9781437708967.
Taylor, B (2000) Reflective Practice for Nurses and Midwives: a practical
guide. Allen And Unwin, st Leonards.
Tschudin, V. (1998 Jan; 5(1): 52-8(3 ref). Myths, magic and reality in nursing: a personal Perspective (Double Blind Peer Reviewed). UK & Ireland: URL: www.cinahl. Com/cgi-bin/refsvc? jid=863&accno=1999012009.
Related Topics