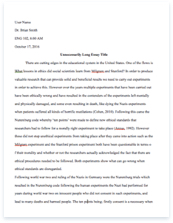 The whole doc is available only for registered users
A limited time offer! Get a custom sample essay written according to your requirements urgent 3h delivery guaranteed
Order Now
My life, I hope, will bring me a host of excellent opportunities to leverage my inborn abilities, skills, and obtained education. During the decades following my graduation I hope to build upon a foundation of professional knowledge, social responsibility, and community involvement that I have accumulated by this time. Looking, for instance, at the time point when I am forty years old, I can imagine my 'past' life in the following way.
In 2010, I graduated from the University of Ilinois — Urbana-Champaign with a double major in Accountancy and Finance. Applying serious effort to college studies, I earned a GPA of 3.8 in my Bachelor's course, staying in the top 10% of the class.
My college years were an exciting mix of coursework, community involvement and social life. A volunteering program at Provena Covenant Medical Center, the work of a CITES OnSite Consultant, participation in Alpha Iota Omicron (AIO), the Sikh Student Association (SSA) and the Indian Student Association (ISA) helped me to find numerous friends on campus who helped me immensely in various spheres after graduation, so that now I have important professional connections in a vast variety of private business, government organisations and non-profit associations.
Right after graduation, I went on to pursue a course at a graduate school, engaging in the world of health care that had been always a focus for my career plans. Never tired of learning, I was excited at the opportunity to enhance my knowledge even after most of my peers were setting their foot in the professional world. However, I was positive that even starting later on, I would leverage my enthusiasm and productivity to improve my chances for a good career.
My first job after the completion of the graduate school was not spectacular as I was in the assistant position; however, it allowed me a glimpse into the world of health care and business. Assisting the head of a hospital in the processing of financial matters, I was able to pinpoint certain problematic areas and to bring out the problems deeply rooted in the hospital's financial system. As a result of my input, the hospital could reduce the rates for its services, thereby helping the residents of a poverty-ridden community.
Changing a few positions throughout my career, I spent three years in developing nations, assisting the development of health care there.
Thus, I was involved in UN missions in Zambia, Bolivia, and Laos, helping to overcome the spread of infectious diseases there and improve the standards of health care in these areas. I am proud to say that as a result of my efforts, we were able to raise the awareness of basic hygienic procedures and overcome the spread of AIDS/HIV infection in the areas due to enhanced educational campaign among the local population. The work abroad did not only give me the sense of belonging to a global community that shares one common responsibility for the earth; it also brought me an increased understanding of cross-cultural differences and broadened my world outlook immensely.
To crown my successful career, I launched an independent practice. In the first two years, I was struggling to make it successful and attract patients. However, in due course, as I developed positive relationships with a lot of people in the community, they began to choose me over other professionals, and my office now has to implement strict registration procedures in order to cope with a stream of clients.
Complementing my career progress was my involvement in the local Indian community. To this day, I am the main organizer for the local Indian festival and support the development of Indian arts and culture in the place where I live. It gives me great pleasure to assist young and talented people to give expression to their exciting artistic ideas.
Although the exact autobiography that I hope to be able to write at an age of 40 may be somewhat different from the one above, I hope to maintain the main direction. Combining a successful career with an active community life, I will strive to realize my potential with the maximum benefit for all.
Related Topics