Personal and Professional Development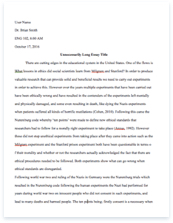 The whole doc is available only for registered users
A limited time offer! Get a custom sample essay written according to your requirements urgent 3h delivery guaranteed
Order Now
1.0 – Introduction:
This report will consider the job description included in Appendix 1, for the position of Graduate Software Engineer/Developer. This job is aimed at graduates and experienced software engineers, requiring a 2:1 or above at degree level. Further requirements are knowledge of at least one programming language; and any experience of the computer industry is beneficial.
In order to prepare for applying for the position, the report will reflect on my current skills and competencies, and contrast them with the requirements in the job description.
A Curriculum Vitae will be produced to directly address the requirements of the job. Furthermore, after evaluating my strengths and weaknesses, a Personal and Professional Development Plan will be produced. 2.0 – Curriculum Vitae:
1 Ardfern | Downpatrick, BT30 6TN | H: 028 4461 3548 | M: 075 8403 6395 | email: [email protected] Matthew Price Curriculum Vitae
Skills
I have excellent computing skills and am currently studying for a HND in Computing and Systems Development. I already possess an AVCE in ICT and Key Skills Level 3 in ICT.
I can touch type and have a good working knowledge of the Microsoft Office Suite as well as extensive experience with Adobe Photoshop and Adobe Dreamweaver. Further to this I also maintain my own website and am well versed in the use of FTP software and the Word Press platform.
I work daily with Microsoft Windows and have extensive experience (including installation) with Windows 95 to Windows 7. I also have experience working with (and installing) Linux and Mac operating systems. I have strong hardware knowledge with computers having built and upgraded my own and repaired others for friends and family.
I am also familiar with setting up home networks and network and general computer troubleshooting, including hardware problems and dealing with malicious software.
Experience
LAND REGISTRY OF NORTHERN IRELAND Administrative Assistant| 09/2007 – 06/2011| I held this position for over two years undertaking a variety of roles within an office environment. As well as basic administrative duties such as filing and answering the telephone, I worked in a team processing legal documents. This included preparation of documents for processing, scanning these using specialist hardware and software, performing a swift high accuracy check of the scanned images and correcting any errors found.
In my time in this role I gained invaluable experience working as part of a team and on my own, with both group and individual goals. The nature of the work meant that time was always a factor, this coupled with the high levels of accuracy required and customer satisfaction being key, demonstrates that I performed very well both as an individual and a team member while under pressure. *
KNOCKBRACKEN FOODSFood Operative| 07/2004 – 9/2005|
I held this job for two years, one full time and one part time while attending my first year of university. This position primarily entailed the preparation and portioning of ready meals for supply to hospitals and individuals in their homes. Due to the often poor health of our customers, health and hygiene were paramount, requiring a strong attention to detail on the cleanliness of the work environment and equipment.
The ability to work as a member of a team was essential, as was a willingness to work on my own; without instruction when necessary. As well as achieving my Health, Hygiene and Safety Certificate and Food Hygiene Certificate I was pleased to avail of the opportunity to work with people from a variety of backgrounds and take on new and different challenges.
Education & Training
SERC, DOWNPATRICK CAMPUS
HND LEVEL: 09/2011 – 06/2013
HND Computing and Systems Development (Part Time)
QUEENS UNIVERSITY BELFAST
DEGREE LEVEL: 09/2005 – 06/2007
BAHons Psychology – Two years completed
ST. PATRICKS GRAMMAR SCHOOL, DOWNPATRICK
A-LEVEL: 09/2002 – 06/2004
Art and Design – A
English Literature – B
SERC (Formerly East Down Institute of Further and Higher Education) AVCE: 09/2002 – 06/2004
Information and Communication Technology – B
ST. PATRICKS GRAMMAR SCHOOL, DOWNPATRICK
GCSE: 09/2000 – 06/2002
Art and Design – A
English – B
Technology and Design – B
Double Award Science – B, B
Spanish – B
Religious Studies – B
Mathematics – C
Business Studies – C
Hobbies and Interests
Outside of work, my personal interests cover mainly the creative arts with a focus on music, photography and design. I have long held a passion for computers and enjoy both building and fixing them. I am very keen to learn how to program and also to improve my web design skills, which is why I have undertaken the HND in Computing.
Furthermore, I play guitar and write and record my own music and am hoping to have some of my songs played on BBC Introducing in the coming year. I also devote some of my free time to personal fitness training including gym work and running.
References
Mr. Colin Kirkpatrick| Mrs. Paula Magee|
E02 – Land Registry of Northern Ireland| Staff Officer – Land Registry of Northern Ireland| Land Registry of Northern Ireland
3rd Floor Lincoln Building
27-45 Great Victoria Street
Belfast
BT2 7SL| Land Registry of Northern Ireland
3rd Floor Lincoln Building
27-45 Great Victoria Street
Belfast
BT2 7SL|
028 9025 1670| 028 9025 1509|
3.0 – Strengths and Weaknesses:
In order to evaluate my strengths and weaknesses I read through my CV and identified areas where my strengths lie and where I need more experience or expertise. Further to this I also completed a self-assessment of my strengths and weaknesses and took a formal test to ascertain my leadership qualities.
3.1 – Strengths:
* Written communication – I have an A-Level in English Literature and am a clear and concise writer with a good vocabulary.
* Verbal communication – I am good at clearly expressing views, speaking clearly and accurately. I can also listen to and understand instructions and am comfortable relaying them afterwards.
* Well organised – I often make lists and work from them; I plan ahead as much as possible but am also adaptable to changes.
* Logical – I can easily break down problems and work through them in logical steps to find a solution.
* Focused – I am driven and motivated and can work on small details while keeping the larger picture in mind.
* Computer Skills – I have extensive experience and expertise with computers. I have a good knowledge of hardware and software, have an AVCE in ICT, Key Skills Level 3 in IT and am working on a HND in Computing. I also keep up to date with new hardware and software developments.
* Creative – Not only am I artistic and musical, but I am also good at solving problems with creative thinking.
* Time Management – I am always punctual and dislike being late and always hand work in on or before a deadline.
3.2 – Weaknesses:
* Numeracy skills – My mathematics ability is poor without the use of a calculator. I can improve these skills by forcing myself to do more mental arithmetic.
* Leadership – I lack the skills to effectively manage a group or team. With more experience working in a team or with training I could significantly improve my leadership skills.
* Teamwork – I lack the ability to comfortably work alongside others. Getting involved in more group activities such as projects in college, or charity activities would teach me how to work better as a team member.
* Delegation – I find it hard to rely on others to work to the same goals and standards I hold for myself. By challenging myself to rely on others and recognising their strengths I could do a great deal to improve this skill.
* Experience – I lack a breadth of work experience and have a relatively narrow skill set, mainly computer related. Simply by finding interests that are new to me, or by getting a job in an area in which I have yet to work would be a great boost to my experience.
* Interpersonal Skills – I find it difficult to strike up and/or maintain conversations. By putting myself in more social situations or getting a job where I would have to talk to people on a regular basis, I would have more opportunity to work on this ability.
The results of my skills test (Figure 1) show that I have excellent communication skills and am highly organised, with a tendency towards leadership as well. However, it also shows that my abilities in team work need improvement and that my numeracy is quite weak. Figure 1 – Skills test results
Related Topics