Pepsi Co Annual Report Analysis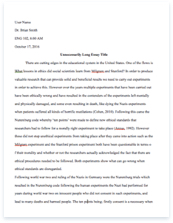 The whole doc is available only for registered users
Pages: 3
Word count: 740
Category: Pepsi
A limited time offer! Get a custom sample essay written according to your requirements urgent 3h delivery guaranteed
Order Now
An Annual report is a document that provides information about a company's yearly activities to the shareholders and the public. An annual report is comprised of a letter from the CEO, overview of the company's products and services, management discussion and analysis, a statement from the auditing firm, and financial statements. The goals of an Annual Report are to distinguish the brand and reassure the shareholders. Lately, the annual report has used more graphics, colors, and easy-to-read charts and section headings to grab the attention of investors. PepsiCo's 2011 Annual Report uses graphs and statistics to showcase its many billion dollar brands; it reiterates the word "Global" to portray global innovation, and it displays young adults to illustrate their target consumers so that stockholders invest in their stock. PepsiCo's billion dollar portfolio is presented through graphs and statistics. PepsiCo's megabrands such as Pepsi, Lay's and Mountain Dew have found worldwide fame and produced the most profit for the company.
A good portion of the world does not even know that PepsiCo has other products. In its annual report, PepsiCo promotes the emerging brands such as Walker's, Fritos, and Brisk to stockholders by depicting them on a graph displaying world retail sales with their other products. These three brands and nineteen others have sold over a billion dollars each worldwide in 2011 forming PepsiCo's current billion dollar portfolio. PepsiCo displayed this billion dollar graph in its annual report to show stockholders that its three megabrands are not the only products that are successful. By displaying all twenty two products in PepsiCo's billion dollar portfolio, the company can reassure stockholders that they are not investing in one successful product but several world renowned brands. PepsiCo's annual report reiterates the word "Global" to highlight global innovation. In the letter to shareholders, Chairman and CEO Indra K. Nooyi uses the word "global" ten times. The annual report also headlines two sections toward the beginning of the document labeled "Our Global Business" and "Innovating Globally."
The message that PepsiCo sends forth using this constant repetition is to extend its products to new and emerging markets. PepsiCo wishes to spread its snacks and beverages globally and create new flavors that will attract and retain customers. PepsiCo's Annual Report showcases to stockholders how the company is becoming a global powerhouse, generating $66 billion in revenue for snacks and beverages. In the Annual Report, they include the different flavors of their products fashioned to fit the cultures of the consuming countries. PepsiCo presents to investors that they are innovating their products to conform to foreign markets. This entices stockholders to invest in PepsiCo because they will be earning revenue all across the globe. In PepsiCo's Annual Report indicates their target market by using pictures young consumers in its annual report. Since PepsiCo is the younger company when compared to rival Coca-Cola, it tries to keep a vibrant and fun persona to attract the younger generation. The image the annual report uses to display its target market involves four young adults in a field smiling and laughing while a few PepsiCo products are grouped in the corner of the picture.
Soda and chips are spilling out of the PepsiCo products to form a circle around the young adults. The message this illustration projects is that young adults are satisfied with PepsiCo when they consume its food and beverages. By showing young adults in the Annual Report, PepsiCo depicts to shareholders that it is a long term investment because the younger generation are consuming the project and will continue to do so in the future. By using graphs and statistics to display their billion dollar portfolio, reiterating "global" to stress inclination toward globalization, and depicting the younger generation as its target market, PepsiCo's 2011 Annual Report encourages stockholders to invest in their company. PepsiCo utilizes a bar graph as a visual strategy which depicted the twenty-two brands that were worth a billion dollars each. It also reiterated the word "Global" as a verbal strategy throughout its Annual Report to stress it was ready to innovate globally and to attract stockholders as the revenue starts coming in from all over the world. Illustrating young consumers is a visual strategy that gives PepsiCo a younger feel to make them seem like a successful long term investment for stockholders. These three powerful strategies present a annual report that is easy to read and influential to its intended audience.
Related Topics