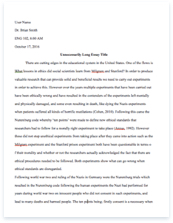 The whole doc is available only for registered users
A limited time offer! Get a custom sample essay written according to your requirements urgent 3h delivery guaranteed
Order Now
1.1Explain why working in partnership with others is important for children and young people.
1.2Identify who relevant partners would be in own setting.
1.3Define the charactistics of effective partnership working. 1.4Identify barriers to partnership working.
1.1- Working in partnership is designed to bring together professionals who have a range of skills and who can help children and young people and their families. Working in partnership with others is important for children and young people because it can be a preventative measure by stopping problems occurring or escalating. It supports children and young people and families who have additional needs and brings together parents, carers and practitioners who then work together to address the child/young person's needs. For example at the setting i work at many different professionals come in everyday to see different children to help them develop and learn to the best they can. If we didn't have those other professions come into the work setting then the child wouldn't be developing and learning as fast. It is important to have those different professions because they help children with specific needs to develop and learn to the best they can.
1.2 – The relevant partners that work in the setting i work at would be… •A Health visitor which works with families and careers who are pregnant or have children under 5. The health visitor can help parents with such as problems like how to look after children to keep them safe from harm, how to help child grow and develop, give information about the immunisation, diet and advice on feeding, weaning and dental health, referring families to the specialists. • A Social worker which works with people who have been socially excluded or who are experiencing crisis. Their role is to provide support to enable individuals to help themselves and they step in if there is a concern about child's welfare and safety. Social worker works in a variety of settings supporting individuals, families and groups within the community. •A speech and language therapist who assist children and adults who have difficulty producing and using speech difficulty understanding language, difficulty using language, difficulty with feeding, chewing or swallowing, a stammer and a voice problem. •Occupational therapists work with people who have a physical disability, a medical condition, a mental health difficulty or a learning disability. They help individuals who have difficulties with everyday tasks, such as preparing a meal, taking a bath, going up stairs or lifting their legs into bed.
•– effective partnership working would be to have good communication between the practitioner and the other professional this is important that the practitioner and the other professional maintain good communication with each other and the parents of the child because then everyone is up to date with what's going on and then are able to help the child a lot more. Effective partnership working would also be Commitment to a high quality service, maintaining a caring and professional approach, Acknowledging the skills, knowledge and experience of others, Open sharing of relevant information and Working together to achieve the best outcome. When a practitioner is working with other professionals the practitioner needs to be clear about his/her role, aware of the roles of other professionals, Confident about his/her own standards and targets, Respectful of the standards and targets that apply to other services.
1.4– When working in partnership with other professional there can be many barriers which many effect the way people work. These barriers are…
•Communication problems, such as specialist terminology, cronyms.
•Lack of Understanding about how other agencies operate.
•Feeling threatened by new approaches – 'out of comfort zone.
•Lack of support – not knowing who to contact for advice and support.
•Not knowing when and how to share information.
Related Topics