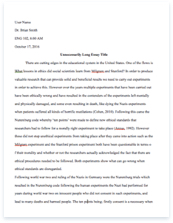 The whole doc is available only for registered users
Pages: 4
Word count: 906
Category: Poverty
A limited time offer! Get a custom sample essay written according to your requirements urgent 3h delivery guaranteed
Order Now
Poverty is the lack of or inability to afford one's basic needs as a human, they include nutrition, shelter, clean water, health care, clothing, and education among others. Panama has extremes of both wealth and poverty. The wealthiest 20 percent of Panamanians control more than 50 percent of the country's wealth, while the poorest 40 percent only control 12 percent. The wealthiest Panamanians live a lifestyle that is similar to that of many Americans; they have access to consumer goods such as cars, televisions, cellular phones, and more. However despite the country's strong economic growth, poverty levels remain high in Panama with 28% of the population being poor and 11% is extremely poor. Poverty is particularly high in rural areas, which mainly includes the indigenous population. Indigenous peoples are also the most rapidly growing segment of the population, with an average growth rate that is more than double that of the country average. In recent years there has been an increase in rural people's migration to urban areas. Rural-urban migration, coupled with low demand for unskilled laborers in the country's service-based economy, has led to an increase in urban poverty.
The main cause of poverty is unequal distribution of wealth. Other causes of poverty are internal conflicts, migration, higher fertility and structural adjustment. Injustice and inequality has largely contributed to the gnawing poverty. This leads to lack of basic needs like water, food, health care, education and other important social amenities. This has resulted in lower standards of living of the people. Since Panama is struggling to export, their resources have become cheaper in the international market, which is an advantage to the developed nations. The government in this country has reduced consumption and are spending less. Thus, the value of labor has reduced and the workforce is earning less, jobs are cut meaning people out of work. Panama had an unemployment rate of 2.7%. Poverty in Panama in general, and rural poverty in particular, are the result of inequalities created by an urban, service-oriented economy that offers few economic opportunities and almost no basic services to people living in rural areas, including indigenous peoples.
Rural people suffer from a lack of productive assets and from the low quality of assets. And for rural communities living in remote locations, the lack of rural roads limits access to education and health services, as well as to markets. Poverty has also caused environmental problems. Food supply is also insufficient. There is a strong correlation between poverty and child malnutrition in Panama. Over 16 % of all children under five suffer from some form of malnutrition. About 85 percent of these are poor. The effects of poverty are social and political instability, drug addiction and insecurity. Social institutions viewed as obstacles to progress, they get broken down in a bid to tidy up the cities. Removing the homeless from the streets is a common sight in Panama cities. Social dislocation is also likely to increase crime. Street crimes and burglary is on the rise.
The main driving force of these crimes is poverty. Efforts to reduce crime have resulted in creating more prisoners instead of reducing crime. Poverty has also caused an increase in drug trafficking and money laundering. It can lead to environmental degradation on global scale. Miserable poor people who do not have jobs can do anything to survive. One of the activities they can easily engage in is drug abuse. Drug addiction is so rampant in most Latin American, is a result of poverty. Millions of children die each year because of inadequate health services. Not all children access basic education. Illiteracy levels remain high. It is clear that after adopting structural adjustment, most Latin American countries are still in economic crisis. Economic growth remains unattainable. In order to address this matter, a few effective programs have been put in place such as Panama will spend 166 million U.S. dollars on an anti-poverty program targeting 72,000 poor families, which will receive poverty-relief assistance in the form of cash, food coupons or education opportunities "The Net of Opportunities program focuses on breaking the cycle of chronic poverty by improving health and education systems," The program's aid package includes a 35-dollar subsidy a month per household, health care facilities and compulsory education for school-age children. Around 35 million dollars are expected to be transferred directly to the 166 percent desperately poor living on less than one dollar a day. The expansion project of the Panama Canal, combined with the conclusion of a free trade agreement with the United States, is expected to boost and extend economic expansion for some time this will open up more jobs.
I believe that although Panama has a long way to go with its efforts to eradicate poverty the various programs and incentives its government has in place to help with the problem will help out tremendously in the long run. With the right amount of help and dedication along with educating those in need can make a huge difference in the success of the country.
References
"Panama Poverty Assessment; Priorities and Strategiesfor Poverty Reduction." Human Development Department of the World Bank. Volume 1, June 28,1999. Online. www1.worldbank.org/prem/poverty/inequal/themgrp/panamapa.pdf. Accessed December, 2012. "Program for Poverty Alleviation and Community Development." Inter-American Development Bank. January 7, 2011. Online. idbdocs.iadb.org/wsdocs/ getdocument.aspx?docnum=460803. Wickstrom, Stefanie. "The Politics of Development in Indigenous Panama." Latin American Perspectives.Vol. 30, No. 4. Online. www.columbia.edu/cu/helvidius/files/2004-essay1.pdf43-68. .
Related Topics