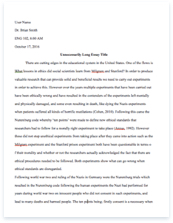 The whole doc is available only for registered users
A limited time offer! Get a custom sample essay written according to your requirements urgent 3h delivery guaranteed
Order Now
Ovania Chemical Corporation is a specialty chemicals producer. Its core product is polyethylene terephthalate (PET) thermoplastic resins, which are used mainly to make containers and packages for bottled water, soft drinks, foods, and pharmaceuticals. Their main plant is located in Steubenville, Ohio. Though smaller than other chemical producers that produces globally, it has competed successfully in its niche of the US specialty chemical business. Recently advances in technology have changed the nature of chemical production, and like all competing firms, Ovania must take steps to modernize its facilities. Not surprisingly, these technological advances are accompanied by redesign in employee jobs, especially the system analyzer position.
Objective:
On the basis of the assigned case we will try to learn the process of conducting a job analysis that does not yet exists. We will also examine the reasons the selection committee had for choosing only those factors for the selection process that could not be acquired in a two year training program. Finally, we will try to determine if gender discrimination was a issue in the selection process as the job requirement included getting down into the dirty treatment tanks.
Main Body:
1. How would you go about conducting a job analysis for a job that does not yet exist? Job analysis is the process of obtaining information about jobs by determining what the duties, tasks, or activities of those jobs are (Bohlander & Snell, 2003, p.94). Job analysis is the base of Human resource management. The purpose of Job analysis is to systematically study the nature of jobs to identify the work activities, tasks, and responsibilities associated with a particular job. Job data obtained by job analysis serves a variety of organizational purposes and provides a basis for decision making in job transformation, recruitment, selection etc. It provides objective evidence of the skills and abilities required for effective performance in the job. The job analysis should determine the most important and critical aspects of the job. It is upon these that the key attributes and selection and evaluation for the job should be based. For instance, if the purpose of the job analysis is to seek out the competencies for a job that currently does not exist, we have to take a future-oriented approach. This approach should take into account the organizational needs when restructuring the job.
The job analyst need to identify and predict the new job activities, as well as, knowledge, skills, and abilities required for those activities. To do this the job analyst might seek out the persons, especially those, that satisfy the organizational requirements. "Work analysis is a very strong technique work; generally speaking, it should be operated by professional personnel, personnel of this position and supervisor"(Wanghao, 2003, p.38). This may include human resources staff, consultants and the experts for this job (managers, supervisors, etc.). Together they can find out the future issues that are to affect the job. Consultation with individuals who are knowledgeable about the expected future job changes helps to identify, skills, abilities and knowledge required for the job. Finally, identifying the critical knowledge, skills, and abilities for the future job is crucial. "The use of Job Analysis to design selection procedures not only gives users the obvious benefits of using appropriate selection techniques, but also provides evidence of their relevance should any questions arise" (The Commission For Racial Equality, 1993). That's why it is good practice to take a sample of people who are representative of the target population in terms of age, gender, ethnic origin and background.
Different perspectives on the job can produce a more rounded picture. As a result of the modernization of the company, Ovania Chemical Corporation has had to redesign its employees' jobs. Perhaps one of the most important changes to be made at the Ovania plant involves the job transformation of the system analyzer position. The system analyzer is primarily responsible for monitoring the production function and the position was once classified as semiskilled (i.e., maintenance technician). However, with automation, the requirements for the job are expanding dramatically. A system analyzer will soon have to know pneumatics, hydraulics, information technology, programming, and electrical wiring. Ovania has estimated that within two years, a system analyzer's tasks, duties, and responsibilities will have changed by over 70 percent. The three men who currently hold the position admit that they will be incapable of performing the new aspects of the job. Ovania is forced to redesign the job of a System analyzer and recruit new people for the survival of their organization.
They formed a selection committee and conducted a job analysis for the new position of system analyzer. The Selection committee included Ovania's Steubenville plant manager Jack Sarabe, the HR manager Emily Claire, and two senior engineers, Dave Packley and Mark Young. The two senior engineers could give important insight about the potential skills whose deficiencies were holding them back. The selection committee's challenge will be to analyze the new job that does not exist yet and to recruit the new employees based on the newly identified skill set. They could use current job description as a base and looking at similar companies equipped with the same machinery to gain some perspective.
The job analysis made the selection committee project into the future to identify potential skill set that they feel will be needed to perform the job adequately. Figure 3A lists the major performance dimensions of the job; it also indicates the specific tasks that will be characteristic of each dimension.
Figure 3A Performance Dimensions (Duties and Tasks)
Maintaining Spares and Supplies
1.Anticipates future need for parts and supplies and orders them.
2.Stocks parts and supplies in an orderly fashion.
3.Maintains and calibrates test equipment. Troubleshooting
4.Applies calibration standards to verify operation by subjecting the system to known standards.
5.Decides whether the problem is in the sensor, in the processor, in the process stream, and/or in the sample system. 6.Uses troubleshooting guides in system manuals to determine the problem area.
7.Uses test equipment to diagnose the problem.
8.Makes a general visual inspection of the analyzer system as a first troubleshooting step.
9.Replaces components such as printed circuit boards and sensors to see if the problem can be all eviated. Handling Revisions and New Installations
10.Makes minor piping changes such as size, routing, and additional filters.
11.Makes minor electrical changes such as installing switches and wires and making terminal changes.
12.Uses common pipefitting tools.
13.Uses common electrical tools.
14.Reads installation drawings.
Record Keeping
15.Maintains system files showing historical record of work on each system. 16.Maintains loop files that show the application of the system. 17.Updates piping and instrument drawings if any changes are made. 18.Maintains Environment Canada records and logbooks.
19.Disassembles analyzers to perform repairs on-site or back in the shop. 20.Replaces damaged parts such as filters, electronic components, light sources, lenses, sensors, and values. 21.Uses diagnostic equipment such as oscilloscopes, ohmmeters, and decade boxes. 22. Tests and calibrates repaired equipment to ensure that it works properly. 23.Reads and follows written procedures from manuals.
Routing Maintenance
24.Observes indicators on systems to ensure that there is proper operation. 25.Adds reagents to systems.
26.Decides whether the system or the lab results are correct regarding results (i.e., resolves discrepancies between lab and analyzer results). 27.Performs calibrations.
"Work analysis isn't accumulating work information mechanically, instead of explaining characteristic and request overall, and to public the main work contents and key factor of position according to analyzing and summarizing"(Zhangde, 2001, p.72). That's why the selection committee analyzed the list of tasks from Figure 3A to arrive at a set of personal qualities that system analyzers will need. These qualities include the twelve abilities shown in Figure 3B. Beside each ability are numbers corresponding to the tasks to which it is related (see Figure 3A). The
abilities marked with an asterisk (*) are considered by the committee to be "critical." Any applicant not scoring well on each of the critical dimensions will be considered unqualified for the job.
2. What reasons did the selection committee have for selecting only those factors which could not be acquired through a two-year training program? Now we will discuss about the reason behind choosing of only those factors for the selection process that could not be acquired in a two year training program. With lot of competitors and rapid change in technology, companies look for candidates working in similar domain of different skills and uniqueness to improve their business. Employees within a company might lack modern technology process. Unlike Internal employees, external candidates can bring lot of changes to the companies with innovative ideas and creative skills which help the company get stronger. In order to compete with other companies, external employees with latest skills and thorough knowledge are responsible for company's growth.
When internal employees fail to do so, employers go for searching external candidates with rich source of latest skills to fill the positions. External Recruitment brings new people with fresh and innovative ideas to the organization. They will also bring experience they have gained from other organizations, which can be a huge benefit for the organization. An example of a complete changeover was of Selfridges where they got rid of all the old managers whose management style was based on old traditional approach, they were replaced by new young innovative women who changed the traditional approach to a more modern day approach to business. It has made Selfridges one of the most successful retailer in the UK today.(Soomro, 2008) External Recruitment also allows the organization to be selective when selecting a candidate and allow them to define the right requirements, which fits in the organization most effectively.
Initially the selection committee of Ovania Chemical Corporation wanted to recruit "new blood", however after deliberation decided to recruit both internally and externally. Ovania chemical estimates that the task, duties, and responsibilities of a system analyzer will have changed by over 70 percent within two years. Because there was a two-year lead time before the job would be put in place there would be a lot of time to train the new employees and prepare them for the position. Keeping this in mind, any skills or knowledge that could reasonably be acquired or trained during a two-year lead time was not part of the selection committee's factors.
3. Should the concern for women getting down into the dirty treatment tanks have been a selection issue? Any form of discrimination, be that gender discrimination or racial discrimination, during recruitment process should be avoided completely. Equal Employment opportunity is protected by laws and in employment discrimination lawsuits, the business always loses. Consequently, creating a work culture and environment for employees that encourages diversity and discourages employment discrimination in any form is critical for the success of the company. While recruiting for the system analyzer position in the Ovania Chemical Corporation, concerns were raised that female candidates may not find it comfortable to perform the job properly, based on some of the requirements, such as, entering dirty treatment tanks to read gauges. As Ovania had some history of employment discrimination charges, managers were extra careful this time and were committed to making the procedures and decisions fair and objective. The selection committee adopted new strategy to encourage minorities and women, ignoring past employment history. Among the 56 applicant for the new position, 21 of them were women.
Recommendation:
We feel that Ovania Chemical is taking all the right measures towards finding the right applicant for the job. More and more companies today are administering battery tests and crunching numbers to get information about present or future employee performance. "The use of Job Analysis to design selection procedures not only gives users the obvious benefits of using appropriate selection techniques, but also provides evidence of their relevance should any questions arise." (The Commission For Racial Equality, 1993) Research has shown that the Realistic Job Preview (RJP) technique to be effective in improving the recruitment process. As the name implies, the RJP gives the potential candidate a realistic preview of what is actually involved in the job. RJP's allow potential candidates to "self-select" as to whether they really want to continue with the process based on what they have learned about the job. For example, the issue raised about if women would want to get down to dirty treatment plant as a part of their job requirement could be resolved by asking for the approval of the women candidates during the time of their selection.
The importance of the system analyzer position is likely to grow and as it includes extensive analytical skills in an unsanitary environment, attractive remuneration packages for this position, will be more appealing to the applicants. This may help Ovania get candidates irrespective of their gender and races. If they can create a more diverse pool of employees, it'll help Ovania erase the past history of its employment charges. A diverse talent pool will assist this company to hold its reputation in the competitive market. Fifty six employees applied for the new position of system analyzer in Ovania. Twenty one were female, fifteen were black. Only two of the three current system analyzers reapplied for the new position. The company had decided that a total score of 800 on the twelve tests would be the cutoff score for an applicant to be seriously considered for the position. Each of the aptitude tests has been published, standardized (100 points possible for each test). It would be better if they could introduce weighted scores for the 12 criteria. The six critical criteria would have more weight than others. So, rather than just summing up the 12 skill test scores, Total score could have been calculated like this: Total Score = ∑ (Skill test Score × Skill Weight).
Conclusion:
In this paper we discussed the Job Analysis and Hiring decision of a system analyzer Job in Ovania Chemical Corporation. Modernization of technology has forced Ovania to transform the responsibilities of a semi-technical system analyzer position to a highly prospective knowledge and skill oriented position. Ovania had to redesign the job that does not exist yet. We firstly have solved how to conduct an analysis of a new job that does not exist yet. including preparation stage, decision program, data collection, write a job analysis report.
References:
1. George Bohlander &Scott Snell, "Managing Human Resources", Dalian: Dongbei University of Finance & Economics Press, 2003. 2. Wanghao, "Human resources Management", Beijing: Huawen Press, 2003 3. Zhangde, "Human Resources Management and Development, 2rd Edition", Beijing: Qinghua University, 2001. 4. Clifford, James P., "Job Analysis: Why Do It, and How Should It Be Done?" Public Personnel Management, Vol. 23 No. 2 (Summer, 1994). 5. Ghorpade, Jai and Thomas J. Atchison, "The Concept of Job Analysis: A Review and Some Suggestions.", Public Personnel Management Journal. 6. McCormick, Ernest J., "Job Analysis: Methods and Applications", AMACOM, 1979. 7. Women and Workplace Discrimination: "Overcoming Barriers to Gender Equality", Raymond F. Gregory. Rutgers University Press, 2003 8. Realistic Job Previews: https://uic.blackboard.com/bbcswebdav/institution/classes/dhd547
Related Topics