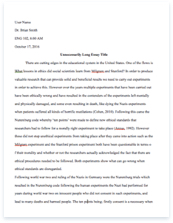 The whole doc is available only for registered users
A limited time offer! Get a custom sample essay written according to your requirements urgent 3h delivery guaranteed
Order Now
"Don't try to be original; just try to be good," a very simple advice from Paul Rand, yet a very honest advice for designer-to-be. Paul Rand was one of the inspirational pioneers of modern graphic design. Even if one has not heard of his name, he or she must has seen his design works certainly. A few of his well-known logo designs are ABC, UPS and IBM. His book, "A Designer's Art" is as influential as he was. It is not only involved aesthetic requirements for graphic designers, but also filled with inspiration. His book that has timeless quality with the touch of humor, is a great foundation for those who has motive to enhance their design thinking.
Paul Rand was born in Brooklyn, New York in 1914 as Peretz Rosenbaum. He studied at Pratt Institute from 1929 to 1932. He also attended the Parsons School of Design in 1932-1933, and Arts Students League from 1933 to 1934. However, Rand mostly learned design himself through the work of Cassandra and Moholy-Nagy. He prepared his great portfolio during the time he worked, and studied. During that time, he decided to change his name from Peretz Rosenbaum to Paul Rand. He shortened his name to Paul, and took his uncle name 'Rand', because four-letter name would give a nice combination. He worked as a cover designer for Apparel Arts and Direction as his first design profession. There is no doubt that he had gained enormous success in his profession that he had also become a design professor at Yale University from 1933 to 1934. Rand died of cancer in 1996. A Designer's Art book cover is wrapped in black cloth.
On the front cover, his name and its title are written in white color type at the right corner of the book. Although it is a very simple illustration, it will last long because of how simple it appears. The design of the book cover pretty much reflects his style of design, which is simplicity, clarity, and honesty. Similar to the design of the cover, he organized the texts, and pictures in a way that helps readers to comprehend easily. For example, he divided the texts into two columns, and broke the texts into short paragraphs. Thus, readers will not be overwhelmed by excessive words. Because there are white spaces between paragraphs, it improves readability, and gives readers' eye a place to rest. Since it is a book about design, it emphases more on the illustrations more than words. In a way, it shows the importance of design. Not only the contexts of the book give substantial and useful knowledge for graphic
designers, but also the book itself is designed in a way that can sharpen readers' creative thinking.
He started with the most fundamental information, and then gives more depth about graphic design and its industry. As an example, in the first topic, he mentioned about what graphic design means, and how it is related to art. After that he gave strategies to solve communication problems. He analyzed his design pieces to describe which works and which does not work. While he explained his insight of his design philosophies, he gave examples of images, which describe his philosophies thoroughly. There are more images than the text; however, the images are used greatly for the purpose of sharpening readers' thinking. Some people might question why images take up the whole page in some cases. It seems that he wants readers to take time analyzing the picture without losing the details of it. In some cases, he wrote out a short explanation together with the picture.
In other cases, he would only situate the picture with no explanation. In this way, readers could analyze the picture without his help. Although Paul Rand's book is more than two decades old, his design philosophies are still engaging as his designs are still useful till today. Even though his designs are mostly commercial designs, those designs associate with fine art to its fullest. First, in Paul Rand's A Designer's Art, he taught his philosophies that can be used to solve the problems. Then he explained his principles by illustrating pictures. Then, he let reader analyze by giving different images with no explanation. It acts as a process to help readers improve their critical thinking skill as they are reading through each chapter. Thus, this book is an ideal book for both students and designers. His designs are the proofs that good designs stay alive. Paul Rand will be remembered and well respected for embracing the importance of art in business and graphic design.
Related Topics