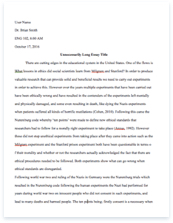 The whole doc is available only for registered users
A limited time offer! Get a custom sample essay written according to your requirements urgent 3h delivery guaranteed
Order Now
Overseas Filipino Workers or OFWs are Filipinos who are employed in foreign countries. They travel abroad to seek better opportunities in order to provide for the needs of their families in the Philippines. They are also known as "Overseas Contract Workers" (OCWs), since they work abroad through a contract of several years with their employer. Their travel is a kind of adventure (pakikipagasapalaran) with many potential risks, such as high stress, loneliness and exploitation. They sacrifice to make a living and provide a better future for their families, who they are separated from for months or even years. OFWs usually come home during the Christmas holiday or as permitted in their contract in order to spend this special holiday with their loved ones, since Filipinos are known to be a family-centered society. OFWs not only help their families to have better lives, but they also contribute to the improvement of the country's economic status. The money that they send has pulled up the economic status of the country with the overall dollar reserve.
In recognition for the economic contributions they have brought to the country, OFWs are referred to as "Bagong Bayani ng Pilipinas" (National Heroes). It was President Corazon C. Aquino who first referred to these OFWs as heroes in a speech she gave in 1988 to a group of domestic helpers in Hong Kong. The Philippines also celebrates December as the Month of Overseas Filipino Workers. In honor of their homecoming, therespect and tribute to the OFW's family often prepares a feast. The feast usually includes Filipino dishes especially those that are the OFW's favorite. The family invites their neighbors and a huge celebration takes place. Since people with relatives working abroad are often assumed to be well-off financially, it becomes necessary for the family to throw a large celebration and invite the neighbors in order to save face. Contents [hide]
1 The term OFWs
2 OFWs Top Destinations
3 References
4 Citation
The term OFWs
Overseas Filipino Workers (OFWs) used to be more commonly referred to as Overseas Contract Workers (OCWs). The term OFWs was officially adopted under the President Fidel V. Ramos Administration to give recognition to millions of Filipinos who sacrifice by working in other countries. The change, replacing 'Contract' with 'Filipino' – honors these Filipino workers by pledging the Philippine government's commitment to their welfare wherever they may be, and removing the pre-condition of possession of contract in order for Philippine consulates to come to their aid, under the Migrant Workers and Overseas Filipinos Act of 1995 (Republic Act 8042). http://en.wikipilipinas.org/index.php?title=Overseas_Filipino_workers –
[FNPFP ORIGINAL] Protecting OFWs: An Assessment of the POEA Lists and its Labor Agreements
Author:
Andrea Chloe Wong
Abstract
Aside from its efforts to protect OFWs in dangerous situations, the Philippines also gives emphasis to safeguarding OFW rights and interests prior to and during their employment overseas. Specifically, this paper analyzes the POEA lists of labor-receiving countries and labor agreements that seek to protect Filipino migrant workers. It discusses the challenges faced by the Philippine government in classifying countries into the POEA lists and in effectively negotiating for labor agreements.
Commentary
The Philippines is internationally recognized for its high regard for its workers abroad. Its eminent priority on the protection of overseas workers is enshrined as one of the three pillars in Philippine foreign policy. Because of this, the Philippine government incorporates the promotion of the rights and welfare of overseas Filipino workers (OFWs) in its global affairs and bilateral relations.
The efforts of the Philippine government towards protecting its citizens abroad are most visible during crisis situations when their lives are at risk. Recently, it has been active in evacuating Filipinos overseas in disaster-stricken areas in Japan and in conflict-ridden countries in the Middle East. It has also defended and appealed for the lives of OFWs convicted of crimes punishable by death in China, Saudi Arabia and in other countries. Meanwhile, even in the absence of crisis situations and high-profile cases, the Philippine government provides measures to continuously safeguard the rights and interests of overseas workers.
The POEA List
The Philippine government provides an evaluation of labor-receiving countries based on the provisions in RA 10022 or the Amended Migrant Workers and Overseas Filipinos Act of 1995 that took effect in 2009. The amendment states that the Philippines shall allow "the deployment of OFWs only in countries where the rights of Filipino migrant workers are protected." It mandates the Department of Foreign Affairs (DFA) to certify countries that comply with any of the following guarantees for migrant worker protection, that the country:
•has existing labor and social laws to protect the rights of migrant workers; •is a signatory to and/or ratifier of multilateral conventions, declarations or resolutions relating to the protection of migrant workers; and •has concluded a bilateral agreement with the Philippines on the protection of the rights of OFWs.
Based on these criteria, POEA released two Governing Board Resolutions classifying compliant and non-compliant countries. As of November 2011, there are a total of 125 compliant countries that have concrete measures to protect OFWs. Meanwhile, there are 41 non-compliant countries that have been included in the deployment ban due to their lack of protection guarantees. Some of these countries include conflict-affected countries such as Lebanon, Syria, Iraq, and Afghanistan.
The lists are considered important in determining which countries are generally safe or risky for OFWs. The deployment ban, in particular, is regarded as a significant attempt by the Philippine government to protect migrant workers from possible danger and abuse in non-compliant countries. However, neither the POEA's list of compliant countries nor its list of non-compliant countries includes six of the top OFW destinations (as recorded in 2010). These are the Kingdom of Saudi Arabia (top), United Arab Emirates (second), Qatar (fourth), Singapore (fifth), Kuwait (sixth), and Bahrain (ninth).
The non-inclusion of these countries in either list indeed leaves an indefinite assessment of their protective measures for migrant workers. According to POEA, these countries are considered "partially compliant," subject to further review and evaluation. However, it stated that: "In the meantime, the deployment of OFWs to these countries (not included in the list) shall continue except where deployment ban is in effect." Thus, the Philippine government risks sending millions of Filipino workers to these countries without protection guarantees.
This ambiguous status of these top labor-receiving countries reflects a critical dilemma for the Philippines. The government is hesitant to put these countries in the non-compliant list because of its negative economic consequences. An outright deployment ban to these top OFW destinations would leave more Filipinos unemployed and would mean the great loss of foreign exchange remittances to the Philippine economy.
However, the Philippine government should have a more categorical classification of these six countries (whether compliant or non-compliant). It should set a definite timeline to review these countries' efforts to protect migrant workers' rights and release its assessment at a specified period. Any delays in its conclusive evaluation will only allow these countries to remain, and perhaps benefit from, this indeterminate status. They will not be compelled to seriously assess their policies towards migrant workers. Further, without these countries in either the OFW-friendly list or the deployment ban, prospective Filipino workers will not be able to determine the safety nor calculate the risks of going to these destinations.
While this status quo may continuously provide economic benefits for the Philippines, it will also provide grave uncertainties on the welfare of OFWs in these countries. Though they are not included in the deployment ban, these top OFW destinations generate high records and incidences of abuse and maltreatment just with the sheer number of OFWs living there. This is certainly a challenge for the government as it needs to calibrate the possible loss of labor markets and revenues, should these major labor-receiving countries be eventually found to be "non-compliant."
Philippine Labor Agreements
Aside from classifying labor-receiving countries, the Philippine government also strives to forge more bilateral labor agreements (BLAs) to advance the social, economic, and legal interests of OFWs. The POEA has already tailor-made several draft BLAs to reflect the peculiar conditions and idiosyncrasies of each labor-receiving country. It has since signed several labor and maritime agreements with Bahrain, Canada, Japan, Jordan, Taiwan, and Norway among others.
However, analysts contend that these cannot be trumpeted as banner accomplishments. For one, not all of the top OFW destination countries have signed labor agreements with the Philippine government, thus categorizing these countries as merely "partially compliant." Secondly, these labor agreements are more like memorandum of agreements (MOAs) that are merely statements of mutual cooperation regarding the recruitment of foreign workers. Moreover, the provisions in these agreements pertain mostly to social security matters that have few specifics on the issue of labor protection.
To secure more substantive labor agreements, the Philippines needs to overcome several challenges in dealing with labor-receiving countries. It has to face countries resisting BLAs who assert that "the same laws and regulations involving their nationals already cover migrant workers and therefore no new laws or arrangements are necessary." Moreover, the Philippines has to contend with its limitations in negotiating for BLAs "since the terms of employment and recruitment were negotiated between the migrant workers and the recruitment agencies or private employers." Therefore, the Philippine government is dissuaded by some countries not to be involved in what is regarded as a purely private matter.
Like other labor-sending countries, the Philippines also suffers from a weak bargaining position when negotiating for BLAs with labor-receiving countries. The reason for this is in "the nature of the overseas employment program as a supply and demand market where the supply outstrips the demand and 'buyers' have a wide spectrum of choice with little differentiation between suppliers."
Indeed, the Philippines needs to confront these challenges in order to get labor-receiving countries to negotiate for BLAs or, if not possible in the short term, MOAs that would indicate assurances towards a more substantive labor cooperation. Having knowledge of these challenges should enable the government to design strategies to address them and effectively negotiate with other labor-receiving countries, particularly those top OFW destinations, to sign any forms of agreement on labor protection. Having these labor agreements would pave the way for cooperative efforts between the Philippines and other countries to deal with serious issues such as human trafficking, labor abuse, and exploitative work conditions that compromise the welfare of OFWs.
Indeed, the Philippines must strategically face this important dilemma, particularly in its dealings with countries with large OFW populations. The main issue remains: In its solemn task to protect its migrant workers, can the Philippines stand up to its top OFW destination countries and effectively deal with them to protect its migrant workers?
As it faces the increasing number of Filipinos migrating abroad for work, the Philippines must advance the improvement of local measures and development of global strategies to safeguard OFWs. So far, the Philippine government is on the right track through its regular assessment of labor-receiving countries and its continuous efforts to negotiate for labor agreements. While efforts are already in place, what is now considered crucial is a more resolute government that will stand firm on its assessments and negotiations with these countries. How the Philippine government addresses these challenges will definitely put to test its dedication to protect Filipino migrant workers. http://philippinesintheworld.org/?q=node/1171
OFW: Money over Family
As of today, there are approximately over 11 million Overseas Filipino Workers all over the world. Each year, a million more Filipino workers are deployed. It is undeniable that life in the Philippines is hard. With the monthly increase in transportation fees and basic commodities, the closing of local companies and factories, not to mention the economic crisis the world has been going through, Filipino citizens, both rich and poor, have been suffering a lot. As a result, people hoped to find a better life in other countries.
OFWs are now called as the country's modern day hero; probably because of their selfless act to work to an unknown country to support their family, or maybe because of the $600 billion remittance that they contribute for the country. According to an article in gmanews.tv, the money that OFWs send home is equivalent to about 10% of the country's gross domestic product. This means not only are these remittances a major factor to the country's economy, it also help improve the quality of life of the migrants and their families.
Despite the economic benefits that OFWs provide for the country, there are negative effects to the family left behind. Melanie Reyes, a professor in Miriam College said that, "While the current volume of remittances seems to constitute a great resource to tap for the promotion and protection of children's rights, the prevailing separation of one or both parents from their children definitely goes against the interest of the children." OFW parents fail to fulfill their moral obligations and responsibilities to their children. As a result, they may feel abandoned or disliked by their parents. She also said children with mothers abroad tend to be "more angry, confused, apathetic and more afraid than other children" because the absence of this parental icon could be the "most disruptive in the life of the children." http://www.antiessays.com/free-essays/235381.html
OFW – Bagong Bayani or Bagong Biktima
Filipinos are moving out of their homeland at an alarming average daily rate of two thousand four hundred (2,400) according to government statistics (Department of Labor and Employment., 2004) This figure does not include undocumented or illegal migration. The migration phenomenon has been the subject of researchers from different entities such as the government, non government organizations (NGOs), academe, media and business institutions. The Philippine Government, through its agencies such as the DOLE, Overseas Workers Welfare Agency (OWWA) and Philippine Overseas Employment Agency (POEA), with its branding and labeling battle cry depicting the overseas Filipino workers (OFWs) as the "bagong bayani", looks into the angle of how much will it get out of OFW remittances to increase the paper tiger figures of the GNP and GDP. According to a research conducted by at the University of South Florida, The state mobilization of OFWs rests on the careful deployment of the nationalist discourse that underlies the export of contract workers. Media campaigns, government policy pronouncements, and a steady repetition within government offices encourage all Filipinos to take pride in these "heroes."
The economic and the national are intimately intertwined, for example, in the Philippine Overseas Employment Administration website announcement of the annual "Our New Heroes"( Labors of Globalization: Emergent State Responses, Jonathan Bach and M. Scott Solomon, Occasional Papers on Globalization Volume 3 No.3 2007 , University of Florida) OFWs are probably called heroes because they have been executed (Flor Contemplacion), kidnapped (Angelo de la Cruz), raped (Sarah Balabagan) and extorted from (all OFWs sending remittances to families and immediate relatives). In the recent global controversial news that has featured the Pinay housemaids1, the Philippine government has negotiated the salary ceiling with Malaysian government. On the other hand it has been viewed as a form of a demand on the side of the Malaysian employers. Whether the salary has been bargained or demanded the government negotiator should have only concentrated on other OFW issues such labor welfare security. The salary rate in the labor market is dictated and will always be (dictated) by the hosting country's employers and in this case Malaysians dictate the price.
After the "negotiation" employers have started firing some of the Filipina maids for fear imprisonment if they will not meet the salary standard set by the brilliant negotiating panel of the Philippine government. The President Gloria Macapagal Arroyo on the other hand has been roaming around the Filipino global communities with her entourage giving motivational speeches reiterating "inspiring" words and phrases: "bagong bayani", "kayo ang mga bagong bayani", "your remittances have helped your country", and all the other blah blahs. What is surprising is that according to POEAs 2004 statistics seventy three percent (73%) who has gotten legal and documented contracts to work abroad and become new heroes… are women. NGOs that specialize on this phenomenon are being funded by international and local benefactors such as Asian Development Bank (ADB), United Nations Development Program (UNDP), Philippine Business for Social Progress (PBSP) and other foundations. Highly paid consultants do their research on the social and moral issues of its effects on families from fathers and mothers to the children. Consultants travel to and fro, in and out of the country giving lectures everywhere about the real situation of migrant workers.
To their benefactors, they provide a picture of how migrants are maltreated, discriminated and exploited to the hilt of destroying the persons' human dignity. They give their altruistic recommendations. They get funds, they do research, and talk about what they've discovered on empirical, quantitative, phenomenological, qualitative types of researches , they get funds, they travel, they talk, they get funds again, talk to politicians, priests, the masa. They get funds to talk. Any NGO who is into migrant studies is into a recurring process of continuous funding and talking about the migration phenomenon. This has been going on for the last x number of years. The phenomenon is still there, the situation is getting worse and the statistics of migrants keep on rising. Filipino doctors are going through a process of professional transformation by making an awkward career move to become their perception of a lowly nurse in the United States. Chief Executive Officers (CEOs) in top corporations and SMEs have enrolled in caregiving courses hoping that one day their application for migration in Canada will be approved. Bank managers have used their credit cards to apply for permanent migration in either New Zealand or Australia.
This author has gotten an Australian immigrant application waiting to be filled up. Being a future number of the brain drain statistic this author doesn't even know what are the by products of the research work made by these well funded NGOs. These hard facts leads to a very simplistic conclusion that the author feels the urge to migrate because of the perception and outlook of what's happening in his country is moving from worse to worst. Nothing positive in political and economic events that is changing the outlook. Nothing is being done to change the perception in government, in the church, in the media and in the military. In other words, the effects of the research and recommendations of these NGOs can't be felt. If there's money in research on migrants another best option for the author would be to get into this bandwagon and get rich because no one can deny that the donors or funding agencies of migration related researched based NGOs are adequately financed by big corporations. PBSP for example is funded by the top xxx corporations in the Philippines.
What do they get out of funding altruistic projects… tax incentives and tax exemptions from money doled out as "donations." The academe community's students of masteral and doctorate in compliance with the requirements of submitting theses and dissertations leech libraries and the internet to search for a theoretical framework to be able to come up with questions of why and how. Though theses and dissertations have been done in a "very scholarly manner", they remain in the shelves of the libraries to be eaten by cockroaches and rats as well as being lost in the oblivion of dust and cobwebs. While the government is coming from an angle to pad up the economic outlook with the remittances the private media conglomerates on the other hand regard this phenomenon as an opportunity to profit. ABS-CBN for example has been able to acquire an enormous sponsorship by broadcasting via cable network channel which can be seen by OFWs worldwide. The Wowowee noontime game show has showcased two sets of audiences the balikbayan mostly women with their foreign husbands –the HAVES.
The other side would be of course the HAVE NOTS that comprises the marginalized whose professions ranges from balut vendors, takatak cigarette boys, the dyaryo boteros and the palenkeras. The HAVES showing their philanthropic spirit of generosity by doling out their dollars as prize money for the HAVE NOTS. Subliminally, this noontime show scenario only says one thing:: there is more money and opportunity abroad. Generally, the atmosphere imbibes their audience to have a mindset that joining the game, coming to the studio as contestant or just merely watching it would improve one's life. Business opportunists ride on the migration band wagon to sell products from real estate, insurances to cremation plans. Banks have looked into the money transfers and remittances and have secured their business process by pushing the anti money laundering bills that have prevented small time remittance entrepreneurs from expanding. In the advent of the internet technology, e-business or online trading of various products have created marketing strategies to tap into the largest labor commodity of Asia.
The Ayala conglomerate has established an on online mall to provide an online ordering and delivery system for OFWs who would want to send gifts like flowers, lechon and pansit to their relatives in the Pinas. One can notice from the advertisements in the local free channels that significant number of commercials the scenarios depicts the labor export based economy such as : Advil commercial – a scene where the woman said to her friend she's using that in the "Steyts" Duty Free Philippines – Gary Valenciano singing a song on the context of "bagong bayani:" Rexona Deodorant – a girl waiting for her brother at the international airport. Western Union, Express Padala, LBC – remittance companies that have made their presence felt in the boobtube trough commercials The list could go on and to sum it all up, this labor export culture is either being exploited or supported depending on where one is coming from. The Migrants… Where are they coming from.
The migrants are not the bagong bayani. We can call them the bagong biktima or the "new victims". They are the victims of economic exploitation. Economic exploitation comes in forms that are not easily perceived or comprehensible to ordinary mind where the following indicators are evident in a locality: When there is no more market activity… there is no more economic activity. When there is no more opportunity to have a decent job.
When wage earned does not meet the day to day physiological needs (food, clothing and shelter) and perceived lifestyles. When jobs does not offer security of tenure
When there is conflict and life is threatened by physical violence When government fails to facilitate the delivery of basic goods and services When the marginal perceived indicators are observable in the day to day events… the widening gap between the rich and the poor that breeds Feeling of Discrimination
Indifference in lifestyle that leads to
False pretense of jealousy among societal classes (Upper, Middle and Lower Classes) No economic activity means no opportunity, no jobs, no money, no honey. Trade will always be related to migration. One does not need to be an economist to be able to conclude that where there is no production there is no product to sell. One moves out of the locality to look for a job because there are no jobs anymore. There are no jobs because no one is producing, no one is selling. This is so because in a labor export economy like the Philippines, the youth has been molded by the government, businesses and media to take courses such as nursing, education and computer science because they are highly paid jobs abroad. The motivation is to move out and take courses that are in no way related to the production of real and tangible products such as food, clothes and construction materials. It's a sad story of where we the Filipinos have failed, second and third generation migrant Chinese and Indians have picked up and have profited from this national cultural error. The migrant Chinese are now the biggest business owners in the Pinas and have begun building their empires while the Filipinos are moving out with their diplomas and certificates to work in lands where they are exploited by employers and forsaken by their own government.
In other words, to simply define the grey area… the current culture does not encourage Filipinos to look into the endogenous resources and build business opportunities out of it. Low wages – the usual overworked-underpaid complain. Work is a contract between the employer and the employee. One performs a business function to get paid while the other looks for opportunities to expand and manage the business. There should have been a mutual understanding of the values both performs for a business enterprise. Nonetheless, the employer-employee relationship is tarnished by several motivating mindset that capitalists are oppressors and they are just there to profit. Some capitalists on one hand does not have the virtue of empathy to understand the dilemma of being a worker… the worker as a human person with human dignity just like them (capitalists). Solid Mills and Litton Mills, two of the biggest apparel manufacturing companies have closed 2004 and 2006 respectively. The closure has displaced thousands of its employees which also led to the shutting down of or near closure of their sub-contractors.
The author being a supplier of packed-lunch few years ago to one of their sub-contracting agents of these apparel companies has heard several job working condition and job salary complaints of sewers and other staff almost every time he delivers their food. The owner on the other hand fears that she might not get any contract anymore because at that time sub-contract job orders to sew clothes are dwindling. She fears for her employees' tenure and well-being, considering that she's got nothing to loose once she's closed shop. Then the inevitable happened. Public school teachers are no different from apparel industry employees. They have complained about the salaries that cannot meet their basic necessities from the water and electric bills to food expenses to feed their children. Several times in the last decades, they have gone to the streets to cry and rally for a raise of income. The author's sister in law, having kids studying in public elementary school has orally accounted that they get high-end cellular phones, twenty nine inch televisions and handbags through loans where principal and it's high monthly interest of five percent (5%) are to be paid either weekly or daily.
You oftentimes see them in noontime game shows as a group of excursionists with students as their entourage. Now the question lies on are they complaining about their salary not making the both ends meet? Would that be meeting then basic needs or their want for a particular lifestyle? When companies close. The overall picture of trade and employment in the Philippine Economic Zones is a picture of unsecured job tenures. Companies located in the economic zones or locators are multinational companies who have been given by the Philippine government the following incentives : Tax incentives and subsidized importations. It ranges from a low tariff or customs rates on raw materials or no customs tax at all. A whole year round tax holidays. Political and Economic cover through investment incentives such as low rental and leasing fees on government owned lands; diminishing the initial capital investment writing off start-up taxes like permits and licenses; less application of intervention policies or regulations on sanitation and quarantine.; discouragement of local governments to create labor unions.
Ironic it is that local startup Filipino owned corporations, partnerships and sole-proprietorships do not enjoy what these multinationals investors have benefited from. What is worse is that when they have discovered a new labor market that offers a cheaper wage rate than the Philippines they just pack and leave at a snap of a finger. Life is threatened due to economic and political beliefs. The recent news events concerning killings of media practitioners and political activists that has pointed a finger on the military institution has logically made the national development outlook glimmer. What do you expect from a population where everyone is looking outward to More Developed Countries (MDCs) to permanently migrate with their families? How can you consolidate two conflicting notions in the government where there is an agency called the Office of the Peace Process whose advocacy is to negotiate peace and justice with the lefts, the rights and the separatists while in the news there are killings of people persons who stand on the opposite side of the current government actions an inactions on certain policies? WYSIWYG – What you see is What You Get. Has anyone living in the posh villages ridden the jeepney? Does Kris Aquino or Boy Abunda take a bus from their castle abode to ABS-CBN? This is a question of a day to day experience.
If one is taking a jeepney from his home to his place of work, it is one hell of a ride. Regular commuters taking the jeepney helluva ride don't want to ride the jeepney anymore. They want to ride in air-conditioned cars, SUVs and AUVs. The road is smogged. The jeepney drivers have no road manners, no ethics. You see takatak boys selling cigarettes in the middle of the street rain or shine. Traffic policemen with their big fat bellies are waiting in a corner with a set of licenses and a booklet of traffic tickets. Politicians with their SUVs and AUVs accompanied by motorized policemen makes the traffic stop just to make them pass. Beggars and street children are in their usual poses of extending their palm upward to ask for alms. Motorcycle riders swerving anytime they like riding like a freespirit helmet-less. Just looking on the urban road where everyone experiences the same scenario, would this make one thing to still stay? "If I can't get rich here, I'll get rich somewhere else", an individualistic perspective. This is innate in every human being. The only difference lies on the value formation where a few of still-noble people view the urban road scenario as a challenge.
What is appalling is that based ones perception on these barefaced facts people move out of the country. It's the current scenario of political and economic hopelessness that makes people migrate. The decision making process of migrant workers where it involves information gathering and evaluation. Perceived information comes from the following four estate of powers: Government. Perception on what it is doing to implement the basic deliveries of goods and services. Perception about government leaders, officials and employees through news in the tri-media. Experience on how government personnel from officials have dealt with the public on its day to day operations. The Church. Perception on effectiveness of the preaching the virtues of Christianity through pulpits where corrupt government officials are part of the parish communities. Media. Perception on what is the right needs to patronize. Perception on current events that influence the economic and political outlook. The Military. Perception of human security. Perception of their role in bringing peace and order or bringing chaos and disarray in all levels: individual, families and communities. Decision Based on Perception
Scholastic Theoretical Hooplas.
Adam Smith the eclectic economist during the enlightenment age who has started the hobbles of classical economics illustrated that labor is caused by the differences of supply and demand of the different locations. In layman's lingo, it simply means that perception and awareness should be present on the side of the person deciding to migrate. The neoclassical theorists have spun off from Adam's suppositions. Harris and Todaro justified their theory by graphs and formulas comparing the origin and destination of migrants. The model has shown the destination having a higher wage level and opportunity than the origin. Contesting, positing, and proving these major theories of migration are only out to demonstrate models or theories have players… the major player is the migrant themselves. The bottom line is that people move out, there's an origin and destination and top of it all there is a DECISION process. Migration in the layman's context can just be explained by perception and experience. Take for example the case of a disgruntled employee. If an employee considers himself underpaid due to his subjective notion of the "marketability" of his qualification and experience, he moves out of his current company for another company whom he thinks can provide him a bigger salary that can support his day to day needs and his lifestyle as well.
Temporary vs. Permanent Migration – What is my choice? Where do I work, live and die? Who am I? The rational choice theory, whose origins can be traced to classical (Adam Smith and David Ricardo) and neoclassical (William Jevons) economic literatures, explains that the decision maker decides in favor of the thing that would provide him the maximum utility. It means that between two almost identical objects, the decision is based on set parameters that provide the maximum deliverables. Decisions are based on pre-conceived motivations. To simply put it in the Pinoy context: "I will buy at McDonalds because I like Ronald McDonald because he is more handsome than the Jolibee mascot." The decision is not solely based on the functionalities of the product but the "value added" perception. The "Jobs" word is the most studied five letter word in the whole world wide universe. It is often used and abused in several contexts, economics, sociological, business, even in sexual framework. Those who have no jobs look for it. Those who are not satisfied with it look for another one. Those who cannot look for one loose their dignity. Jobs make the world go round.
Without any job, one does not have any money and according to Kiyosaki in his famous Rich Dad Poor Dad self help book "the lack of money is the root of all evil." Ergo, no job, no money, no honey. Availability of jobs, job creation, job discrimination, job benefits and job tenure are among the focal points that are being discussed in the International Labor Organization (ILO) forums. When one nation implements properly good policies in reference to these focal points it can be construed that it has a stable economy. These nations often termed as More Developed Countries or MDCs have the earnestness to promulgate laws that protects constituents by drafting, enacting and implementing measures that ensures the stability of its labor market. On the other side of the fence are the Less Developed Countries or LDCs that has yet to learn the conventions of what is the "proper" implementation of policies that has a "jobs" word stamped on it. Availability of Jobs and Job Creation policies.
When a corporation or company expands they make jobs available. When a start up company is supported by equitable regulations and structures that provides assistance in capital such as banks offering low interest rates they create jobs. Job discrimination policies. When there is equal opportunity on gender, age, class and ethnicity then there is less discrimination. Job benefits policies. When government and companies provide welfare for the workers' family members from hospitalization or health, well-being and sanity through vacation leaves and personal improvements to a good retirement plan then it is proven beneficial to the worker. Job tenure policies. When job contracts provide workers security of tenure with reference to nature of the job's tenure (permanent or contractual) and there are available opportunities after the contract expires can be one indicator a nation has a policy on this aspect. Do we have these here in the Philippines? If we have these… why leave? The MDCs of choice
Two types of international migration: permanent and temporary. Where do permanent migrants go? What are their job qualifications? Several studies on permanent migration has concluded that MDCs such as the United States, United Kingdom, New Zealand and Australia are the first choices of the permanent migrants. These types of migrants are doctors, nurses, teachers and IT professionals. The migration to the United States is one of the most popular subjects of theses and dissertation due to the fact that there is already a pre conceived notion that it is the land of milk and honey and its bully economy. Every clan in the Philippines has a relative in the United States. How did they get there are stories worth telling. In some other cases where there are no relatives in the US for sponsorship, using the internet technology, Filipina women have prostituted themselves through chat networks like Yahoo, ICQ and AOL. To these women, male workers living in the United States: African American, Caucasian American, Amerasians and Filipino Americans are considered as their knights in shinning armor. They have browsed and lurked in the internet, posted their pictures in the websites and chat rooms.
These women belong to different societal classes from professional prostitutes to decent school teachers in prominent catholic schools. These new types of prostitutes have either prospered or failed in their virtual adventurism. Some may have gotten married to their male concept of knight in shining armour and has lived happily ever after but others ended up in the statistics of battered women. Canada, New Zealand and Australia now provide the next best alternatives to the land of the free and home of the brave. They have a systematized recruitment process. One can swipe a credit card virtually to apply for an immigrant application forms. Applications are evaluated based on point system which is based on the usual job application requirements such as experience, educational attainment and age. Considering the knowledge based economy of these MDCs and the recruitment system one can conclude that middle class are the targets of this scheme. The scheme recruits workers with their families.
This is obviously draining the brains out of our country. Is permanent migration our country's worst nightmare? Migrating to other country with wives, sons and daughters means fewer remittances. There is no wife, no son and no daughter to remit to. The migrant couple would rather spend their wages to their immediate families than their fathers, mothers, brothers and sisters they have left behind. If the parents of these couples are still living, the couple would rather fetch them and make them live in the migrating country most cases. So what remittances are we talking about here? In the Permanent Migration Phenomenon Remittances is either LESS or NOTHING. Where do the ordinary laborer, the entertainers, the less skilled laborers and the tsimays go? Everybody in Pinas knows that the Japayukis have gone to Japan and the construction workers with their bosing architects and engineers are in Saudi Arabia and the Middle Eastern countries. .The tsimays are all over the continents of the earth. They have families here in Pinas. They come back to copulate with their spouses on allowed vacations; spend their hard earned money to buy toys for their hijos and dresses for their hijas; they buy gifts and chocolates for their nanays, tatays, ates, kuyas and their pamangkins at the duty free shops once the plane has landed; extorted by customs and immigration officers before passing through the passenger exits of the international airport.
The bulk of the whole package of remittances comes from temporary migrants. These Filipinos have suffered a lot in countries where policies are not favorable for these types of workers. Their migratory journey in some cases is an experience of human trafficking as a factory worker in Taiwan and Korea, illegal recruitment, prostitution dens in Japan, a work comparable to slave labor in the Middle Eastern countries. It is beyond doubt a journey of blood, sweat and tears. What happens to the well being of families of these temporary migrants? Temporary work migration of either one of the spouses to MDCs such as Saudi Arabia, United Arab Emirates, Singapore, and Japan creates an imbalance in the emotional well being of the migrant's children. When the father leaves, the authority figure is shouldered by the mother. That is why in all probability why the male child is prone to become a homosexual when there is no male authority figure left in the house. The clannish culture of the Filipinos, in some instances has become the saving grace of the Filipino malehood whereby it has provided the male Filipino child the needed male authority figures in the persona of their uncles and grandfathers.
This state of gullibility is further enhanced by the culture that tolerates homosexuality and the media who condones the homosexual eroticism of gay men like Boy Abunda. The media is now sending the message that it's cool, alright and ok to be gay in the Philippines. This is what the boy picks up. Even the name Boy Abunda sends out a subliminal message that the operational definition of the Filipino culture, the word "boy" means gay in the Philippines. There are cases where wives have engaged in extra-marital relationships to fill up the gap of the need to copulate. One cannot blame the other because of the absence of a true husband and wife, father and son, father and daughter relationships. Also in some cases, women have "mismanaged" hard earned remittances because of the clannish culture of freeloading. Freeloading relatives of the OFW wives slice through the pie of the hard earned remittance of the OFW husband. The OFW husbands on the other hand, in some instances feast on extramarital affairs by copulating with other female OFWs. This type of migration is making families suffer. The normalcy of the family has been sacrificed. And the bottom line is that the families of temporary migrant workers are producing male children with homosexual tendencies and female children with masculine-superior complex who are the future prostitutes ready to sell themselves to wannabe alpha males of MDCs. What is left? What is to be done?
While everyday, 2,400 new "boat people" of Asia are leaving the country temporarily and permanently, Filipinos still go on with their blessed lives either being patient with politicians promises, hearing moral sermons from the priests every Sunday, the females watching tele-novelas and the showbiz tsismis, the males testing their libido by having a drinking spree with his buddies in karaoke bars' VIP rooms… waiting for the next Fatima like miracle. Again… the widening gap. Filipinos may have been seeing and experiencing this but are not aware of it, probably just ignored it and don't want to talk about it. Just take a look at the satellite pictures taken by the software called google earth. Picture speaks louder than any loudmouth social scientists in NGOs. The great divide between the affluent leisure class rich, the struggling middle class, and the marginalized poor can be clearly seen in the picture. The divide is a street called Daang Hari at the back of the Great Wall of Ayala Alabang Village (AAV).on the right area of the picture. The Alabang Village people enjoys their big lots with swimming pools, big lawns while it would take twenty Gilid people shanties to fill up the area of a house in AAV. The middle class on the other hand is getting sucked up by the angst and the desperation of the squatter people.
The squatteric people lives just beside the middle class community and have access to roads, the middle class logically become victims of the desperate urban poor criminals. The posh AAV residents on the other hand enjoy their wall of security, literally and figuratively, as if they are living in a country of their own. There now remains Filipinos who have not opted to become "boat people". Meanwhile, the widening gap between the HAVES and the HAVE NOTS are obvious from the color of their skin, to the styles of their clothes and the manner of their conversation. Once this gap becomes wider to the point where the HAVE NOTS have grossly and gravely felt that they are discriminated, oppressed and marginalized there would be a point of a SNAP. The snap is where some learned individuals would again call for a revolution. SNAPPING POINTs are historical phenomena among nations to patch in that gap through revolutions or civil war. WARs and Revolts have always had ECONOMIC parameters. Now whether it would be a bloody one or not is the million dollar remittance question. http://antipinoy.com/ofw-bagong-bayani-or-bagong-biktima/
An Overseas Filipino is a person of Filipino origin who lives outside of the Philippines. This term applies to Filipinos who are both abroad indefinitely as citizens or permanent residents of a different country, and to those Filipino citizens abroad for a limited, definite period, such as on a work contract or a student. It can also include seamen and others who work outside the Philippines but are not residents, either permanent or temporary, of another country. They are known by a variety of terms with slightly different and sometimes overlapping meanings. Overseas Filipino Workers or OFWs are Filipinos working abroad that are expected to return permanently either upon the expiration of a work contract or upon retirement. Balikbayans are Filipinos who have become citizens of another country and have returned to the Philippines for a temporary though extended visit. Global Filipino is a term of more recent vintage that less widely used. Former Philippine President Gloria Macapagal-Arroyo applied the term Overseas Filipino Investor or OFI for Filipino expatriates who contribute to the economy through remittances, buying properties and creating businesses. As a result of this migration, many countries have substantial Filipino communities. http://en.wikipedia.org/wiki/Overseas_Filipino
OFW Children: Wanting for More Attention
The Philippine government considers Overseas Filipino workers (OFWs) as a new breed of economic investors in the country. Much has been said about the economic contributions of OFWs but it is also equally important to look into the effects that migration has on their children left at home. On the positive side, children of migrant workers have better living conditions than their counterparts from non-OFW families. They experience more monetary benefits in terms of food, clothing, education, and savings. While some would think children are satisfied with this, this issue's main article reveals otherwise. OFW children put more premium on time and attention given to them by their parents. More than their children's need for a better education, which is the main reason for migration, parents should also be made aware of the greater need to address the emotional needs of their children. Regular communication is the key and various institutions such as the government, schools, and social groups have roles to play in addressing key issues affecting the welfare of OFW children. http://publication.pids.gov.ph/details.php?pid=4328
Kids of OFWs pronCHILDREN of overseas Filipino workers (OFWs) could be prone to emotional, behavioral and mental problems, psychiatric doctors said yesterday as they aired concerns over the continuous exodus of Filipino workers.
In a forum in Quezon City, officials of the Philippine Psychiatric Association said the continued deployment of workers overseas could affect the development of their children.
Dr. Felicitas Soriano, PPA president, said while there is no official study on the behavioral effects of migration on children, "clinical exposure" showed that several OFW children are having emotional problems.
"What will become of our children? We observe that many OFW children are becoming insecure and drug dependents," said Soriano.
She added that some OFW children also become materialistic and spend their parent's money on gadgets and internet gaming because of lack of guidance.
Dr. Grace Macapagal, in-house psychiatrist for crisis intervention rehabilitation in the Department of Social Welfare and Development, said that in cases where the mother or the father leaves to work abroad, there is an indirect effect on the children left behind.
"Migration of one parent or both is a very painful time for children and can cause bad emotions to stir up," she said.
In the case of an absentee father, Macapagal said, boys belonging to OFW families develop gender identity problems which become more "obvious when they grow old."
On the other hand, there is the "feminization" of OFWs, or where more women are now working abroad, leaving the care of children to their husbands. This is causing a role where fathers are left to care for children even if they are not prepared.
Macapagal added that there are also instances where the eldest daughters become the "substitute" for the mother.
"Minsan it's the eldest daughter who takes up the role of the OFW mother. Sometimes they also take the sexual roles of the mother to some fathers," she related.
The doctors said one way of combating these problems is the utilization of an extended family in which relatives could act as surrogate parents.e to emotional problems http://ofwbagongbayani.blogspot.com/2008/01/kids-of-ofws-prone-to-emotional.html –
Countries with Filipino populations
Australia: In 2000, Australia recorded about 127,000 Filipinos and/or Filipino Australians.[AUS] Brazil: As of 2008, there were 379 Filipinos in Brazil. They consist primarily of Catholic missionaries and migrant workers in the telecommunications and oil sectors. There are also a few former seafarers who settled in port cities, and an increasing number of Filipinas who lived in Japan and married Brazilians who were living there.In Venezuela there are 136 Filipinos citizens according to 2001 Census and the community amounts to 500 inhabitants.[12] Since 2008, 33 overseas Filipino workers (11 men, 22 women) have been detained in jails in Brazil on charges of drug trafficking, primarily for attempting to bring in cocaine through airports.[13] Canada: Only a small population of Filipinos resided in Canada until the late 20th century. The Philippine Overseas Employment Administration has estimated that as of 2006 there were over 400,000 Canadians of Filipino origin.[14] Due to Memorandum of Understanding (MOU) between Western Canada and the Philippines; contracts in Atlantic Canada; consistent hiring of workers in Central Canada; and increased activity in Northern Canada, it is estimated that there will be some 500,000 Filipinos in Canada as of 2010.
As of December 2008, Filipinos overtook China as Canada's leading source of immigrants.[15] See Filipino Canadians. Greece: The Philippine Embassy has reported an estimated of 40,000 Filipinos in Greece.[16][dead link] Hong Kong: There are approximately 140,000 Filipinos in Hong Kong, of whom most are domestic helpers (30,000 of them being members of the Filipino Migrant Workers Union). Filipino maids are known by the locals as amahs, or more often feiyungs (less politely, bun mui or bun bun), and face discrimination and maltreatment from the locals. A Hong Kong work visa requires some amount of higher education; and in some cases Filipino women with college degrees and perfect command of English are willing to work as maids and nannies for a salary higher than they could make at home in professions.[HKG] India: Approximately 1,000 Filipinos reside in India. However, government's official figures show some 500 Filipinos. Italy: There are about 250,000 Filipinos in Italy. This makes the country host to more Filipinos than any other countries in Europe. Given the high amount of women working as domestic helpers, the italian term "filippina" is now often used as a sinonime for this profession. Iraq: Despite that the Philippine government banned OFWs from working in Iraq, an estimated 1,000-3,000 Filipinos[citation needed] work there.
Most work on US Military bases around the country as cooks and laundry service, sometimes as third-country national security guards. This is the only foreign country in which Filipino men outnumber Filipino women. Ireland: As of 2008, the Philippine embassy in London reported that there are 11,500 Filipinos in Ireland.[17] Japan: Some 350,972 Filipinos are listed to be living within Japan's geographic confines.[JPN][18] However, this number is speculated to be larger, surpassing the one million mark due to many unlisted and illegal Filipino nationals.[citation needed] Lebanon: As many as 30,000 OFWs are working in Lebanon. Due to the recent turmoil between Lebanon and Israel, however, many have been repatriated back to the Philippines, while others have been relocated to Cyprus, a part of the Philippine evacuation plan.[LBN] Malaysia: As Sabah is very close to the Philippines, many Filipino residents and illegal immigrants live and work there. Filipinos make up about 30% of the entire population of Sabah and they enumerate up to 900,000. Many Filipinos in Malaysia come to work in construction industries, fisheries, and other labor intensive sectors in hopes of a better living. Most live in stilt slums scattered behind cities or on offshore islands.
The Philippine government also has promised to establish a consulate to provide any necessary help to its nationals. Historically, The Philippines has a dormant but legal claim on the territory. Mexico: There are about 200,000 Mexicans of Filipino ancestry[19] living in Mexico, some of whom are of mixed blood heritage. They are descendants of Filipino slaves and immigrants who settled in Mexico during the colonial period. More recently, there were Filipinos who arrived as refugees to Mexico who fled from the Marcos dictatorship. Their communities are found in Guerrero, Michoacán, and Colima. Middle East: Many Filipinos work in the Middle East (mostly Saudi Arabia and UAE) as engineers, nurses or hospital workers, accountants, office workers, construction workers, restaurant workers and maids. The Philippine government estimates that more than 2 million Overseas Filipinos are working in the Middle East. New Zealand: There are about 17,000 Filipino residents and citizens in New Zealand called KiwiPino's, Filipino New Zealanders. New Zealand, as in the past, are currently recruiting Filipino qualified nurses.
Filipinos in New Zealand, as well as prospective immigrants, often lean towards information technology, nursing and, more recently, telecommunications for careers.[citation needed] Nigeria: Filipinos in Nigeria consist largely of migrant workers in the oil industry, though those in the capital city Abuja also work in the education and medical sectors. By mid-2008, their numbers had grown to an estimated 4,500, up from 3,790 in December 2005.[20] They commonly hold skilled construction positions, among them pipe layers, welders, and engineers, and may earn as much as US$10,000 per month; however, those working in oil areas in Southeast Nigeria often find themselves the target of violence by local militants.[21] Majority of the OFWs are working/residing in Lagos and Abuja. Filipino workers are actively petitioning the Philippine government to lift the travel and work ban in Nigeria.[22] Norway: The number of people with Filipino background in Norway is estimated to be about 12,000, most of them living in the Oslo urban area. In addition to Filipinos who have intermarried with Norwegians, there are at least 900 licensed Filipino nurses, over a hundred oil engineers employed mostly in offshore projects in the western coast of Norway and Filipinos or Norwegians of Filipino descent working in the government sector, diplomatic missions and NGO's and commercial establishments.
An additional 35,000 Filipinos working on Norweigan-owned or operated ships or in shipyards.[23] Oman: As of 2011, there are between 40,000 and 46,000 Filipinos in Oman.[24] Oman was the only Middle Eastern nation included on the Philippine Overseas Employment Administration's list of nations safe for OFWs.[24] Pakistan: According to the statistics of the Philippine government, an estimated 3,000 Filipinos live and work in Pakistan. Filipinos in Pakistan work as domestic workers, and housemaids.[25] Singapore: Over 150,000 Overseas Filipinos work and reside in Singapore.[POEA2004] A notable incident involving an OFW was the trial and execution of Flor Contemplacion for the alleged murder of her employer's child and another Filipina, Delia Maga. South Korea: According to the Commission on Filipinos Overseas, as of December 2006, some 70,000 Filipinos work and live in Korea.[citation needed] Of this number, some 6,000 are permanent residents, some 50,000 work legally, and some 14,000 are "irregular" or do not have the proper documents.[26][not in citation given] Spain: There are around 50,000 Filipino legal workers living abroad in Spain,[27] mainly in Barcelona and Madrid. [4] nearly 0,7% of Spanish population.
Sweden: There are about 4,000 Filipinos in Sweden, mostly are married to Swedes and working in housekeepers in hotels and in old caretakers. Taiwan: According to the 2006 data of the government of Taiwan, there are 96,000 Filipinos currently living in Taiwan. Of these, 58,704 are in manufacturing industries and 34,602 are in social or personal services (e.g. maids).[ROC] However, according to 2004 data by the Philippine Government, there are 2,037 Filipinos living in Taiwan permanently, 154,135 are in Taiwan for work contracts, and 4,500 go to Taiwan irregularly, which make a total of 160,672. It is not known why there is such a big difference between these two numbers (96,000 vs. 160,672).[citation needed] United Kingdom: Nurses and caregivers have begun migrating to the United Kingdom in recent years.
The island nation has welcomed about 20,000 nurses and other Filipinos of various occupations and lifestyles during the past 5 years. The United Kingdom is home to an estimated 200,000 OFWs.[27] Many Filipino seamen settled in British port cities during the late 19th and early 20th centuries. Liverpool even had an area nicknamed 'Little Manila'[28] United States: Despite race relations problems of the late 19th and early 20th centuries in the American Northwest, most Filipino Americans today find it easy to integrate into American society, with a majority belonging to the middle class. Filipinos are the second-largest Asian American group in the country; Tagalog is the fifth most spoken language in the U.S. Filipinas comprise a large portion of the roughly 4,000-6,000 women who annually come to the U.S. through method of mail-order bride,[29] internet courtship, or direct contact when travel to the Philippines. The US State Department estimated that there are 4 million Filipinos in the US as of 2007.[30] Venezuela: There are 136 Filipino citizens registered in the 2001 Census. http://en.wikipedia.org/wiki/Overseas_Filipino
Related Topics