Of Mice And Men Crooks Analysis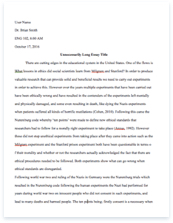 The whole doc is available only for registered users
A limited time offer! Get a custom sample essay written according to your requirements urgent 3h delivery guaranteed
Order Now
In Chapter 4 of "Of Mice and Men", Steinbeck, introduces the character of Crooks by describing his room in the horse stable and his belongings. Steinbeck's use of describing the setting doesn't only lets us know where the characters are but in this case it lets us know who the character is. The objects in his room and the way they are placed all tells us something of Crooks's lifestyle. Crooks's character is intriguing because of the history he brings on his crooked-back. The way he has been treated and brought up makes him who he is today and how he relates to other people, especially white skinned people. Crooks, first of all, is the stable hand who works with the ranch horses. Along with Candy, Crooks is a character used by Steinbeck to show the effects of discrimination. This time the discrimination is based on race, and Crooks is not allowed in the bunkhouse with the white ranch hands, therefore he has his own place in the barn with the ranch animals, and he is treated as such.
Crooks is a man, supposedly young but disabled, that likes books and keeps his small room neat, but has been so beaten down by loneliness and prejudicial treatment of that he is now suspicious of any kindness he receives. Racial discrimination is part of the microcosm Steinbeck describes in his story. It reaches its height in the novel when Curley's wife puts Crooks "in his place" by telling him that a word from her will have him lynched. Interestingly, only Lennie, the child-like character, does not see the color of Crooks' skin. Crooks isn't ashamed about his inheritance but has pride and tells Lennie he doesn't descend from slaves but from landowners. In several points, in the book Steinbeck shows Crooks's dignity and pride when he 'draws himself up' and will not accept charity from anyone.
Crooks, jealous of Lennie having a friend to spend his life with, scares him and makes up the story of George leaving him. Prejudice isn't simply a characteristic of the white ranch hands or Curley's wife but it's a human characteristic, and Crooks needs to feel superior to someone else also, as everyone during his life have been dominant over him, because of his race. I would describe Crooks as the most jealous character in the novella. Although the prevalent topics in "Of Mice and Men" are failed dreams, and loneliness, jealousy comes to surface in chapter 4, particularly when he talks to Lennie who has a friend, George. Crooks is living a very lonely life, like other characters and having a friend or companion and being able to be treated as other white people is a hope, Crooks can't look up to.
The fact that he becomes part of the dream farm is an indication of Crooks' loneliness and insecurity. He, like Candy, realizes that once he is no longer useful he will be "thrown out" or 'put down' like Candy's dog. Therefore he tries to find some security for his future with the dream farm of Lennie and George, which seems the perfect place for a better future… for everyone. Crooks promises to work for nothing as long as he can live his life out there without the fear of being 'put out'. His insecurity is also portrayed by Steinbeck when George's reaction to the black stable-hand being involved in their dream is enough to cause Crooks to withdraw from being part of the dream. In conclusion, Crooks' character is portrayed as troubled and a man who doesn't want to be in the place he is living now, which is definitely what most of the characters in the novella are.
The fact that he is lonely and insecure is led by the colour of his skin, this brings racism to be the cause of Crook's problems. Crooks's little dream of the farm is shattered by Curley's wife's nasty comments, pushing the black man right back into his "place" as inferior to a white woman. Living in that era's reality by Curley's wife harsh treatment, Crooks refuses to say the woman is wrong. Instead, he accepts the fact that he lives in a world characterized with racial discrimination. Steinbeck makes it seem like Crooks defines himself not based on what he believes he's worth, but on knowing that no matter how he feels or acts, others around him will always value him as less, only because of one reason.
As quickly as he got excited about Lennie's dream, he abandons it, telling the men he was "jus foolin" about thinking about having freedom and happiness. This brings us back to see Crooks portrayed as an insecure character because of his race but willing of freedom and happiness in a sad and lonely world. Like all the other characters in Steinbeck's novella, he wants a place where he can be independent and have some security. But there is no security for anyone in a prejudiced and racist world, least of all for a black stable hand with a crooked back.
Related Topics