Occupational Health and Safety Argumentative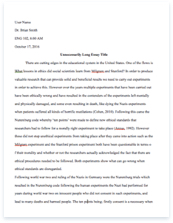 The whole doc is available only for registered users
A limited time offer! Get a custom sample essay written according to your requirements urgent 3h delivery guaranteed
Order Now
Occupational Health and Safety should be a main concern for all Australian businesses. OHP can help to safeguard the staff and ensure the obligations as an employer are met with the minimum of fuss.  Occupational Health Professionals Pty Ltd (OHP) provides comprehensive occupational health and safety  services to industry and commerce in Australia, encompassing: Recruitment, specialising in OH&S & Injury Management, Injury Management Services, Occupational Health, Safety & Environmental Services, Occupational Hygiene Services, Training services, Hearing Conservation and Audiometry services, and Workplace Health promotion services. 
Health and safety in the workplace is a central moral idea. Workers should be able to expect to return from work in the same situation that they went. Nevertheless, action to improve health and safety is not only a moral imperative—the cost of which falls on employers—but an investment for employers. The competitive nature of business is essential, but health and safety management must be a primary component of good business management, increasing productivity and, consequently, competitiveness.
According to Howard, Robert (1985), the health and safety of people at work is essential to successful business. The health and safety of the workers made an essential contribution to productivity and profit. Firms should not only observe with health and safety law, but go a stage further and make a thoroughgoing commitment to a better working environment. Health and Safety Acts indicate who is responsible in relation to their role in a workplace as outlined below. A person may be answerable in more than one capacity, for instance employer and manufacturer. It is not a defence for any person to argue that someone else had an overlapping responsibility.
The health and safety legislation all through Australia permits for directors and officers of a business to be held personally accountable for a breach of an Act. The website www.nohsc.gov.au explained that the managers and employees can also be held individually accountable for a breach of an Act. If you are seen to obstruct or fail to support the managers and employees in achieving solutions to health and safety problems workers are personally at risk of a fine or notice of improvement being imposed upon the workers.
A Regulation is made under the principal Acts leading occupational health and safety legislation. Regulations support a principal Act by outlining how the general obligations of an Act will be applied in a workplace. Regulations are typically made in relation to a particular type of health and safety issue, such as asbestos, first aid, or a dangerous chemical. Not observing with a regulation is considered an offence and can result in a fine, issuing of an improvement or prohibition notice or imprisonment.
Principal occupational health and safety Acts in the States and Territories contain obligations to exercise a 'duty of care' in relation to health and safety in the workplace. Duty of care places into a legal form a moral duty to anticipate possible causes of injury and illness and to do everything reasonably practicable to remove or minimise these possible causes of harm. Duties within the Acts are to be complied with so far as 'reasonably practicable'. This allows the duty holder to choose the most efficient means of controlling risk from a range of possibilities. The duty holder must show that it was not reasonably practicable to do more than what was done and that they had taken reasonable precautions.
Since the early 1990s, over 50,000 workers have lost their lives in workplace accidents. Even though workplace fatality and injury rates have improved significantly over the last decade, the Department of Labour's Occupational Health and Safety (OHS) continues to attempt to reduce work-related injuries, illnesses, and fatalities for the country's workers.
In carrying out this mission, OHS faces a number of challenges. As with many other organizations, OHS seeks to ensure that it (1) focuses its limited resources on those workplaces most likely to cause worker injury, illness, or death; (2) shows that its efforts make worksites safer; and (3) has a highly trained workforce capable of carrying out its mission effectively. OHS's efforts to address these challenges are made more complicated by the fact that it shares responsibility for workplace safety and health with numerous other entities.
Occupational Health and Safety (OHS) has taken significant steps toward targeting its enforcement resources on hazardous worksites, measure its accomplishments, and improve the professionalism of its staff. Conversely, these systems could be strengthened by better information and mechanisms that would make targeting efforts more efficient, measurement more precise, and training efforts more effective. According to Wuorinen, Val (1986), OHS's targeting processes have not fully ensured that it identifies hazardous worksites for priority inspection for the reason that its worksite-targeting programs lack the necessary data to effectively recognize high-hazard worksites or those with hazards under OHS's jurisdiction.
Also, OHS's measurement efforts did not accurately demonstrate its impact on workplace safety and health for the reason that, for instance, it used national data on injuries and illnesses to measure its progress in achieving strategic goals although not all the states are covered by these goals.  Finally, OHS's efforts to improve the quality of its inspection workforce have the possibility to improve enforcement, but the anticipated outcomes could be jeopardized by a lack of necessary mechanisms, such as a training directive that reflects current plans, or a comprehensive database that tracks training or skills obtained by inspection staff.
OHS should strengthen management of its enforcement activities by improving targeting and measurement procedures and by helping ensure the long-term success of the agency's efforts to enhance workers' quality. Such a statement is also a legal obligation under occupational health and safety law and should: Reflect the company's commitment to satisfying the duty of care; state who is responsible and who is protected; be signed and dated by the Managing Director and Employee Representative; Be visible and reachable; and be reviewed at least every two years or to reflect a change of management or circumstances.
REFERENCE
Howard, Robert. (1985). Brave New Workplace. New York: Penguin Books. Office of the Australian Safety and Compensation Council, OHS LAWS EXPLAINED <http://www.nohsc.gov.au/SmallBusiness/BusinessEntryPoint/laws/#top >Wuorinen, Val. (1986). Basic Occupational Health and Safety Program. Hamilton: Canadian Centre for Occupational Health and Safety.
Related Topics