Nursing knowledge through the nursing process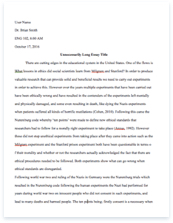 The whole doc is available only for registered users
A limited time offer! Get a custom sample essay written according to your requirements urgent 3h delivery guaranteed
Order Now
Following the assessment and diagnosis phase, the nurse enters the planning phase. In the planning phase, the nurse sets goals that are not only measurable, but also achievable. These could be either short or long term goals to accomplish the expected beneficial patient outcomes. When multiple diagnosis' need to be addressed, one must prioritize and concentrate on the most important ones first. Always remembering the A-B-C's of nursing when prioritizing. In this phase, the nurse should refer to evidence-based Nursing Outcome Classification (NOC) and Nursing Intervention Classification (NIC) as resources. NIC are nursing interventions that have been classified by diagnosis and NOC are classified nursing-sensitive outcomes (Head et al., 2011).
The area of the nursing process that I am most comfortable with is assessment. I feel I am most comfortable in this are because of the amount of practice that I have gotten. I have been a nurse for eight years and work in a telemetry/Med Surg unit. I have learned a lot from the senior nurses that I have worked with. I'm always asking questions on what to look for and what things to pay close attention to. Gaining all this knowledge had only heightened my assessment skills, and I can say that this is an area of the nursing process that I feel very comfortable with. On the other hand, planning is an area that I feel I could improve in.
I don't think it that I lack the knowledge or the ability, I just feel at times I doubt my instinct. Like I said earlier, I've been a nurse for 8 years; however I still find myself asking others for their opinion with the planning phase. I'm almost always on the right track, but I do tend to doubt myself a bit. Maybe it's because I know the importance of my job, and I know that there is very little room for error. I hope that with time and more experience I will get better and more confident.
Reference
Head, Barbara J,PhD., R.N., Scherb, Cindy A,PhD., R.N., Reed, D., PhD., Conley, Deborah Marks, MSN,A.P.R.N.-C.N.S.-B.C., F.N.G.N.A., Weinberg, Barbara, BS,R.N., C.C.R.N., Kozel, Marie, RN,B.S.N., M.B.A., . . . Moorhead, Sue,PhD., R.N. (2011). Nursing diagnoses, interventions, and patient
outcomes for hospitalized older adults with pneumonia. Research in Gerontological Nursing, 4(2), 95-105. doi:http://dx.doi.org/10.3928/19404921-20100601-99
Related Topics