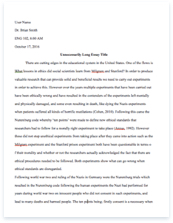 The whole doc is available only for registered users
Pages: 13
Word count: 3120
Category: Nike
A limited time offer! Get a custom sample essay written according to your requirements urgent 3h delivery guaranteed
Order Now
Today a shoe is more than something to protect and keep one's feet warm, it is a fashion statement, an athletic enhancer, rebellion, status, and the ins and outs of coolness. Shoes, mainly athletic shoes have changed drastically throughout the years. From weight, size, look, and comfort ability, Nike has been the leading footwear company to develop and lead such a growing industry. Peter Hitchcock, the author of Oscillate Wildly, wrote, "The shoe is magical, within both the history of the commodity and the psychological compulsions of modern "man."
The shoe is the emblem of fetishism that links the commodity to desire. And the most magical shoe of all is the athletic shoe because it is simultaneously a symbol of cultural capital, physical prowess, self-esteem, economic and psychic overinvestment, and crass capital exploitation; in fact, it epitomizes late flexible capital accumulation and continuing masculinist regimes of disavowel" (Hitchcock). Shoes mean something different to everyone, but one thing remains constant, they are a big part of everyone's lives, whether they realize it or not. Nike is the world's leading athletic shoe industry, founded in 1972; they have climbed their way to the top and will not be knocked down. Nikes sales are impressive and they are a company devoted to upholding standards and morals within their company and suppliers. Overview of Nike
In 1972 Bill Bowerman and Phil Knight created an athletic shoe and clothing empire, known as Nike. Bowerman was a track and field coach at the University of Oregon, while Knight was a middle distance runner on Bowerman's track team at Oregon. These two track stars created a company that would change the way athletic footwear was made and the image associated along with it. Nike works to fulfill its mission statement, which states that their mission is to "bring inspiration and innovation to every athlete in the world" (About NIKE Inc.). Before Nike was created, Bowerman and Knight formed Blue Ribbon Sports (BRS). They began by placing an order of 300 pairs of shoes; Knight sold some of the shoes out of the trunk of his car, while Bowerman began tearing the shoes apart in order to see what he could do to make them lighter and have overall better quality. Bowerman then used the University of Oregon's track runners to test out the new shoes he was creating. While they sold and revamped shoes, they also were both working full time jobs. Because of this they decided on bringing another person into their new company, Jeff Johnson, who was previously a runner at Stanford.
Johnson "became the first full-time employee of Blue Ribbon Sports in 1965" (About NIKE Inc.). Johnson had a major impact on the creation of Nike. He created the "first product brochures, print ads, and marketing materials, and even shot the photographs for the company's catalogues" (About NIKE Inc.). He established a "mail order system, opened the first BRS retail store and managed shipping/receiving. He also designed several early Nike shoes, and even conjured up the name Nike in 1971" (About NIKE Inc.). The "Swoosh" was created by Carolyn Davidson, who was a graphic design student at Portland State University (About NIKE Inc.). With this new logo, name, and new design innovations being created, BRS just needed an athlete to elevate and endorse the new Nike line. Steve Prefontaine would be the man for this job. Prefontaine was a track star at the University of Oregon from 1969 to 1973. He "never lost any race at his home track over the one mile distance, and quickly gained national exposure thanks to cover stories on magazines like Sports Illustrated and his fourth place finish in 1972 in the 5,000m in Munich" (About NIKE Inc.).
Prefontaine became a powerful ambassador or BRS and Nike after he graduated from Oregon. When he was just 24 Prefontaine died tragically in a car accident. At the time of his death he held American records in seven distances from 2,000m to 10,000m. Knight has often said that Prefontaine is the "soul of Nike" (About NIKE Inc.). By the end of 1980 Nike completed its IPO and became a publicly traded company. During the mid-1980s, Nike lost its position as the industry leader, mainly in part because the "company had badly miscalculated on the aerobics boom" (About NIKE Inc.). In 1985 the debut of a new signature shoe for an NBA rookie, Michael Jordan, helped rocket Nike's sales and publicity. In 1988 Nike created the tag line "Just do it." Nike regained its position as the industry leader in 1989, making them the first and only company in the athletic footwear/apparel industry to ever accomplish this feat (About NIKE Inc.). In 1990 Nike declared Portland, Oregon as its headquarters.
Portland became home to the first "retail-as-theatre" experience called Niketown. 1994 brought the signing of several individual players from the future World Cup winning Brazilian National Team. The following year Nike signed the entire team and began to design the team's uniform. Along with signing the Brazilian team, Nike also signed the men's and women's US soccer teams, as well as other teams around the world. In 1996 Nike Golf signed an upcoming young golfer by the name of Eldrick "Tiger" Woods. At first competitors criticized and laughed at Nike for signing such a young player, that all changed in 1997 when Tiger won the Masters by a record of twelve strokes. Nike also began investing in cyclists in the 1990s. Lance Armstrong was one of the cyclists who signed with Nike. After he was diagnosed with cancer, most of his sponsors backed out, but Nike stayed with him. With the new millennium, Nike introduced the Nike Shox, which became very popular not just in America, but throughout the world. Nike has grown vastly over the past forty years. Starting out as an idea, to selling shoes out of the trunks of cars, the Nike industry climbed its way to the top and won't be knocked down. Mark Parker, the President and CEO of Nike said that "At NIKE, Inc. we run a complete offense, and it's based on a core commitment to innovation. That's how we stay opportunistic, serve the athlete, reward our shareholders, and continue to lead our industry" (About NIKE Inc.).
Throughout the years Nike has established a "strong brand portfolio" including Cole Haan, Converse Inc., Hurley International LLC, Jordan Brand, NIKE Golf, and Umbro Ltd. Nike has more than 44,000 employees across six continents. Nike has produced more than 900 different types of shoes, mainly sport related and marketed by athletes. More than 3,000 athletes are endorsed by Nike; this includes 72% of the National Basketball Association players, 60% of the Major League Baseball players, and 50% of the National Football League players. There are over 200 universities that fly the Nike banner for their sports team. According to Forbes 400, "the average American teenager buys between three and ten pairs of athletic shoes each year at prices ranging from $50 to $150 per pair" (Lane). Nike's brand logo "the swoosh" is recognized by about 97% of Americans. Nike has been able to reach such a feat by using hyper marketing, sports, and urban street attitude in a unique strategic mix that adds up to endorsement and exposure.
Although Nike relies heavily on athletic endorsements, they know that that alone is not enough. Because of this, Nike has "cool hunters" that go to urban neighborhoods to find out with is "fresh." These "hip representatives" go "bro-ing" in cities such as New York and Philadelphia. Some pairs of newly designed shoes are given to the lucky kids for reactions on coolness and performance. According to Michael Dyson, who wrote Be Like Mike?: Michael Jordan and the Pedagogy of Desire, the "sneaker symbolizes the ingenious manner in which black cultural nuances of cool, hip, and chic have influenced and increasingly Americanized global landscape" (Dyson). Yet John Hoberman, author of Darwin's Athletes, states that the "black athletic aesthetic stimulates wildly unrealistic ambitions in black children – an improbable number of black boys expect to become pro athletes – and imitate fashion trends and hairstyles" (Hoberman).
By looking at how Nike is viewed by the youth and young adults throughout the US, it is easy to see that if given the choice, these youths would rather be represented by Nike's athletes than by others, such as politicians. That statement in itself is a pretty big thing to say; to think that Nike has that much influence over today's youth is almost scary to think about. But how can kid's today know any different? They see their favorite athletes wearing shoes they can wear, these are their role models, the people that kids are striving to be. Athletes are viewed as showing their passion through their sport, while politicians are looked at as lying, untrustworthy people. Kids today are more interested in athletics and feel that they can relate so much more to an athlete than a political figure. Nike learned this early and it has helped shaped them into what they are today. Revenues/Profits
NIKE Inc., creates a lot of revenue through selling shoes and apparel. The following information is from Nike's Fiscal 2012 Fourth Quarter and Full Year Report: * fourth quarter revenues up 12 percent to $6.5 billion, up 14 percent excluding currency changes * fourth quarter diluted earnings per share down 6 percent to $1.17 * fiscal 2012 revenues of $24.1 billion, up 16 percent, up 14 percent excluding currency changes * fiscal year diluted earnings per share up 8 percent to $4.73 * NIKE Brand futures orders up 7 percent, up 12 percent excluding currency changes * Inventories as of May 31, 2012 were up 23 percent versus the prior year Code of Ethics
Nike highly values their employees and their customers. They believe that the "work-related activities of every employee must reflect standards of honesty, loyalty, trustworthiness, fairness, concern for others, and accountability" (About NIKE Inc.). Nike prohibits harassment and discrimination and is committed to providing a safe and healthy work environment for their employees.
Nike believes that diversity drives innovation and can lead to a competitive advantage. They are determined to create a very diverse environment for their employees. They have six employee networks that are intended to "foster professional development, enhance work performance, identify mentors, assist in recruiting diverse professionals, develop increased community interaction, and encourage improved teamwork and interaction within and across work groups" (About NIKE Inc.). The following are the six employee networks and their mission statements. * Native American Employee Network: to increase awareness and continue to educate Nike employees about the Native American culture. * Latino Employee Network: to increase the awareness of the Hispanic/Latino culture at Nike, explore diversity in the Nike workplace, develop resources to increase career and cultural growth for Nike employees, strengthen ties to Hispanic/Latino community and develop initiatives that align with Nike business strategies.
* Lesbian, Gay, Bisexual, Transgender and Friends Employee Network: to increase awareness and understanding of Nike's gay, lesbian, bisexual and transgender community through the promotion of various educational and supportive events. * Ability Network: to enrich Nike and our community by promoting the inclusion of people impacted by disabilities and fostering an environment that realizes everyone's full potential. * Asia Pacific Employee Network: to promote awareness and understanding of Asia Pacific cultures in pursuit of corporate objectives and employee growth. * Black Employee and Friends Network (BEN): to add value to the Nike business by promoting an environment that attracts, promotes, and retains black employees. Not only does Nike want to create a diverse work environment within the company, they also want diversity within their suppliers. They believe that a "well planned and executed Supplier Diversity program can have a favorable impact on business by: creating more competition in the supply chain, maintaining a connection to the consumer base, providing economic stimulus to the community, and contributing to the enhancement of our brand" (About NIKE Inc.). Nike is trying to change the world, on factory at a time.
Nike knows that improving lives is a key step in improving profits when working the developing world. They have "learned first-hand by collaborating with suppliers to limit overtime, ensure freedom of association and extend other conditions taken for granted in the industrialized world" (Dutton). In the 1990s America became livid to learn about the sweatshop working conditions. Nike took immediate action to correct this situation by improving working conditions for around 800,000 employees at 700 factories across 52 countries. Nike learned how hard it was to improve working conditions and how difficult it was to persuade their suppliers to improve working conditions. Nike discovered that the best approach would be to educate and lead by example. This was achieved by first developing a supplier code of ethics, which would be similar to their employee code of ethics. Nike then went on to identify goals and conduct a supply chain audit to "understand the actual practices and then to identify needed changes" (Dutton).
Through the audits that Nike created, they learned that "the greatest challenges among Nike's suppliers are lack of freedom of association and collective bargaining, harassment, excessive working hours, inaccurate or nonpayment of wages and health and safety issues" (Dutton). Nike then focused on not treating the symptoms, but attacking them at their root. Because suppliers might ask "What's in it for them?" Nike collaborated with suppliers, employees, other buyers, and non-governmental organizations to create a good corporate social responsibility (CSR) practices. Through this CSR plan, Nike defined the rules and held Nike employees accountable for compliance with Nike's principles, which encouraged suppliers to "invest in worker training and by sharing best practices and the results other Nike suppliers have seen when they implemented some of those practices in their own facilities" (Dutton). Because of everything Nike has done and accomplished through holding their suppliers responsible, and diminishing the sweatshop working conditions, they have kept their good reputation.
"Nike takes these issues seriously. As the first world countries become increasingly aware of working conditions throughout the world, corporate social responsibility has become increasingly important – to publicity and to the bottom line. Nike has become a business ambassador, teaching suppliers that regardless of their location or local operating environment it makes good business sense to treat their workers fairly. Suppliers, for their part, increasingly understand that the benefits of ethical practices can change their own bottom lines, through expanded markets, better quality, more business and increased revenues. Increased innovation though freedom of association, plus a more prosperous workforce and a more robust local economy are icing on the cake. By working with its suppliers rather than dictating to them, Nike really is changing the world, one factory at a time" (Dutton).
Nike has received many awards and recognition from many organizations throughout the years. For the Human Rights Campaign, Nike has been named one of the best American companies for gay, lesbian, bisexual, and transgender workers. They scored a 100, which is the best possible score. Corporate Responsibility Magazine ranked Nike number 10 on their "100 Best Corporate Citizens List." Newsweek's 2010 Green Rankings rated Nike at number 1 for the "green score" and number 2 for the "reputation score" (About NIKE Inc.). Nike's Current Projects
Nike not only works on improving the standards of their suppliers and maintaining a good work environment for their employees, they also created "The Nike Foundation." One thing that The Nike Foundation focuses on is a project called "The Girl Effect." The goal of the Girl Effect is to end poverty for adolescent girls as well as poverty around the world. Nike states that "investing in a girl – before she is married, pregnant, and HIV positive – is a solution for poverty, not a cure for its symptoms" (About NIKE Inc.). According to a study released by the World Bank, "if girls in Nigeria were employed at the same rate as boys, they would add $13.9 billion to the country's annual GDP. India loses $383 billion dollars in potential lifetime because of teen pregnancy" (About NIKE Inc.). The Girl Effect is funded through a formal collaboration with the NoVo Foundation. The NoVo Foundation has raised $117 million in investments towards The Girl Effect. Nike states that their "current investments target large-scale systems change that transforms girls' environments. We (Nike) work closely with our partner and collaborator network to identify organizations with the capacity to bring about massive change" (About NIKE Inc.).
Nike currently made a deal with the National Football League (NFL) at the beginning of 2012, becoming the official sponsor for the NFL. This is a huge step for Nike, not only have they been sponsors for amateur and professional teams, but they are now the sponsor for a whole organization. This feat will help continue to keep Nike at the top of the charts, as well as vastly increase revenues and profits. Because of this new contract NIKE Inc., announced an increase to its fiscal 2015 revenue target to a new range of $28-30 billion, up from its previous target of $27 billion. Because of its good reputation, Nike will continue to grow over the next decades.
Nike isn't just about athletic shoes and apparel, it's a company built on honesty, determination, and overall good moral. Nike knows what the customer wants, and stays ahead of the game and other industries by being able to produce the best products. Famous athletes feel honored to represent such a popular and a great company, and Nike feels honored that they want to be a part of their organization. President and CEO Mark Parker said: "At NIKE Inc. we run a complete offense, and it's based on a core commitment to innovation. That's how we stay opportunistic, serve the athlete, reward out shareholders, and continue to lead our industry" (About NIKE Inc.).
Works Cited
"About NIKE, Inc." NIKE, Inc. – n.p., n.d. Web 3 Oct. 2012. <http://www.nikeinc.com/pages/about-nike-inc>. Dutton, Gail. "How Nike is Changing the World, One Factory at a Time" Ethisphera Institute. 26 March 2008. Web. 18 Sep. 2012. <http://ethisphere.com/how-nike-is-changing-the-world-one-factory-at-a-time/>. Dyson, Michael Eric. "Be like Mike?: Michael Jordan and the Pedagogy of Desire." Cultural Studies 7.1 (1993): 64-72. Print. Egan, T. "The Swoon of the Swoosh." New York Times Magazine (1998): 66-70. Print. Hitchcock, Peter. Oscillate Wildly: Space, Body, and Spirit of Millennial Materialism. Minnesota, 1999. 113. Print. Hoberman, John M. Darwin's Athletes. Boston, MA: Houghton Mifflin, 1997. Print. Katz, D. "Triumph of the Swoosh." Sports Illustrated 79.7 (1993): 54-73. Print. Lane, R. "You Are What You Wear." Forbes 400 158.9 (1996): 42-45. Print.
Related Topics