Nike Advertisement Analysis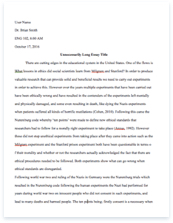 The whole doc is available only for registered users
A limited time offer! Get a custom sample essay written according to your requirements urgent 3h delivery guaranteed
Order Now
Every day many Americans sit back and watch the world go by, dreaming of getting out and reaching their personal ambitions. Although everyone has goals in mind to achieve, success depends on the drive he or she has inside. Imagine a shoe that can supplement that motivational drive. The Nike advertisement creates a conceptual situation that a running shoe can take a person anywhere they want. The caption states this running shoe will be there to give you motivation, "if he can make it here, he can make it anywhere." This Nike ad contains powerful appeals to the consumer's desires for individual athletic achievement and makes a very convincing claim using all elements of the rhetorical triangle.
The claim Nike produces is effective for its audience because of its strong use of the rhetorical elements of ethos, logos and pathos. Perhaps the strongest of these is Nike's overall credibility appeal otherwise known as ethos. When one is asked to think about a running shoe, most often the Nike brand comes to mind. Nike is a very prominent leader in the sportswear market and does not even need to place their name anywhere in the ad. The small swoosh icon says it all for the company. The Nike Corporation relies on the reputation and name of their company to gain readers' trust. Nike recognizes its audience and plays toward their interests very wisely.
The logic of the ad states that buying the shoes buys fitness motivation. The persuasive caption under the brand provides evidence to back up the logic and appealing to logos. It describes the shoe taking on the role of a personified ambition. With the shoe, one will have both the motivation and comfort not only to run, but also to "make it anywhere."
The pathos of the advertisement plays on the emotions of consumers who want to get out and reach their dreams. Nike associates the product with a desirable ideal and/or lifestyle that the audience finds appealing. The Nike advertisement backs up its claim by using the elements of the rhetorical triangle to project the well being of physical achievement and aspiration that fuels the accomplishers.
Related Topics