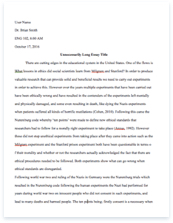 The whole doc is available only for registered users
Pages: 23
Word count: 5705
Category: Nestle
A limited time offer! Get a custom sample essay written according to your requirements urgent 3h delivery guaranteed
Order Now
NESTLE is world's largest food manufacturer. Headquarter of NESTLE company located at Vevey, Switzerland and was built in 1867 on humanitarian needs and social responsibility when Henri Nestle, a trained pharmacist, developed a healthy and economical alternatives source of infant nutrition to save the life of an infant who could not be breastfed. NESTLE was operated out of 84 countries whereas NESTLE began in Malaysia in 1912.
Nestle company actually bring convenience to everyone in the world. In Malaysia, Nestle is a famous company for everyone, if you ask anyone what is chocolate drink they take every day, normally the answer is Milo, and others like instant noodles called as Maggi. This is because Nestle Company do a lot of promotion and advertising every year.
We found that Nestle have some challenges that bring by their weaknesses and threat from the environment and generate some problems, such like the materials used in the products, some case problem like child labour and so on.
NESTLE also understand what customers wants and they was succeed to satisfied customer in way to promote their products. Otherwise, they also do a lot of innovation on theirs existing product to advance the good taste and high quality of their products. So that's why NESTLE is the world's largest food manufacturer. Besides that, products of NESTLE are suitable for everyone.
From this report, we have founded that NESTLE was implemented several of strategy to achieved successful in the market. For instance, NESTLE was implemented marketing mix strategy (product, price, promotion and distribution), target market strategy, segmentation and positioning. They was did a lot of research and development (R&D) and innovation on their products to satisfy customers need.
In conclusion, if a company want to survive in the market, they need to work hard and need to know what is the consumer wants to satisfy them. Nestle is one of the succeed company in the world.
SECTION 2: BUSINESS OVERVIEW
2.1 Background and History of Nestlé
The vast Nestlé Group started humbly ~ with the vision of one Swiss chemist, Henri Nestlé. At a time when there was high infant mortality in Europe due to malnutrition, this dedicated man began experimenting with nutritious food supplements to overcome the problem. In 1867, he was approached to help an ailing premature infant who was unable to accept his mother's milk or any of the conventional substitutes. The infant began to take the milk food supplement he had developed, and a life was saved. The product, called Farine Lactée Nestlé, was soon marketed throughout much of Europe, and a new brand name began to take on life.
Henri Nestlé (1814 – 1890) The Farine Lactée Nestlé – first product.
The Nestlé Coat-of-Arms
Henri Nestlé adopted his own coat of arms as a trademark in 1867. Translated from German, Nestlé means little nest and the now-famous symbol is universally understood to represent nurturing and caring, security, nourishment and family bonding. These attributes are still the guiding legacy for the company Henri Nestlé founded as it fulfils its commitment to 'Good Food, Good Life.'
The Nestlé Coat-of-Arms.
Nestlé, Bringing 'Good Food, Good Life'
As the leading Food, Nutrition, Health and Wellness Company, Nestlé is the provider of the best food for whatever time of day and for whatever time of your life. Nestlé has grown to become the world's largest food company offering more than 8,500 brands and 10,000 products. With its headquarters in Vevey, Switzerland, Nestlé has more than 456 factories spread over 80 countries, and employs more than 283,000 people.
2.2 The Vision, Mission and Objective of Nestle company
VisionResearch is a key part for Nestlé. Without R&D Nestlé could not have become the food industry leader in nutrition, health and wellness. Nestlé has the largest R&D network as a food company. Nestlé is able to provide high quality, safe food and nutrition for consumers in the world by doing R&D. We surely believe that our research can make better food to let that more and more people live a better life. Now, we can see that Nestlé is able to launch new products quickly and efficiently, in all over the world, by integrating in all R&D activities. Nestlé scientists also play their role in developing the health benefits of products to consumers. They are looking forward to the foods of the future to bring benefit to consumers. Nestlé R&D put customer needs into research as priority and also emerging science into consumer benefits through interpreting food science.
Mission
"At Nestlé, we believe that research can help us make better food to people throughout their day to have a better life. Good Food is the primary source of goods Nestle always produce foods that are safe, high quality and also provide nutrition to meet consumer's .which includes babies, growing children, senior citizens and other people with dietary needs. Nestlé helps provide selections for all individual taste and preferences to help customers to make choices on foods and beverages of Nestlé's product. Research is one of the important parts at Nestlé and it's essential for our future. We will also do discover about health and the role of food in our lives, and continue to search for answers to bring consumers Good Food for Good Life.
Objective of Nestle
Nestle business objective is to produce and market its products in a way that creates value that can be sustained over the long term for shareholders, employees, consumers and business partner, ".The purpose of the creating values for the company is to improve business for the firm. Nestle aim is to become global leader in Food and Nutrition Company in the world. Besides that, Nestle Company also able to get high qualify source of raw materials to manufacture to let the consumers trust the products.
2.3 Target Market/customers
Nestle target the various age group.
•Junior food target on the children who 6 months until 12 months to help strengthen their natural defenses day by day. •Breakfast cereals target every age group .It contain also contains essential vitamins and minerals that is good for health. •Hot cereals, Beverages, Milk and coffee target all the people especially the people because it provide nutritious breakfast. •Creamers target the people who are coffee lovers especially the people who with blue collar jobs. It comes out in an economic pouch pack and a new convenient stick pack. •Culinary product target all the various age group to enjoy the great tasting noodle whilst on the go. •Chilled Dairy target those people above 12 years old who face the constipation .This product can help to fit the digestive system. •Ice cream target the ice cream lovers especially the kids. •Confectionery & chocolate target the chocolate lovers especially the kids. Service Offerings
•Jom Heboh offered the product of Nestle .
•Milo van and lorry offered free Milo for the students.
•Parents can attend the implement talk to get information about the Milo nutrient are necessary for their children.
3.0 THE 10 KEY MARKETING SUCCESS FACTORS (NESTLE)
MARKETING MIX
Marketing strategy include 4 P's strategy i.e. Product, Price, Place and Promotion strategies. Product Strategy
Product is a good, idea, method, object, or service that is the result of a process as a need or want for consumers. Product strategy is perhaps the most important function of a company. Sometimes new opportunities appeared and some innovative products.
Nestle are taking a new product strategy in order to realign themselves with the social demand on delicious, yet nutritious snacks. Nestle also doing Research & Development to create new products and manufacturing processes to improve those product that already exist and satisfy consumers need at the same time. Beside that, Nestle also always improve their product quality through the latest technology because the good quality of product will sell themselves. Most of the customers are focus on product whether its good quality or not.
For example, Nestle Pure Life (NPL) product strategy studies show that NPL is safe, pure, refreshing and healthy water. Nestle also does product line expansion, recently it has offered a 0.25 liter bottle of NPL in the market. NPL round shape and elegance of the bottle are easy to recognize by customer. Quality is cornerstone of NPL success. Nestle people say: "Quality is our more successful product and it is key to our success today and tomorrow."
Beside that, Nestle also launched "Continuous Improvement Programs" to improve their existing products. This program includes innovation in launching new products but the important is improvement in product quality can make Nestle always stay ahead from other competitors.
Price Strategy
A value that will purchase a definite quantity, weight, or other measure of a good or service. Price forms are the essential basis of commercial transactions in exchange process for transfer of ownership of the product or service. Pricing is difficult and must reflect the relationship of supply and demand. If the price of the product or service are too high or too low, it could cause a loss of sales for an organization. Pricing should take the 4 factors which is fixed and variable costs of the product, others competitions, company objectives and target group. The objectives of pricing are included to maximize profit margin, maximize quantity and current profit. Nestle also can do price discount on certain period like Nestle anniversary to increase the sale in order to maximize profit.
For example, the price of Nestle Pure Life water are relatively higher than other competitors because the quality of NPL water are much more higher and contain more nutrition compare to other competitors. The pricing of NPL water can provide functional and psychological satisfaction to its target customer. Due the price of Nestle Pure Life water are higher than other competitors because of its good quality, it create high demand in the market and will increase Nestle sale and profit at the same time.
Place/Distribution Strategy
Placement is the distribution of the product to its customers at right time, in right quantity, at right price and at right place. Efficient and effective distribution is important if the organization is to meet its overall marketing objectives. If an organization underestimate market demand and customers cannot purchase products because of it, profitability will be affected. There are three type of product distribution which is intensive distribution, exclusive distribution and selective distribution.
For example, Nestle is making full efforts to supply Nestle Pure Life water product to consumers. The company uses the conventional marketing channels of distribution to supply the product which is the company supply the product to whole seller who responds it to retailers who supply to consumer. Beside conventional marketing, Nestle also uses the vertical marketing channels in which retailers also take supply directly from Nestle without contact with whole sellers, In this way the margin of company decreases and going into the interest of the consumer. Nestle Pure Life is a convenience product and its always used therefore it has been placed on all big and small stores to make it available everywhere to convenient customer to buy. It means that the product of Nestle is always available in everywhere when customer need it. Therefore, it can increase the sales and its continuously make profit to Nestle.
Promotion Strategy
Promotion is the act of furthering the growth or development of product and also an activities to prompt or entice customers. The Objectives of promotion are to increase the sales of Nestle products, create awareness among the masses about the new product of Nestle and also to achieve brand loyalty. Promotion is the very important and crucial element of marketing strategy as through it the company establishes its image in the minds of the customers. There are few ways to do promotion, for example like personal selling, direct marketing, advertising, sales promotion, publicity, sponsorship, public relation and others.
For example, Nestle product like Pure Life water , Milo ,Kit Kat and Nescafe using different type of promotion like advertisement through radio, television, magazines, newspaper. Nestle also conducts or organize events, sponsorships and also discount for sales promotion. Through the promotion, consumers can know the new Nestle product and the advertisement can attract the consumers to buy it. Nestle Milo and Nescafe was launched publicity to get the response by public. The successful of its launch also can found in all the newspapers on publicity product . This greatly helped in creating awareness of the brand and gave its introduction a good start. Beside that, Nestle also will distribute newsletters, brochure, booklet, calendars and others during civic or charity events. All this promotion can increase Nestle sale in order to success in market.
Segmentation
The most common method of market segmentation is demographic segmentation for NESTLE company. Demographic variables relate to age, gender, family size and lifecycle, income, occupation, education, ethnicity, nationality, religion, and social class. These relate to the profile of a consumer and are particularly useful in assisting marketing communications and media planning, simply because media selection criteria have been developed around these variables.
For instance: Nestle segment into the different of age. For baby, they have Nestle baby foods while young people can drink Milo. Besides that, Nescafe is suitable for adults while they feel sleepy. Others are the favorite for everyone which is ice cream, chocolate and cookies such like Drumsticks, Kit-kat and etc. Nestle health care Nutrition is necessary for old people to overcome health concerns such like milk powder- Nesvita Omega. Otherwise, NESTLE also segmenting their products in different packaging according to the family size and income. For example, milk powder has small packaging that enables the low income family to purchase the products. Moreover, the people they have high education will prefer the healthy food than the low price food, they may purchase Omega milk powder rather than Everyday milk powder. It show that Nestle company have successful to produce new product according demographic for different group of customers.
The next segmentation strategy often use by company is psychographic segmentation. Psychographic segmentation use the different in social class, life stage or personality characteristics to segment. Psychographic approaches rely on the analysis of consumers' activities, interests, and opinions, in order to understand consumers' individual lifestyles and patterns of behavior.
Psychographic segmentation includes an understanding of the values that are important to different types of customers. Psychological criteria used for segmenting consumer product and service markets include using attitudes and perceptions , Nestle Company is produced yogurt drink such as Bliss to help in our digestion system for the people who want to have a healthy life and for those who want keep fit. Psychographics or the lifestyles of customers (e.g. extrovert, fashion conscious, high achiever) and Nestle Company has provided some products like Nescafe Gold for the coffee lover and ice cream lover will prefer drumstick ice cream than mat kool. Furthermore, the types of benefits sought by customers from products and brands and their consumption choices. Nestle Breakfast Cereals is the best choice for busy people and Nescafe also help them more alert in working, these products bring convenience to every Nestle consumer. Besides, there are some people who love to eat can eat every time and everywhere because the products are make ready and combined all the materials in a package. Confectionery such as Smarties, Aero, Butterfinger, and Orion can be called their best friends. Therefore, company can produce new product according to psychographic in order to satisfy the customer needs.
Geographic segmentation is also one of the key success factors. The company has divided its geographic segmentation in several regions. First they have the segmentation of a whole country and from each provincial capital, they divided its areas into north, east, west, south. ,The regionalization of products and raw resources procurement which means that the company will run like independent entity in each divided region with its own targets and resources .So that it could be easy for the company to work efficiently on its supply chain management. Nestle come out the product according to the geographical different in needs and wants .For example, because of the different group in geographical taste , Nestle has the Maggi brand with many kinds of Asia sauce but Maggi do not exist in England .
Other than that ,Vietnamese think that their pets can eat whatever and pet food is not important so the Nestle didn't sell the pet food in Vietnam but sell it at England. Location sometimes plays a role in packaging selection. Nations and regions have packaging preferences just as they have food preferences ( Helmut Traitler, Nestle's vice president and global head of packaging) .Nestle use glass as packaging in Germany because it is environmentally friendly and recyclable while plastic packaging use in France United Kingdom .For Maggi ,Nestle sell cubes of 1.5 grams in West Africa while in Western Europe and Japan sell the cubes is 25 times of West Africa .Its seem that geographic segmentation is important to bring success to Nestle .
Positioning
Positioning means an effort to influence consumer perception of a brand or product relative to the perception of competing brands or products. Its objective is to occupy a clear, unique, and advantageous position in the consumer's mind. Positioning is used as a communication tool to reach target customers in a crowded marketplace. In marketing, positioning has come to mean the process by which marketers try to create an image or identity in the minds of their target market for its product, brand, or organization. Positioning is not what you do to a product. Positioning is what you do to the mind of the prospect. In order to develop a sustainable position it is important to understand the market in which the product is to compete and to understand the way in which competitor brands are competing.
If a company want to achieve successful in the market, they have to set a mind about their products in customers' minds especially always be the first and to ensure that consumer will repurchase their products and be their advocate to help Nestle Company to promote their items without any payments. This is because people will always remember the first impression. Nestle Company is a company succeed some products like chocolate drinks, coffee and instant noodles. Based on our research, we found that Malaysia will called the instant coffee as Nescafe, instant noodles as Maggi, and chocolate drink as Milo. This is a type of mind set of consumer to the products because Nestle Company has implemented a lot of advertisement and promotion to their consumers.
TARGET MARKET STRATEGY
Global brand strategy
Global brand strategy is the business response of large business organizations has to recognize that they now operate in a global market place and to develop appropriate strategies. A global strategy is an organizational plan that takes into account these new global realities.
Nestle is leading the global market for beverages and food items for more than a century and continues its business pursued in an new directions in business in order to success. Nestle has products that resonate all over the world under a unified brand. These brands are unified under the Nestle banner, which delivered a value and reputation of a "global food company" while the products delivered its own specific attributes. Global strategy include the aspects of . treating the global market as the domestic market, creating a global marketing mix and Concentrating on power brands which is the most successful brands and products. The global strategy also decide on which countries and routes to concentrate activities.
For example, Nestle has built global brands such as Nescafe, that are recognizable in nearly every country in the world. Nescafe Dolce Gusto boosts Nestlé's exports in Spain by more than 40% High sales of the "coffee-at-home" machine innovation Nescafe Dolce Gusto have helped Nestlé Spain to increase exports by 44% in the first half of 2011, despite the country's tough economic conditions. Combining technology and leading capsule design, the Nescafe Dolce Gusto machines –can make hot and cold drinks using Nescafe, Nestea and Nesquik capsules. Nestlé Spain's exports generated a turnover of more than EUR 245 million in the first six months of this year. The factory, the largest Nescafe plant in Europe, makes around three million coffee capsules each day. It plans to double production by 2012 to more than 2.5 billion coffee capsules a year. Its show that Nestle can make profit with global brand product. Successful of Mergers and Acquisitions (M&A)
Successful of Mergers and Acquisitions (M&A) has make Nestle grown and also through organic growth. Nestle has acquired to enter emerging and developed markets, and also create new product categories. At the same time, Nestle create clear strategic focus on food and beverages, health and wellness, and nutrition to adjacencies their existing core businesses. Nestle also create clear criteria for transactions like enhancing key metrics, strong market positions, brands, capabilities, and ease of integration (culture). By Mergers and Acquisitions, it drive profitable growth to Nestle through competitive advantages, growth drivers, operational pillars and more.
For example, Nestle is aiming for Russia to do M&A and investment to become its biggest European market by sales, the company said. Russia is already a significant market for Nestle, where it sells Nescafe coffee, grocery products and pet food. Beside that, in May, Nestle Waters North America acquired the Sweet Leaf Tea Co from private equity firm Catterton Partners, and in April the group acquired a controlling stake in Chinese food and drink maker Yinlu Foods Group..By acquisitions, the interest of Nestle company will be increase year to year, it show that the revenue of Nestle will increase too.
4.0 Market Problems
4.1 Nescafe contain metal shavings and glass
Nestle had recalled the Nescafe coffee on Wednesday , 25 April 2001 at UK. They had recalled around 250,000 jar of 100-gram jars Nescafe Original which marked with a best before date of 01.2003 and the production code 1025 sold with £1.89. This is because a customer found metal shaving in one of the Nescafe .In order to customer safety, the entire day's production had been recalled although the metal shavings had just found in a small number of other jars of Nescafe coffee.
Furthermore, Nestle was recalled again the 100g Nescafe Collections coffee on Thursday,20 May 2010 at UK. This is because the products which recalled contain small pieces of glass .
Article: Nescafe contain metal shavings and glass
low graphics version | feedback | help
You are in: UK
Front Page
World
UK
England
Northern Ireland
Scotland
Wales
UK Politicdfgs
Business
Sci/Tech
Health
Education
Entertainment
Talking Point
In Depth
AudioVideo
Wednesday, 25 April, 2001, 12:49 GMT 13:49 UK
Metal shavings found in Nescafé coffee
Nestlé has asked customers to destroy affected jars
Foods giant Nestlé has recalled about 250,000 jars of coffee after a customer found metal shavings in one of them. Nestlé said the shavings had since been found in a small number of other jars of Nescafé coffee so an entire day's production had been recalled. The problem affects 100-gram jars of Nescafé Original with a £1.89 price label on the lid. It is the second major food safety scare in as many days.
A small number of the jars have been found to contain pieces of metal shavings
Nestlé spokeswoman
On Monday, confectionery manufacturer Mars had to destroy three million Twix chocolate bars after beetles were found in the flour that had been used to make the snacks. The affected jars of Nescafé are marked with a best before date of 01.2003 and the production code 1025. A spokeswoman for Nestlé said that although the company believed the problem was confined to a few jars, the entire batch was being recalled. 'Isolated incident'
She said: "A small number of the jars have been found to contain pieces of metal shavings. "As a result of this, Nestlé is recalling the one batch of the product where this problem has occurred. "Information available at this point in time indicates an isolated incident on the filling operation. "However, to ensure that all Nescafé Original is completely safe to drink we are recalling the complete day's production." Customers with the affected jars were advised to dispose of the product carefully and claim a refund by sending labels with the relevant best before date and code to Nescafé 100g Original Recall, PO Box 205, York, YO91 1XY.
Nestlé recalls some Nescafé Collections coffee
Thursday 20 May 2010
Nestlé is recalling its Nescafé Collections coffee (100g jars only), because these products might contain small pieces of glass. The Agency has issued a Food Alert for Information. Product recall notices will appear in national press as of tomorrow, Friday 21 May, and then on Sunday 23 May. These notices will explain to customers why the products have been recalled. If you have bought an affected product you can get a full refund by calling freephone 0800 58 57 59. A copy of the company's product recall notice can be found at the link towards the end of this page. Product details
The recalled products are:
•Nescafé Alta Rica (100g jar only)
•Nescafé Alta Rica Decaff (100g jar only)
•Nescafé Cap Colombie (100g jar only)
•Nescafé Suraya (100g jar only)
•Nescafé Espresso (100g jar only)
All 'best before' dates and all batch codes are affected.
No other Nestlé or Nescafé products are known to be affected. Food alerts
If there is a problem with a food product that means it should not be sold, then it might be 'withdrawn' (taken off the shelves) or 'recalled' (when customers are asked to return the product). Food alerts are the FSA's way of letting local authorities and consumers know about problems associated with food and, in some cases, providing details of specific action to be taken. They are issued under two categories: •Food Alerts: for Action
•Food Alerts: for Information
You can get FSA alerts either by email or SMS text. Visit the Get Alerts page at the link below to find out how. You can also subscribe to our Really Simple Syndication (RSS) feed for food and allergy alerts. RSS is a format for distributing news content and is a simple way to keep up to date with the latest news on a website. When we publish via RSS, you can automatically get the updated content via a 'news aggregator' or 'news reader'. Our RSS feed will contain a brief summary and link back to our web content. Click on 'What is RSS' on the left of this page for more details.
4.2 The Nestle boycott
According to the World Health Organisation, 1.5 million infants die around the world every year because they are not breastfed. The nestle boycott has been running since 1977 and is still ongoing today.
The claims by the boycotters are that Nestle promotion of infant formula over breast milk has caused the illness and death of infants in developing countries because formula must normally be mixed with water, which is often contaminated in poor countries, leading to disease in vulnerable infants. many mothers are not aware of the sanitation methods needed in the preparation of bottles in the developing nations with of high illiteracy rates. Even mothers able to read in their native tongue may be unable to read the language in which sterilization directions are written.
UNICEF estimates that a non-breastfed child living in disease-ridden and unhygienic conditions is between six and 25 times more likely to die of diarrhea and four times more likely to die of pneumonia than a breastfed child. Many poor mothers use less formula powder in order to make a container of formula last longer. As a result, some infants receive inadequate nutrition from weak solutions of formula.
Breast milk has many natural benefits lacking in formula. Nutrients and antibodies are passed to the baby while hormones are released into the mother's body.Breast-fed babies are protected, in varying degrees, from a number of illnesses, including diarrhea, bacterial meningitis, gastroenteritis, ear infection, and respiratory infection. Breast milk contains the right amount of the nutrients that are essential for neuronal (brain and nerve) development. The bond between baby and mother can be strengthened during breastfeeding.
Article: Nestle Boycott
4.3 Nestle recalls Maggi Instant noodles due to Salmonella Hazard
The latest market problem faced by Nestle are recalls of its popular brand of instant noodles which is Maggi noodles after the discovery of Salmonella Bacteria in 2 batches of the beef flavour variant Maggi Rich Mami Noodles product which is happened at Philippines.
In Nestle Philippines official statement stated that are two batches of beef flavour Maggi Rich Mami Noodles contain Salmonella Bacteria during their quality test. Therefore Nestle immediately recalled all the related product. Salmonella bacteria is a type of bacteria appear in soil, animal feces, water, water, and uncooked meat. It will affect human intestine once ingested and digest. Salmonella bacteria can cause diarrhea,, fever, and stomach ache.
Food and Drug Administration or FDA administrator Suzette Lazaro said that Nestle Philippines has immediately recalled the problem products and because of this, FDA commends Nestle for making a prompt move to avoid this incident become more serious matter.
Picture: Maggi Rich Mami Noodles which contain Salmonella Bacteria. Article: Nestle Philippines recall Maggi Rich Mami Noodles
Nestle advertisement: Nestle recalls Maggi Instant noodles due to Salmonella Hazard
5.0 Recommendations
5.1 Recommendation to solve the problem Nescafe that contain metal shavings and glass
Nestle was recalled Nescafe because they found that these product contain metal shaving and glass .This was so disappointed and make the customer lost their loyalty to Nescafe. Therefore , Nestle should solve the problem so that their product sales not decline.
Supervisor play an important in factory management. The supervisor is a part of the management team and he holds the designation of first line managers. He is a person who has to perform many functions which helps in achieving productivity. Supervisor should strictly monitor the subordinates so that the productivity process is smooth .Furthermore, the company also should add more number of supervisor to supervise and monitor the worker during the manufacture process.
The ethics and social responsibility also important .The worker and the company should have high moral values when working .The worker should be responsibility on their job .For example, the workers should not throw something such as metal shaving and glass during the manufacture process that can harm to the customer.
The company also should not just emphasize about the profit yet they also should concern about the quality of product. The company should check the quality of the product before the product is sold.
5.2 Recommendation to solve Nestle boycott
Nestle should launch a public campaign to give information to public especially woman. In the campaign, woman can get knowledge on the advantages of feed nestle milk to their baby. Nestle also can give education on sanitation methods needed in the preparation of bottles to those mother who illiterate.
Nestle also can organize some community programs like donate Nestle baby milk powder to those single mother or family who are poor and cannot effort to buy it. Through this program, Nestle can contribute to the community especially it will bring a lot benefit to poor single mother or family.
Beside that, Nestle also can do research and development to create a specific milk with high nutrition special for pregnant mother. This product can help to provide more nutrition to pregnant mother and also infant through drinking this milk. Further more, mother able to produce breast milk which contain higher nutrition to their baby and increase baby antibodies.
5.3 Recommendation to solve Nestle Maggi noodle being affected by bacteria
One of the recommendations to avoid Nestle Maggi noodle affected by bacteria is Nestle should improve their production technology. They should use more advance machines to produce their product so that they can produce higher quality product. Nestle also should use better quality of raw materials to produce their product so that the chance of Maggi noodle affect by bacteria are very low. Supervisor of production department should always supervise each and every process of the production to make sure and maintain the quality of the product.
Workers who work at food production factory should get typhoid injection to increase their antibodies so that the workers won't get sick easily and able to fight the disease to prevent the workers brought the bacteria from outside and affect the food quality. Beside that, workers also should sterilize themselves by UV sterilization to kill the bacteria on their body and wear anti-bacteria clothing during working. Basins should place at entrance and exit door of factory to encourage the workers wash their hands to clean the bacteria. Food production factory also need to be sterilize time by time to ensure the cleanliness of the factory. Lastly, Nestle also need to do more experiment on the products that produced to make sure it safe to eat before it distribute to the consumers.
6.0 CONCLUSION
From this report, we have known that NESTLE was set up theirs objectives and to achieves it. They were achieved their successful based on own marketing strategy such as marketing mix, target market strategy, segmentation and positioning. Besides that, they also always maintain their product's quality to satisfy customer need. NESTLE was recalled back their products after discovered theirs product have problem like the Maggi instant noodles because they are concern about consumer's safety. Moreover, the products of Nestle Company also didn't pollute our environment, this showing that the social and responsibility of Nestle to our environment.
From this assignment, we have also learned that the teamwork with each other because everyone have different background and subculture from different place in Malaysia. Besides that, we also learned cooperation and communication between everyone. Furthermore, this report tells us that, responsible is very important for everyone when doing the jobs.
Related Topics