Negotiation plan Moms Com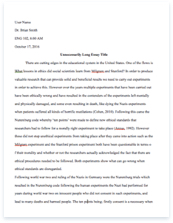 The whole doc is available only for registered users
A limited time offer! Get a custom sample essay written according to your requirements urgent 3h delivery guaranteed
Order Now
I. The Problem
Problem Statement: I must negotiate with (person) to (solve what problem).
I must negotiate with WCHI a 5 year license with 100 episodes of Moms.Com to maximize the net value of the bargaining deal beyond WWIN's estimated offer of $2.5M. In addition, I should sell "Junior" at a higher price than $10K to WCHI.
II. Goals and Decision Makers
My specific, High Expectation:
Although $70,000 per episode paid upfront would seem to be an optimistic expectation from the case. My high expectation would be based on the average rating expectancy (5) which will bring WCHI to a profit of $9M – $11M. Knowing WCHI would not likely agree to my method at its fullest, I would aim highest at $9M $90/Episode with immediate financing + Squeezing in terms of 4 runs per episode.
Junior high expectation would be for $25K/Episode
Target decision-maker:
Kim Taylor and other top management of WHCI.
Bottom Line:
Net Value of alternative deal – $2.5M on Moms.com and $1M on Junior with WXYZ
Influencers (Should I negotiate with these people first?):
The expected net value of from WWIN is $2.5M. But it is only an expectation, therefore, negotiating with WWIN before meeting with WCHI will give full clarity to what the BATNA should be Vs. WCHI.
III. Underlying Needs and Interests (Shared/Ancillary/Conflicting) Mine
Maximize license fee for both Moms.com and Junior with immediate terms of payment (conflicting). Not overexposing the show in order to maintain its potential value for as many years as possible (conflicting). Reach high sales before year end performance evaluation.
Theirs
Minimize license fee for both Moms.com and Junior with immediate terms of payment (conflicting). Showing episodes over 6 times to increase advertising revenue. (Conflicting) Regain audience leadership over WWIN by showing a strong new program such as Moms.com
IV. Leverage
What do I lose if there is no deal?
Expecting to reach a deal from WWIN for approximately $2.5M and $1M from WXYZ– I lose any amount of $$ I could have negotiated above that. Resulting in much lower sales for the company and a poor performance evaluation for myself.
What steps or alternatives will reduce these losses?
Negotiating a potential deal with WWIN before approaching WCHI to gain more accurate BATNA.
Gaining intelligence on WCHI advertising profits per rating point to achieve a better pricing position.
If no deal, what will they lose?
WCHI will lose a great opportunity to regain audience leadership over WWIN. Moreover, they will lose several millions of dollars of revenue from the most profitable advertising that is targeted to the age group of 25-54 watching Moms.com.
Can I influence their alternatives or make their status quo worse?
A looming deal with WWIN will likely make WCHI nervous because they already lost the first place to them, and Moms.com could be the game changer for WCHI.
Leverage Favors: X Me  Other Party  About Even
(Who has the most to lose overall from "no deal"?)
Because HOLLYVILLE has a certain agreement of $2.5M if all fails with WCHI, HOLLYVILLE needs to go try to reach the highest number as possible down to the alternative while convincing WCHI of the potential revenue and intimidating with the possibility WWIN will get the deal. WCHI is desperate to regain audience leadership over WWIN. WCHI is now financially stable, but with a weak look ahead to the future of their business that Moms.com may be able to fix, therefore they have the most to lose from "no deal".
V. Possible Proposals
Options: Build on Shared Interests/Bridge Conflicting Interests/Be Creative
Due to leverage being on HOLLYVILLE's side – Terry to lead conversation and be the first to name a high price. Emphasize the success you expect for the show and the rating expectancy (Say 6 instead of 5) head on to the advertising revenue expectancy based on that rating  price the revenue higher than you actually expect at $10.5M-$13M, therefore suggest an over-the-top $10M agreement with immediate financing and 4 runs per episode. Wait for their offer to see how they value Moms.com and understand their thoughts on Financing. Re-emphasize the potential revenue and stress how realizable it is. Mention that you have had initial conversations with WWIN and they seem to be extremely excited from the option. Emphasize you have preferred to meet WCHI first as you truly believe this program will reposition them ahead of WWIN.
After hearing WCHI arguments about runs/episode and cost, bargain at first regarding Junior's price as a "gift" before increasing runs/week (State that you are willing to sell Junior for "only $25K/episode) in these terms and agreements. Before decreasing any price, give out very low first year payment terms of financing (tradeoff between % of Financing and runs/episode to work to your benefit. WCHI will probably discuss the uncertainty of the rating numbers for the show, therefore asking for variable payment options depending on rating. In this case, the process of bargaining it should seem very painful and not go below $6M overall payment by stating aggressively that there is no way the rating will be below the 2% line. Throughout all this process, prefer to decrease price of Junior or increase Financing
VI. Authoritative Standards and Norms
Mine
Theirs
My Counter Arguments
Scarcity/need – we have something that you need – A good show that will bring back WCHI audience and increase financials. We need to regain our position among the local stations by purchasing a good show. We offer what you need, and we also offer it to your competitor so you have much to lose by not buying the show. Contribution – we should be paid commensurate with the value created with certain limitations (5 year contract, no more than 8 runs/ep, financing up to year 3) We should pay commensurate with the value created with certain unknown limitations (Runs/ep, financing, etc.). It will be run fairly, but needs to take into account differences that exist History – in the past the financing was up to 3 years and all. unknown
Depending on WCHI
VII. Third Party Moves
Can I use a third party as leverage? As an excuse? As an audience? Coalition partner?
Leverage: A deal with WWIN is a big leverage as it is WCHI's biggest competitor. Excuse: The offer by WWIN is an excuse to not settle below $2.5M, but it will mainly be used for leverage purposes in getting a higher price from WCHI. Audience: Trilateral negotiations are highly unlikely and probably counter-productive. Yet, if the negotiation goes very bad and the price reached with WCHI is close to the alternative offer, it may be better to make them bid the highest rate for our show. Coalition: No Coalitions are possible.
VIII. Situation and Strategy Analysis
Situation as I see it:
_ _ Transaction My basic style is _____
___ Relationship _ Collaboration __
_X_ Balanced Concerns so I need to be more __
___ Tacit Coordination _of the same __
In this situation.
Balanced concerns as the long term relationship is important for a 5 year contract and future shows that will be available. Moreover, the stakes are high for both of us. Situation as they see it: Their expected strategy:
_ Transaction _ _ Competitive
___ Relationship _X_ Problem solving
_X_ Balanced Concerns ___ Compromise
___ Tacit Coordination ___ Avoiding
___ Accommodating
WCHI will most likely see this as balanced concerns as well but may look at it also as one of many transactions. Either way, they would probably not be heading towards compromising, but will seek many alternative routes by problem solving.
IX. Best Modes of Communication
___ Agent ­­­ ___ Teleconference ___ E-mail ­­­­­ _X_ Face to face ___ Telephone __ Instant Messaging Multi- million dollar contract with high stakes while forming a new relationship requires face to face meeting.
X. Overall Positioning Theme
A short statement that sums up your underlying purpose in this negotiation:
Coming with the upper hand and stating the outcome for WCHI not taking the offer. Set bargaining process with the following tradeoffs.
Related Topics