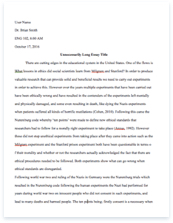 The whole doc is available only for registered users
A limited time offer! Get a custom sample essay written according to your requirements urgent 3h delivery guaranteed
Order Now
The role-play is an exercise in which the class is divided into teams of five to six each. The students read a very short case situation and are then assigned roles in the organization. They are provided with varying levels of information about an issue. The teams then interact to provide recommended courses of action representing short-term, mid-range and long-term consideration. Each team experiences the group dynamics and tension that can occur between different departments seeking protection of their own interests.
These exercises were developed to create an additional technique for enhancing the learning outcomes of introduction to business courses. They address important issues that companies, management, and employees may be faced with on a daily basis. The exercise is a teaching tool that provides students with a very realistic experience in a simulated organizational setting. Through student participation in a role-play, we hope to increase their decision-making skills and help make them more aware of current issues and how to handle them. Beyond a case analysis approach, a role-play recreates the complexities of relationships and incomplete information that are pervasive in an organizational setting. Also, the exercise seeks to enhance inherent conflicts between certain departments within the organization. Therefore, a key goal is to improve individual awareness of the complexity involved in dealing with business issues. Finally, we hope to gain students absolute involvement and participation in class. By participating in a role-play, students will be able to develop their leadership skills and engage in problem solving activities directly related to organizational issues.
Specific learning objectives of role-play exercises include: 1. increasing students' awareness of the complex dimensions of business decision-making 2. developing students' analytical skills for resolving issues.
Instructions for Classroom Use
The role-play exercise complements and enhances traditional approaches to business learning experiences because it: 1. gives students the opportunity to practice making decisions that have business consequences 2. recreates the power, pressures, and information sharing that affects decision making at upper levels in an organization 3. provides students with a team-based experience enriching their skills and understanding of group processes and dynamics 4. uses a debriefing and feedback period to allow for the exploration of complex and controversial issues in business decision making.
The exercises can be used in classes of any size, as the instructor can run independent role-play case teams to fit the class size. Teams generally consist of five to six members. There are several implementation methods that can be used. Two options are provided.
Option 1: Implementation in a 50-75 Minute Class Period
1. Develop teams of five members (depending upon roles used). If only three to four participants are available per team, then roles that appear more important and complex should be selected for the members of the team. 2. Have each person read the role-play exercise background page as an introduction to the exercise. 3. Assign each person a role to play and give him or her the specific role description to read. Ask each person (role) to present their feedback and interaction with the group on the role description that they are assigned. 4. Indicate the desired outcomes of the process (for example, press conference. written or oral presentation of short-term, mid-range and long-term recommendations to address the issue, etc.). 5. Allow the teams to proceed without interruption for at least 45 minutes, depending on the outcomes specified above. The instructor may visit teams to answer questions and stimulate discussion on key issues. 6. Create classroom situation appropriate for teams to share their insights, decisions or recommendations. Instructor may require each team to turn in a written report. 7. Link issues, processes, and outcomes to experiences in the course and learning objectives. Debrief the class about the alternatives, team perspectives, and potential implications. Discuss issues that emerged commonly and appear to provide significant insights in helping the organization deal with the issue.
Option 2: In Class and Outside Independent Work
Steps 1-3 from Option 1.
4.Indicate the desired outcome is a specific decision with a discussion in class (as the instructor allows), but then conduct independent research and reflection before the next discussion session to be held in class. At this second in-class meeting each participant brings in a short, written position statement and rationale to inform the discussion. This statement should be based on the participant's role and understanding of the situation and its consequences. 5.Let the teams meet during class for brief discussion sessions (30 minutes or so) over the next 2 weeks. Indicate that outside meetings are permissible and encouraged. 6.In the third week, each team makes a presentation on the decision and supporting rationale. Allow questions and comments after each presentation and encourage other students to critically examine each team's decision. 7.Conduct a debriefing session to examine consistency in the decisions and rationale. 8.Link role-play case issues, processes, outcomes and experience to course concepts and learning objectives.
PART I ROLE-PLAY EXERCISE
National Farm and Garden, Inc.
Teaching Overview
The National Farm and Garden exercise was designed with the goal of giving students the opportunity to use their knowledge and skills in solving a dilemma related to a product defect. The exercise centers around a garden tiller that has a safety protection guard that is difficult to reattach after cleaning. There have been incidents of injuries to animals and children when the tiller is run without the guard. Various functional members of the organization have to be prepared for a meeting and to make recommendations for dealing with the negative publicity and possible legal liability associated with damages related to product use. The class should be looking not only at the right thing to do, but also how to implement the decision.
The students' recommendations should consider product recalls and classes to properly address cleaning and reinstallation of the guard. Relabeling of the instructions to clarify the reattachment process for the guard should also be addressed. For the longer term, the company should consider a product redesign to provide a more foolproof mechanism for attaching the guard. Also, there is a need to evaluate the public relations damage and legal liability associated with product injury cases.
PART I ROLE-PLAY EXERCISE
National Farm and Garden, Inc.
Background [Everyone reads]
National Farm and Garden, Inc. (NFG) was incorporated in Nebraska in 1935 and has been a leading supplier of farming equipment for more than 60 years. Over the last five years, however, demand for NFG's flagship product, the Ultra Tiller, has been declining. To make matters worse, NFG's market lead was overtaken by the competition for the first time two years ago.
Last year, NFG expanded its product line with the "Turbo Tiller," a highly advertised and much anticipated upgrade to the Ultra Tiller. The product launch was timed to coincide with last year's fall tilling season. Due to the timing of the release, the research and development process was shortened, and the manufacturing department was pressed to produce high numbers to meet anticipated demand. All responsible divisions approved the product launch and schedule. In order to release the product as scheduled, however, the manufacturing department was forced to employ the safety shield design from the Ultra Tiller.
When attached, the shield protects the user from the tilling blades. It is necessary, however, to remove the shield in order to clean the product. Because of differences between the Ultra and Turbo models, the Turbo's shield is very difficult to reattach after cleaning and the process requires specialized tools. Owners can have the supplier make modifications on site or at the sale location, or leave the shielding off and continue operation. All product documentation warns against operating the tiller without the shielding, and the product itself has three distinct warning labels on it. Modifications are now available that allow for the shield to be removed and replaced quite easily, and these modifications are covered by the factory warranty. However, most owners have elected to operate the Turbo Tiller without the safety shielding after its first cleaning.
Over the last year, a number of farm animals (chickens, cats, a dog, and two goats) have been killed by Turbo Tillers being operated without the guard. Two weeks ago, a 7-year-old Nebraska boy riding on the back of an unshielded tiller fell off. When the tiller caught the sleeve of his shirt, his arm was permanently mangled, requiring amputation. One of the child's parents owns the local newspaper, which ran a story about the accident on the front page. NFG's CEO has called an emergency meeting with the company's divisional vice president, director of product development, director of manufacturing, director of sales, and vice president of public relations to discuss the situation and develop a plan of action.
National Farm and Garden, Inc.
Role 1: Divisional Vice President (only the student assigned to this role reads this page)
You are the divisional V.P. and have been with the company for many years. Historically, you have not been a pushy individual and generally prefer to stay in the background. When there are major decisions to be made or crises to address, you are frequently not available. The CEO recently put you on a 60-day "action plan" to improve your division's output; failure to achieve this plan will result in your termination, even though you are just a few years shy of retirement. Therefore, you now find it necessary to satisfy not only your own objectives, but the CEO's very high expectations as well. This has caused great turmoil within all divisions as you place increasing pressure on your subordinates.
As the divisional V.P., you are focused on coordinating all departments. You are responsible for output from the sales, manufacturing, and field service engineering departments. The R&D department, which must sign off on all new products before they are approved for production, is not under your supervision.
Recently, you received a memorandum from the director of R&D outlining some potential problems with the development and testing of the Turbo Tiller. The memo was copied to you, the director of manufacturing, and the director of sales. You agreed with the director of manufacturing not to share the contents of the memo with your CEO because you felt that bringing this small concern to his attention would cause unnecessary problems for each division. Moreover, the CEO is known for his abrasive personality and has a history of yelling at bearers of bad news.
The CEO has called an all-hands emergency meeting at 7:00 A.M. tomorrow. You are expected to bring all knowledge of this situation with you for discussion and creation of a comprehensive action plan.
National Farm and Garden, Inc.
Role 2: Director of Product Development (only the student assigned to this role reads this page)
You are the director of product development. Although you have a master's degree in mechanical engineering from Stanford University, you are originally from the inner cities of Chicago, where you grew up in the school of "hard knocks." From previous experience, you tend to be rather uncompromising about products that are engineered within your organization. Your engineering team has been very successful in the past, and you are quite proud of the many new successful products your department has developed.
You originally fast tracked the Turbo Tiller product due to constant pressure, particularly from the director of sales. However, upon further investigation, you have become concerned about the implementation of the product's safety shield. Consequently, you recently sent a memorandum to the director of manufacturing, director of sales, and the divisional vice president outlining the fact that consumers could sue National Farm and Garden under the state's strict liability doctrine, which holds manufacturers, distributors, wholesalers, retailers, and others in the chain of distribution of a defective product liable for the damages caused by the defect regardless of fault. Moreover, plaintiffs could cite the state's concept of defect of manufacture when the manufacturer fails to (1) properly assemble a product (2) properly test a product, and (3) adequately check the quality of the product component parts or materials used in manufacturing. You now believe that NFG has violated all of these "defects of manufacture."
Having received no response to this memo, you are contemplating whether to escalate the issue by going to the CEO. The only reason you have not already done so is the CEO's historic temper when confronted with negative situations.
The CEO has called an all-hands emergency meeting at 7:00 A.M. tomorrow. You are expected to bring all knowledge of this situation with you for discussion and creation of a comprehensive action plan.
National Farm and Garden, Inc.
Role 3: Director of Manufacturing (only the student assigned to this role reads this page)
You are the director of manufacturing. A graduate from the University of Alabama with a bachelor of science degree in industrial manufacturing, you have worked for NFG for 20 years. You are required to provide reports to top management on a weekly, monthly, and quarterly basis. Top management creates the exact measures of performance that you provide; although you have a say in what these reports focus on, you often disagree with their exact focus. Your overall performance is evaluated based more on numbers of units produced than on quality. Despite this, you enjoy working for the company. You consider the group like family, and especially appreciate the effort the CEO has made to make you feel valued and supported.
You are aware of the difficulties the Ultra Tiller guard poses when used on the Turbo Tiller. Due to the Turbo Tiller's larger size, the guard is nearly impossible to replace after removal. Re-attachment of the shield requires a professional machine shop and additional assistance. However, with your knowledge of statistics, you know that, even without the shield in place, the chances of an animal or a person being injured by the Turbo Tiller are small. Thus, you agreed with the divisional V.P. to bury a memo sent by the director of R&D stating related concerns. You both felt that the risks were small enough and that raising these concerns to your superiors would only cause headaches and paperwork. Furthermore, you need to stay on schedule in order to reach your volume goals if you are to earn your bonus.
You have also received several E-mails from the manager of the field service engineering department about reports of farmers operating the Turbo Tiller without the guard. When you requested statistical data regarding the number and location of occurrences and any related accidents, the field service engineering manager replied with field data indicating that more than 85 percent of all Turbo Tillers are eventually operated without the guard.
The CEO has called an all-hands emergency meeting at 7:00 A.M. tomorrow. You are expected to bring all knowledge of this situation with you for discussion and creation of a comprehensive action plan.
National Farm and Garden, Inc.
Role 4: Director of Sales (only the student assigned to this role reads this page)
You are the director of sales and have been with NFG for more than ten years. You were recruited from a competing firm and have more than 25 years of sales experience in the industry. Because of sagging sales, you face extreme pressure from above to meet your numbers. However, you feel that sales forecasts have been set unrealistically. Furthermore, these aggressive forecasts create churning within your department as your sales staff consistently complain that their quotas are unrealistic. Although you are adamant that declining sales are industry and product offering issues, you are reluctant to raise these concerns to the CEO because of his history of ripping the heads off messengers bearing bad news. You have witnessed this phenomenon firsthand as the CEO literally screamed at a coworker who brought a problem to his attention. On the other hand, the CEO has promised you a new BMW if your department reaches its numbers this year. Of course, you enthusiastically promised to achieve these results and quickly ran from the room.
The Turbo Tiller has been a much-anticipated addition to your stagnant product portfolio, but you were concerned that it would be delayed due to red tape and wrote daily E-mails to the R&D manager about getting it to market on a timely basis. You have received a memo from the R&D Manager about some legal concerns over the Turbo Tiller. However, you feel that these concerns are manufacturing's problem, not your department's. Furthermore, because the director of manufacturing received a carbon copy of the memo, you are sure that the concerns will be addressed appropriately.
You have organized training on this product for your sales staff that included proper operating procedures and the dangers of standing within five feet of the tilling blades. Independent of these training sessions, you arranged a separate class on how to address and downplay these concerns with customers.
The CEO has called an all-hands emergency meeting at 7:00 A.M. tomorrow. You are expected to bring all knowledge of this situation with you for discussion and creation of a comprehensive action plan.
National Farm and Garden, Inc.
Role 5: V.P. of Public Relations (only the student assigned to this role reads this page)
You are the most recent addition to the management staff at NFG, having been with the company for just three years. You obtained a bachelor's degree in human resources from Ohio State University, and a master's degree in communications from Florida State University. Prior to working with NFG, you handled public relations at a nonprofit organization for five years. You took this job because you thought it would be a personal challenge to represent a larger for-profit business. Besides, you were raised in Nebraska, and are a farmer at heart.
Nearly six months ago, you learned that the company had developed and released a product that has some safety concerns. Most department heads were not concerned about the problem because of a lack of solid evidence that a danger existed. You have been monitoring the situation, although it has not been your highest priority due to recent union negotiations. Recently, the CEO informed you that a corporate meeting is eminent. As the V.P. of Public Relations, it is your responsibility to gain information about public opinion to present to the CEO. As you begin to collect this information, you find disturbing news. Many consumers don't trust NFG because of its handling of a chemical spill five years ago. Additionally, many rumors are circulating about NFG's hiring practices.
You know that a single negative event can wipe out a company's reputation and destroy favorable customer attitudes established through years of expensive advertising campaigns and other promotional efforts. In this situation you need to minimize the negative publicity, yet still address the media. You suddenly wish the company had developed a crisis plan before this happened.
The CEO has called an all-hands emergency meeting at 7:00 A.M. tomorrow. You are expected to bring all knowledge of this situation with you for discussion and creation of a comprehensive action plan.
PART II ROLE-PLAY EXERCISE
Human Response, Inc.
Teaching Overview
The Human Response, Inc. role-play exercise considers how to fund and organize a startup business. Students decide how to keep the business going by examining various options to overcome the current situation of undercapitalization. Human Response (HR) is a partnership that was formed to research the process of human emotions and their potential integration into artificial intelligence. After determining physiological and emotional patterns, the technicians input the information into databases. Computer chips then compile the data and synthesize "emotional responses" to certain situational parameters. Two important market-ready products are AutoWake, which senses a driver's fatigue, understands that they are tired, and keeps the sleepy driver alert. Another is a computer chip imbedded into a keychain that senses when the holder is feeling tense or anxious. The company plans to market this product to women as a safety measure that will alert authorities when the user feels threatened walking alone at night. HR suffers from undercapitalization because the seed funding is almost depleted. In three months their funding will be completely spent.
The students' recommendations should consider options for organizing businesses discussed in chapter 5, especially the availability of capital under different organizational arrangements. Any of the organizational options could work, but the students need to logically defend a specific option such as public corporations. You may want to point out that venture capitalists provide funding, often most of the needed funding, for part ownership in the organization.
PART II ROLE-PLAY EXERCISE
Human Response, Inc.
Background [Everyone reads]
Human Response, Inc. (HR) was started in 1996 by Alex Buchfink and his college roommate, Dale Marco. Based in Palo Alto, California, HR specializes in the research of human emotions and associated physiological patterns. The company's mission was to determine whether emotions occurred first, then created physiological responses in the body or whether physiological reactions happened, then were translated into emotions by the brain. Several devices were designed to monitor feelings and record the body's internal reactions to those emotions. Gloves sensed changes through the hands. Jackets absorbed emotions through the skin. Expressive glasses were used by participants to visualize their feelings. Common machines were used to chart the association between feelings, such as anger, fear, and happiness, and physiological responses, such as heart rate, blood pressure, and skin conductivity. The information was stored in databases and compiled with Oracle software.
After understanding the relationship between emotions and other physiological patterns, Alex and Dale proceeded to research how to incorporate those feelings into computer chips. The chips already could absorb and remember the information, so the next step was for the machines to synthesize emotions. When the chip received a familiar signal, it drew the appropriate response from its memory and reacted accordingly. After two years of additional testing, Alex and Dale were able to program the chips to synthesize responses. Imagine a young man who is late for a meeting because he had an argument with his wife before leaving for work. The chip would recognize the man's feelings of tension and anger. By combining situations with natural reactions, the chips create unique responses.
HR not only studies these technologies but has incorporated them into marketable products. One such application is the insertion of the chips into key chains. The Detex key chain senses pulses in the holder's hand and if it detects fear and anxiety (for instance, fear of being mugged), the key chain triggers an alarm that hopefully would defuse the situation. Another product, AutoWake, would be installed in automobile steering wheels to detect sleepiness in drivers and sound an alarm.
HR is ready to market the products but suffers from undercapitalization. Its initial funding came from a seed venture capitalist who now owns 20 percent of the partnership. Alex and Dale estimate that money will be gone in three months. They must decide if and how to restructure HR to raise the capital needed to keep the business going and introduce their innovative products. The following options are being considered: approaching additional venture capitalists, incorporating as either a public or private company, forming a limited liability company, and borrowing from banks.
Human Response, Inc.
Role 1: Alex Buchflnk, Co-Founder (only the student assigned to this role reads this page)
You were born in Texas and moved to Oklahoma when you were ten. Tulsa was perfectly suited to your preferences: not too big and not too small. It gave you a chance to watch people. Even as a child, you were observant and perceptive of changes in human behavior and emotions. To pursue this field of study, you moved near family in Ames, Iowa and attended Iowa State University. After four years you received your Bachelor of Arts in Psychology. Soon, you were ready for a drastic change in lifestyle. You moved to California and enrolled in the Computer Science program at the University of California-San Diego. It took you three years to complete the prerequisites and get your Masters degree.
While at UC-San Diego you met Dale Marco, an avid tennis player from Virginia, who was also in the computer science program. You became friends your first year after being placed into a group together for a class project. Soon you began to discuss plans for after graduation and decided to form a general partnership together. During your final year you constructed a business plan and drafted the articles of partnership. Based on these documents, you received the first round of funding from venture capitalists (VC). You are starting to get worried because this money is almost gone. Dale convinced you to prolong the search for funds until you had developed at least two market-ready products. Now the Detex key chain and AutoWake are completed and can be used as leverage to find funding.
Of all the methods to gain capital, you prefer to use VCs. There are several advantages to this form of funding. First, you can gain the amount you need by relinquishing only another fifteen percent of the business. With the basic research complete, the bulk of the fixed costs have already been covered. Current funding will primarily be used to produce and promote these products to bring them to market. Based on market research, the public is highly receptive to these products and will help to pull them through the supply chain. Several auto manufacturers have also stated interest in purchasing mass quantities of AutoWake. The revenue stream will soon cover production expenses, salaries, and new research and development efforts. Second, the VCs will provide consulting services to help run the business. They don't demand direct control, but they provide intelligent advice as to the best business model, capital structure, and operations management.
Another advantage of this funding is that it allows you to keep your current business structure. You prefer to remain in a partnership with Dale. Attempting to become a corporation right now will interfere with your movement to bring these products to market. You don't want to disrupt the momentum with needless paper work. You aren't opposed to being a corporation. In fact, it will probably be necessary soon—just not yet. You feel the partnership allows you to keep the maximum amount of control and still use your knowledge and skills effectively. Today you will argue for VC funding and continuing as a general partnership.
Human Response, Inc.
Role 2: Dale Marco, Co-Founder (only the student assigned to this role reads this page)
You were raised in Sterling, Virginia, a small suburb of Washington DC. You lived there until you moved to Houston to attend Rice University. You got your Bachelor's degree in computer engineering. After five years of Texas you were anxious to leave. Houston was too hot, humid, and congested for your preference. Well, at least that was your excuse. You were just ready for a change. In fact, that is why you and Alex got along so well. You were both in California for a change. You met Alex while in graduate school at the University of California- San Diego. You were both getting your Masters in Computer Science and were placed in a group together. Both possessing an entrepreneurial spirit, you decided to form a partnership to research robotics and the incorporation of emotions into computers.
The past several years have been so successful that you now find yourself desperately seeking funding. You realize the best time to get money is when you don't need it. After a two-year recession, the economy is finally starting to recover. But the downturn caused financial stress with venture capitalists. You know they make their enormous profits when the company makes its initial public offering (IPO). The recession caused too many people to lose money in the stock market. Few people have discretionary funds to throw at new, unpredictable companies. Alex thinks the best method of getting cash is to approach VCs again. You don't think that this is a feasible option. Most of the VC firms' money is tied up in past investments.
You think the best option is to form a public corporation and seek funding externally through an IPO. Incorporating is essential for you to increase the size of your business. The partnership has worked well during the research and development phase, but now it is time to expand. You and Alex have already exhausted your personal resources. You even used your house as collateral for a loan. Honestly, you are afraid of losing everything you own. It is time to reduce the risk level of your involvement. Under a corporation structure, you will gain limited liability and only be accountable for your direct investment, not everything you own. You think this will also benefit Alex, who just purchased a new car and home. Limited liability is more important now that the Detex key chain and AutoWake are being marketed. Even though these products provide great potential, they are not perfect. Human Response might be sued if the AutoWake fails to alert a driver in time. When Human Response becomes a corporation, it can sell stock to earn more than enough money to introduce new products. As a growth company, it can avoid paying dividends and plow earnings back into the company to speed the rate of growth. Additionally, ownership would be easily transferred in case something happened to you or Alex. Therefore, tomorrow you will argue that Human Response should become a public corporation.
Human Response, Inc.
Role 3: Taylor Donalds, VP of Marketing (only the student assigned to this role reads this page)
You were born and raised in New Orleans, Louisiana. Although you loved the city's vibrancy, you were ready to move away from home. You had spent your entire childhood roaming through the garden district, studying the teachings of voodoo, and observing the people walking along Jackson Square. By far, your favorite childhood pastime was studying people during the perennial celebrations like Mardi Gras and the French Quarter Festival. After you moved to California you took a job with Human Response because the company focused on people and their emotions. Technology isn't one of your strengths, but with your Bachelor's in Business Administration with a marketing concentration, you filled a newly created position in the company.
You have worked closely with Alex, Dale, and the Product Development crew to create products that filled an unmet demand in the market. For the past year, you have done extensive market research to determine the best ways to introduce the technology through consumer friendly products that would not only intrigue but also benefit the end users. You worked especially hard to develop the Detex key chain as a safety measure for petite women like your youngest sister. You have developed a marketing strategy for Detex and AutoWake and are just waiting for the funding to push them to market. You have noted that introduction of the products will only cost $500,000. a number you are reasonably comfortable with. While this seems like a lot of money, you believe that money can be funded internally through employees and family friends.
With that in mind, you feel Human Response should become a private corporation. You've heard that Dale wants to incorporate to reduce personal liability which is an intelligent strategy. Your suggestion, which is much like Dale's, will also provide this peace of mind. The major difference is that your strategy doesn't neglect one of the company's most valuable resources—its employees. If the owners bypass the workers, it will send a message that they aren't concerned about the employees' wishes. You personally have spoken to three other employees who would love the opportunity to invest directly in the company. This measure would increase the risk level of their personal investments because they wouldn't be fully diversified, but all three were willing to incur the greater risk to obtain the higher return. Alex and Dale would be crazy not to acknowledge their employees' deep faith in the products and interest in the company's success.
Tomorrow you plan to fight for the creation of a private corporation. Dale and Alex will be able to maintain almost full control and run the company like before. Although you aren't blood related, most of the employees have been with the company since the beginning and act like family. You will personally contribute $100,000 from your trust fund. That only leaves $400,00 to split among the other interested employees. You haven't been able to fully think through this option but believe it is feasible. Perhaps, you will argue your case and try to gain commitment from other employees tomorrow.
Human Response, Inc.
Role 4: Jody Baker, VP of Finance (only the student assigned to this role reads this page)
You have been friends with Alex and Dale since college. You met them at a pub one evening, and over a game of pool you began to talk about their business plans. Being born and raised in southern California made you familiar with many of the laws and regulations affecting businesses located in that state. You double majored in economics and finance. When the entrepreneurs heard this, they immediately invited you to become the VP of Finance for their company. Intrigued and flattered, you accepted without much hesitation.
As an economist and finance guru, you have been monitoring Human Response's progress from the very beginning. Overall, the company is proceeding at a nice speed. The company has remained small, open, and friendly — almost like a family. This culture is conducive to maintaining the high level of creativity and communication required in this high tech business. You are also aware of the market potential of the two current products. You fully believe that Taylor has done thorough research and knows that Human Response has two viable products. The market is sufficiently large, willing, and able to purchase Detex and AutoWake. But you think Taylor has grossly underestimated the funds needed. Perhaps $500,00 will get the products to market, but it won't cover all the other business expenses. Electricity in California is expensive. Employees need paychecks, not just stock options. Product development needs more money for research expansion. Internal financing just won't be sufficient.
As a financier, you think another viable option is becoming a limited liability company (LLC). This option addresses the overriding concern for limited liability while providing several other benefits. An LLC is taxed like a partnership, not like a corporation, and therefore, profits are only taxed once. This will be important because Dale and Alex should be concerned with minimizing the amount of their profits that are whisked away by the government. Structure as a LLC allows for external funding but is not as heavily restricted by laws. Unique types of corporations, such as the S corporation, are regulated more strictly and are limited in the number of shareholders. LLCs don't have this restriction, so they will find it easier to obtain external funding.
Your economics background suggests that it isn't a good idea to rely on uncertain means of funding. With the stock market volatility, many investors are leery of dedicating more funds to new technology companies. This fact will make it difficult to obtain venture capital and possibly hurt chances of raising money through public offerings of stock. Another option that was briefly brought up by the VP of Product Development was funding through credit cards and bank loans. Although it initially looks to be more expensive, it could turn out to be the best option if the economy doesn't improve and an attempt at an initial public offering fails. Tomorrow you will present your concerns and advise the others about the benefits and drawbacks of each option. After all, the bottom line is your specialty.
Human Response, Inc.
Role 5: Chris Smith, VP of Product Development (only the student assigned to this role reads this page)
You were born in Portland, Oregon but traveled with your parents as your dad transferred to different branches of his company. You also lived in Wisconsin, Minnesota, Texas, Alabama, and Illinois. Moving around, you experienced a wide variety of people, cultures, food, and weather. You moved to California after getting your Bachelor of Science in Computer Engineering from the University of Colorado, Boulder. Being Alex's cousin, you decided to join his company and help with some of the basic technology needs.
After three months with the company, you became enthralled with research on human emotions and their interaction with computers. As a child, you were fascinated by science fiction and the development of robots and artificial intelligence. You have a knack for transferring technology into useful applications. In fact, AutoWake was your idea. From its inception in your mind to the final product, you have diligently followed its progress and are overly anxious for the introduction date.
With all the talk about undercapitalization going on around the office, you began to brainstorm ways to get funds. The biggest hurdle is the nation's slow rebound from the most recent recession. Because Alex is your cousin, you tend to be overprotective and guard against bad business decisions. You feel that attempting to get money from venture capitalists will be a waste of valuable time because they don't have any extra money to invest in risky businesses. You agree that becoming a corporation is a good idea from the liability standpoint, but it doesn't guarantee the company the funds they need. If Human Response attempted an IPO, it could be rejected even more harshly than by a VC. The market is very skeptical of high tech firms because of their previous inability to generate positive earnings.
With this in mind, you began to consider the possibility of obtaining funds from banks and credit cards. After a little checking, you learned that Human Response could obtain a line of credit that would cover their projected needs. This funding would allow you to introduce the new products and devote more resources to developing others. Bank loans and credit cards would be a certain source of funds. The biggest drawback is the high cost of capital. Since Human Response is a risky business, banks aren't willing to make loans of that size without considerable collateral and high rates. Likewise, credit cards will also be an expensive money source. This significant amount of debt could ruin the company if it doesn't make projected sales and then can't pay the interest. Even though you haven't fully decided, tomorrow you will enter the meeting and suggest the company weigh the pros and cons of each option before jumping into anything.
PART III ROLE-PLAY EXERCISE
McDougal Aircraft Company
Teaching Overview
This role-play exercise examines the decision making process specifically addressing managerial, leadership, and production viewpoints. McDougal is the world's largest manufacturer of airplanes. Although the construction of commercial planes comprises 65 percent of their business, they also build defense products and small but powerful engines for automobiles, generators, and other equipment. Its biggest competitor is about to introduce a new megaliner. For McDougal to compete, it needs to cut costs and become more efficient. The CEO has been pushing for the downsizing of operations and relocation of headquarters for the past two years. The company has determined two feasible options: eliminate 700 positions and remain in Chicago, IL, their headquarters of over 50 years or cut the workforce by 300 employees and relocate the headquarters to Denver, CO. The CEO and VPs of Finance, Human Resources, Marketing, and Ethics and Social Responsibility will meet to analyze the possibilities and select the best option to announce in a press release.
This exercise could be enhanced by an understanding of the key concepts in Chapter 7, the importance of strategic plans and the decision making process. Chapters 8 and 9 should be useful in making decisions about cost, efficiency, and improving productivity. Finally, Chapter 10, Motivating the Workforce, provides additional insights about the impact of the decision on people. The selection of a location is not as important as the analysis of possibilities and the defense of an option to move to Denver or stay in Chicago.
PART III ROLE-PLAY EXERCISE
McDougal Aircraft Company
Background [Everyone reads]
McDougal is the world's largest manufacturer of airplanes. The company has been in business for 58 years. Of its six divisions, the production of commercial airliners is the largest and comprises 65 percent of the business. Revenue from the manufacture of commercial airliners exceeds $30 billion. The second largest part of the business, representing 20 percent of revenues, involves exclusive contracts with the government to build defense products. McDougal also specializes in the small but powerful engines used in the automobile industry. These types of products are frequently used in backup generators and temperature regulating equipment.
Although McDougal has the highest brand recognition and sales in the industry, it is not without strong competition. Transportona Industries, an international manufacturer of commercial airplanes, is its largest threat. Transportona recently announced its intent to manufacture a new megaliner, the T600, which will be the largest in the sky and able to carry 600 passengers. The T600 will incorporate several new innovations introduced by the company's research and development efforts. The two full-length decks will enable the company to offer comfortable seating with abundant personal space. Both economy and first-class seats will have access to power sources so passengers can use or charge any electronic device during flight. Most importantly, however, the T600 overcomes the greatest design challenge in large planes. All passengers can be evacuated from the double-decker giant in less than five minutes.
In order to remain competitive, McDougal needs to counter with its own version of the T600. The 838, McDougal's closest equivalent, has been in the research and development phase for the past four years and is still at least two years from the market. The massive new product development effort has drained McDougal of many resources, and the company is starting to suffer financially from a lack of cash. The CEO has been pushing for a downsizing of operations and relocation of the company headquarters for the past two years. Upon analysis of the situation, McDougal managers have determined the two most feasible options: (1) eliminate 700 positions and remain in Chicago, Illinois, its headquarters for over 50 years, or (2) cut the workforce by 300 employees and relocate headquarters to Denver, Colorado, which has offered many benefits and financial incentives, such as tax reductions for the next 10 years.
A meeting has been scheduled for 2 p.m. tomorrow to analyze the possibilities and select the best option which will be announced in a press release next week. The CEO, VP of Finance, VP of Human Resources, VP of Marketing, and VP of Ethics & Social Responsibility will consider and debate the benefits and drawbacks of the two options.
McDougal Aircraft Company
Role 1: Casey Evans, VP of Ethics and Social Responsibility (only the student assigned to this role reads this page)
You have been with McDougal for the past 20 years. After graduating from high school, you started working on the production floor in Seattle, Washington. Your responsibilities were minimal, but the work was interesting. You decided to pursue a college degree in management from Oregon State but remained on staff part-time during those four years. For the following three years, you were a front-line manager and supervised the assembly of engines. After seven years in the manufacturing plants, you moved across town to work in the corporate headquarters. In 1995 you started taking evening classes and finished your Master of Business Administration in 1997. The program offered the opportunity to take six extra credits and obtain a concentration in marketing, computer information systems, finance, accounting, or management. You chose management. Last year, you were offered the newly established position of VP of Ethics and Social Responsibility
Last year, McDougal was ranked number 86 in the list of the top 100 corporate citizens compiled by Social Responsibility magazine. The magazine's staff evaluates companies based on their treatment of employees and customers, their involvement in the community, and their efforts to remain environmentally friendly. Although McDougal management is proud of this accomplishment, they wish to be ranked higher on the list. For that reason, the VP of Ethics and Social Responsibility position was created. After accepting the position, you met with the CEO about the company's priorities. His priority list included improving communication in the organization, focusing on efforts to reduce and recycle waste and byproducts, and creating better public awareness of the company's efforts to be a responsible corporate citizen.
While the CEO had good intentions, you felt the true intent was to get you to help the VP of Public Relations and VP of Human Resources to smooth out the inevitable discontent from the upcoming corporate restructuring. Many people were soon going to lose their jobs as the company downsized, especially if they decided to move headquarters. You will be responsible for helping to oversee the layoffs. The current plans will not improve the corporate image. In fact, they will do just the opposite. Employees need to be notified directly, not get the news from the paper. McDougal only plans to give 60 days notice, which is the legal minimum, but still not long enough for the many specialized positions that will be cut. You will also lose a fair amount of local goodwill by moving the headquarters to another state. The image you have built in the community of a high paying and stable source of employment will be shattered. Will you be able to regain your image by acting in the same manner in Denver? This has the potential to be a real disaster.
You really wish you could think about these things objectively, but your mind is thinking about the Colorado Avalanche. What you wouldn't give to move to the Rocky Mountains just to get hockey season tickets. Plus your retired parents live in Denver. Tomorrow you must decide whether to support or reject the move by weighing your motivations for each. Consider the importance of your priorities, as they will influence your position. McDougal Aircraft Company
Role 2: Robin Enics, CEO (only the student assigned to this role reads this page)
You have been the CEO of McDougal for the past five years. During this time, you have noticed that net income has been increasing but at a slower rate. If you don't act quickly to change the numbers, you might soon be facing an unpleasant situation — finding another job. You have been with McDougal for the past seven years. After obtaining your Bachelor's degree in computer engineering and your Master's in production management, you decided to put your knowledge to work. You spent five years designing production facilities for Kraft and six years consulting for NASA on aerospace products before joining the McDougal team.
While on the production floors at McDougal, you learned the ropes of the business. As a middle level manager you developed operational and tactical plans to achieve the goals set forth by the former CEO. Now it is your turn to use your conceptual skills to formulate strategic plans. Your vision is for the company to become the industry benchmark for innovation and efficiency. Without new ideas the company will become stagnant and lose market share. By being innovative, the employees, and therefore the company, can continue to put forth the best possible products. The small improvements will also help improve internal processes and reduce costs.
You believe the first step in moving towards the vision is consolidating the company. Currently McDougal operates in 29 states. This geographic dispersal dilutes the company's ability to create competitive advantages. For example, the corporate lawyers must understand and abide by the laws in all 29 states. This creates confusion and discrepancies in the ways McDougal should interact with its customers, employees, and even the local government bodies. In order to improve the bottom line, McDougal needs to undergo some restructuring. While you feel bad about releasing so many employees, you have accepted it as a "necessary evil" that comes with the position.
Another aspect that you have been working on is creating strategic alliances. These include improving relationships with suppliers and customers. Earlier this year, you joined forces with several other aerospace and aviation companies to form a new company that would administer a business-to-business Web site for the industry. This Web site will help reduce material acquisition costs and increase McDougal's customer base. Denver and Colorado Springs are quickly becoming the high tech heart of the Front Range. The new Denver International Airport is hub to several major commercial carriers, including Frontier and United. The Denver metro area also boasts a large number of computer software and hardware manufacturers, as well as technology infrastructure and communication companies.
The Mayor of Denver has offered several incentives to make the move look more appealing. The enticements include lower taxes and discounted real estate prices. The breaks are lower than McDougal might have received in other cities, but the Colorado environment is apparently "reason enough." You have been pushing for a move for several years. Although you are strongly in favor of a change, you do need to wait and hear the input from the others tomorrow before the company can make any final decisions.
McDougal Aircraft Company
Role 3: Loren Chanchey, VP of Operations (only the student assigned to this role reads this page)
As the VP of Operations, your responsibilities include coordinating the efforts of all the production facilities worldwide. This position suited you because of your background. Born to a military family, you traveled throughout the United States and abroad until you were 18. You have lived in Germany, France, Korea, Austria, Las Vegas, Tucson, San Diego, and Minneapolis. By far, your favorite was Germany. When you turned 18, you moved to Hawaii to experience the mixed cultures and enjoy the lush vegetation. After several years of growing pineapples, you decided to return stateside. Within 10 years you completed your educational objectives: a Bachelors of Art in Psychology, Masters of Business Administration, and Doctorate in Manufacturing Processes.
Because of your similar backgrounds, you and the CEO have normally seen eye to eye on projects. You have been with McDougal for the past eight years and mentored Robin for the past five years. With a PhD, you feel more technically qualified, and perhaps you will never understand why you weren't offered the position. Nevertheless, Robin did a wonderful job for the first four years. This past year the profits started to sag, and production was blamed. According to Robin, costs are rising too high, and we need to monitor raw materials procurement more efficiently. What Robin doesn't acknowledge is the tenfold increase in productivity since the implementation of JIT management techniques. You have worked diligently to obtain the ISO 9000 certification, which signifies McDougal's commitment to quality.
You know your bottom numbers and openly criticize the CEO's lack of objective analysis. If you approve this measure, it's bound to start the domino effect of layoffs. First will be headquarters, next will be a few production facilities. Who knows where Robin will stop? You have devoted your life to McDougal's operations department. Last year your spouse called you a workaholic and filed for divorce. Still, you chose your career and loyalty to McDougal as your number one priority. Each month you travel to the different facilities and witness first-hand the production efficiencies that are being achieved with the production of airliners. You just got all the processes in sync and can't afford to disrupt the system. If the headquarters were moved, the plant managers would not have access to vital information for over a month, perhaps longer if the move took longer than planned. That would be unacceptable.
With the increase in competition, the worst possible measure would be to weaken the company's position. Even a temporary shutdown would leave the company vulnerable to attack. McDougal can't afford to compromise on its competitive advantages, especially now that the 838 is so close to market. You plan to be prepared to enter tomorrow's meeting and argue your position. McDougal Aircraft Company
Role 4: Sidney Domse, VP of Finance (only the student assigned to this role reads this page)
When you joined McDougal 10 years ago, you were uncertain about your commitment to the company. You were looking for a steady salary to support your growing family. With six children you were less concerned about job enjoyment than about being paid well. However, the company began to grow on you, and your job evolved from dreaded to tolerable to pleasurable. Mostly, you enjoy evaluating projects to see if they will be profitable and deciding how best to invest the company's money. This industry is expanding, and it is interesting to see new developments in aerospace and defense.
As a child you excelled at math and entered every possible competition. This passion followed you through high school. In college you still loved the idea of cramming numbers so you double majored in finance and accounting. People called you odd because you equally enjoyed the mental challenge of working with figures and the physical challenge of participating in outdoor activities. After college you spent five months backpacking in Canada, then another three months hiking in Alaska. Perhaps the appeal of the outdoors was the reason you were hesitant to take an office job.
But you have found your career educational and rewarding. After your nightly jog, you plan to review the numbers for tomorrow's meeting. Hopefully, the jog will give you some insight because these numbers still have you baffled. The first round of money crunching showed that it would be highly recommended to move headquarters to Denver. Projected savings exceeded $1 million per year. Additionally, the cost of the move would be recuperated by these saving within three years. Then the second round showed that a move would cost the company over $5 million dollars and not produce any additional cost savings.
After this discrepancy, you recomputed the numbers based on newly gathered information. Operations once told you that they were confident in the cost reduction measures being taking in the production department. Marketing assured you that adequate measures had been taken to forecast sales revenue. The accountants swore their numbers were correct and that the balance sheet and income statement reflected reliable inputs. When you ran the numbers a third time, you discovered something alarming. The projected net present value of the move is zero, which means when you account for inflation and interest rates, the sum of the savings minus the expenses is zero. In theory, the move is neither favorable nor unfavorable to McDougal because it won't make the firm any less or more rich. Since it is very unlikely that this move will have neutral results, you decide the next step is to run sensitivity analysis to determine how changes in the predicted sales volumes, production disruptions, and cost savings will impact the firm's value. There is a 75 percent probability that the move will improve McDougal's financial position, a 20 percent chance that the move will damage the company's standing, and a 5 percent likelihood of zero impact.
You enter the meeting knowing that this move is risky for McDougal because the answer isn't a clear one. Although you walk the line, you also must contribute and justify your decision tomorrow.
McDougal Aircraft Company
Role 5: Terry Nely, VP of Human Resources (only the student assigned to this role reads this page)
You are a member of the seasoned management team. You started working at McDougal in 1982, three weeks after finishing your undergraduate studies in human resources management. Being the youngest has posed several challenges including not having an equally weighted voice in important decisions. Although it is negligible to outsiders, several employees have noticed your lack of clout. You worked diligently to move up through the ranks to obtain your current position and have a mild resentment for those who consider you and the human resources function trivial. Nobody better understands the pool of employees than you.
Corporate culture is an important aspect at McDougal, and the company's leaders have strived to make the job enjoyable. Creativity and risk taking are both encouraged. McDougal's mission statement even emphasizes the importance of intrapreneurship (an entrepreneurship-like attitude within the company's framework) and innovation to the company's success. McDougal has been a leader in providing employee compensation and benefits. You personally advocated the introduction of medical benefits for same-sex partners of employees, a measure that has fostered diversity since 1999.
The move to Denver would have several benefits. The remaining employees would have the opportunity to experience the beauty of the Colorado Front Range. Denver has a relatively low cost of living for a large city, low crime rates, and access to a multitude of outdoor activities. Families could go skiing, hiking, biking, whitewater rafting, or any of numerous other physical activities. Teams such as the Avalanche and Broncos bring energy to the city. Denver is large enough to provide entertainment through concerts, art galleries, museums, and shopping, yet small enough to minimize some of the traffic congestion.
However, there are several drawbacks to relocating the headquarters. Many employees have family located in Chicago and will be hesitant to leave. You may lose key employees who don't want to change their lifestyle. The labor pool is more restricted in Colorado, and McDougal might find it difficult to compete against high tech companies for the qualified employees. This competition might drive wages up and cause the move to be less profitable. Union presence in the Midwest is more prevalent than in the West. These groups will be unhappy about the broken contracts and lack of input into the matter. Most importantly, this move will disrupt the entire organization. It affects more than just 1,000 local employees. A change this significant would ripple through the organization and cause an unpredictable amount of upheaval and disruption in productivity. Everyone will likely question McDougal's profitability and stability. The 838 project is the most important thing the company has in the works. This move might delay the new plane even further causing Transportona to leap ahead.
You know that many employees are skeptical and afraid of the potential changes. Regardless of the decision made tomorrow, the company is going to need to address the employees' concerns. In its effort to make the best decision, McDougal has alienated the workers through a lack of communication. You enter the meeting with the greatest concern for the loyal McDougal employees.
PART IV ROLE-PLAY EXERCISE
eQuality Assured
Teaching Overview
This role-play activity focuses on the unique aspects of motivating and organizing human resources in a non-profit organization. eQuality Assured is a non-profit organization that develops business certification programs that are administered over the Internet. It currently has a deadline to create a national program to certify advertisements directed at children. Being a non-profit organization, it heavily relies on volunteer work. In this role-play the deadline is placing increased pressure on all workers. The paid staff feels overwhelmed by the workload, and the volunteers lack the knowledge and skills required to perform most of the functions.
Related Topics