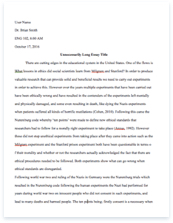 The whole doc is available only for registered users
Pages: 5
Word count: 1027
Category: Myths
A limited time offer! Get a custom sample essay written according to your requirements urgent 3h delivery guaranteed
Order Now
Introduction
The family is understood as the basic unit that makes up the society. There are different theories and believes tries to explain the family institution and its relevance to the society. However there is a common understanding that the family is an important institution not only for procreation but also for socialization of individuals in the society. There are different myths that tries to explain family institution, it composition and relevance to the society, which ran alongside different familial theories. This paper will look into the application of the family myths in the contemporary life of my family, but first, let us understand the concept of family myths.
What are myths?
According to Harder (2005) a myth is any belief about someone or something that is usually taken to be true but it is false, made up or at times a true fact that is exaggerated. The origin of nay myth will depict it as an attempt to explain something that we don't have a clear understanding of. In other word, it explains what is beyond our understanding.
Family myths
There are three myths that are used to describe the family institution including the universal nuclear family, self-reliant traditional family, and the naturalness of different spheres for wives and their husbands. Family myth can be dysfunctional or function. It can be dysfunctional in that it can have negative consequences that are likely to disrupt the normal life of the family. In this case it can divert the attention of the family on the prevailing social problems that are affecting the family.  Myths can also be functional in the sense that it can be used to bring about cohesion among the family members by fostering social solidarity.  Let us look at the three family myths;
Universal idealized nuclear family
The concept of nuclear family has been taken as the ideal family all over the world. The ideal nuclear family is usually made up of wife, husband and their biological or children they have adopted. In reference to my family, I don't think my family is perfect nuclear family since we are not living with my mother and father alone. I am an immigrant student living with my father in the united states while my  mother has bee left back to take care of the grandparent who are aged living in Shanghai. My mother has a very good job and earns more than my father but she has supported our family a lot.
The main reason why I take this concept as a myth is that I feel we still have a very strong familial bond as a family though we are not living together. The reason why my mother has been left in Shanghai to take car of my grandparent is that they are still a part of our family. As Howells (1999) agues it is who you consider to be your family members who make up a family. There is no single marriage or family patterns for all human societies but the concept of the family keeps on changing with time.
The self-reliant traditional family
This myth tends to look at the family in terms of individual achievement and self sufficiency.  It postulates that good families are more likely to take good care of their members.  One of the contrasts with this is that it doesn't mean that because a family cannot be self-sufficient that it will not be considered as a family (Sichel, 2007). Every family strives to meet the needs of its members. For example both my parents are working in order to meet the demands of our family although I cannot say that we meet all our needs.
In my understanding of the changing family social structure, I would argue that the traditional and the modern family all needed government assistance despite both parent working. For example in the 1950 and 1960s middle class families received assistance and even currently, poor and rich families are all receiving Medicare support.
Naturalness of different spheres for wives and husbands
 This myth assert the belief that  in the family, member assume natural roles and moving away from such natural roles is likely to bring about family problems. This myth will state that the modern family problems to the changes that have been taking place in the society. However the reality is that the world is changing and what was considered natural by then cannot be considered natural today. Inter racial marriages has broken the cycles of natural expectations. What is natural to one family may not be natural to another. For example in my family, both my parents have taken to paid employment in order to provide for the family. Traditionally, wives were not allowed to take up paid employment and their duties were confined to their houses (Anderson and Bagarozzi, 2006).
My family may also have  overrode this myth where it is natural that a man would more likely get into a relationship with a woman who has less education and earn less. However the relationship between my parent can be described as status between vital and little conflict-habituated since they have different education levels and my mother earn more than my father. As a departure from the traditional parental controlled parenting style, my parent style is far more permissive giving children autonomy and freedom of expression.  Since my dad id very demanding, sometimes I prefer talking with my mother than my dad.
Conclusion
Myths give important facts that try to explain what is beyond our understanding. Family myths pass important information regarding the modern family.  The reality of the modern family is sometimes different from what is expressed by the myths. However they give us an important understanding of our families.
References
Anderson, S. & Bagarozzi, D. (2006): Family myths: psychotherapy implications. Oxford University
Harder, A. (2005): What is your family myth? Retrieved on 7th November 2008 from http://www.support4change.com/stages/generation/rules/myths.html
Howells, R. (1999): The myth. Macmillan Publishers
Sichel, M (2007): The family myth. Retrieved on 7th November 2008 from http://www.sideroad.com/Family_Life/family-myth.html
Related Topics