My Family's Health History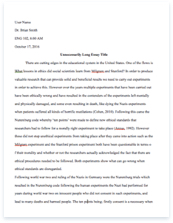 The whole doc is available only for registered users
A limited time offer! Get a custom sample essay written according to your requirements urgent 3h delivery guaranteed
Order Now
The word nutritional disease is defined as any of the nutrient-related diseases and conditions that cause illness in humans. For the research paper, I decided to talk about my family health history and the nutritional-related chronic disease such as abdominal pain that runs in my family. I presume this is an extremely interesting topic to compare and contrast with my family health history since nutritional disease has become an epidemic not only runs in my family or in the United States but worldwide. Abdominal pain is also known as tummy pain or stomach pain is the pain or discomfort in the stomach that may reflect with a major problem with one of the organ in the abdomen. A person can feel the pain in the abdomen organs such as liver, stomach, and pancreas.
The cause of abdominal pain is by the inflammation or non-inflammation of organs such as the blockage of a bile. An example, the common cause of abdominal pain can either due to the dehydration and lack of urination. Furthermore, another common cause of the abdominal pain could also be due to eating lots of hot chili peppers. There are multiple reasons why there's a pain in the abdomen. The symptoms may associated with material such as gas (fart, flatus), discomfort in the upper or lower abdomen and indigestion yet still there are numerous of the physician who doesn't know the exact cause of a belly pain. By reading several of the topics relating to abdominal pain mentioned that it predominantly materialize in adults, especially women, but on the contrary, it can also occur in children's as well. Mostly, the overall reported of an abdominal pain is discovered in the upper, lower area and to pelvic. The overall percentage that reported as an abdominal pain was from 16 to 22% and the ranging was from 8 to 54 percent.
The health complication of abdominal pain is known as peritonitis, which referring to a medical emergency that's affected by the abdominal cavity. This condition can result from a rupture of organs which can cause loss of appetite and possibly weight loss. It may be treated by multiples of physician depend on the issues, but mostly anyone that has peritonitis is treated by antibiotics. One of the other complication would be finding the position that will make you want to stay still or make you so restless that you pace around trying to find just the right position.
There are multiple kind of treatment and multiple methods to diagnose the abdominal pain. Some of the treatments or diagnoses are included surgery, pain relief, medicine, and fluids. Meanwhile, individual of my family members was examined differently. As for me, the doctor determine the cause of my upper abdominal pain by a physical examination. It means the physician inquire me to lay down straight and ask me to point out the area of any tenderness. On the contrary, my mother was examined differently and what I meant by differently is the doctor do a pelvic exam to check for problem in her womb. Nonetheless, my younger brother and youngest sister have to do a surgery. The upper abdominal pain would be preventable if it's been treated earlier. Since it carries a serious complication, it must check up immediately because if it isn't has been checked with the physician, it can somehow lead to sudden death and this mostly occurs in the age of 60 and above.
As far as I've a concern, many people in our contemporary society believe that abdominal pain can also be due to a menstrual cramps. It would be partially accurate and partially inaccurate. It's accurate that women may feel cramps in their abdomen during the menstrual cycle, but compare it to my symptom, it will not only occur during the menstrual cycle because the pain usually today and completely in another couple of days in every month.
In what I have been experiencing, whenever I felt the pain, I would always have to lay down and I believe this is a extremely accommodating unique because it somehow helped decrease the pain. My upper abdominal pain usually takes about 1 to 2 hours and then suddenly the pain seems to be disappears. And I presume no treatment is necessary to my symptom. However, the physician provides a medication for me which is called Omeprazole. Omeprazole is a medication that helped to decrease the pain as well.
For example, the opposite to where I live in Thailand, none of my family members have abdominal pain or know how the abdominal pain felt. It just happen in the previous 5 years since my family move to the United States. I believe the cause of this issue would be either due to the lack of eating food or due to our changing of a lifestyle. It's because when we first arrived here, everything is unrecognizable like places, foods, environment and none of my family members enjoy the taste of America's food because it was unfamiliar. Moreover, another common that lead to an abdominal pain is no physical activity is being complete and lack of dehydration. Normally, we don't really drink a lot of water or we have probably drank a contaminated water. Therefore, there might be a lot of viruses in it that we can't vision. And I believe this might be another reason why it consequence into stomach ache.
To prevent abdominal pain can really rely on the changing of a lifestyle that affect contributing to a food related disease that runs in our life. It's literally depend on how much a person's in our society consumes the amount of foods and does not know how to control portion sizes. Also, eating a large amount of foods, but does not take a look at each individual of their healthy diet or completing the physical activity can lead to a numerous nutritional disease. It is extremely important to start eating healthy and doing physical activity since they're the main important key to a healthy life.
Related Topics