My Basic Principles of Life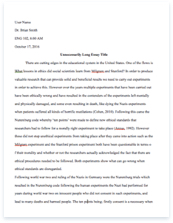 The whole doc is available only for registered users
A limited time offer! Get a custom sample essay written according to your requirements urgent 3h delivery guaranteed
Order Now
Three principles that guide my choices are faith in God, honesty and service.
Faith in a God who is the loving Father of all mankind makes me want to treat others with tolerance and caring. This is a work in progress, but I try to see each person as someone who is important to God. Therefore, they are valuable and worthy of respect, regardless of their circumstances, culture or beliefs. Faith in God also brings hope that any situation can improve with time and prayer, and that life goes on, even after death.
The second principle is honesty. Trust is easily lost and hard to regain. Lying, stealing and cheating may bring some short-term gains, but the price is too often a damaged reputation and lost opportunities. It is so much easier to just be honest with people, property and words. Of course, kindness and tact may sometimes require that we find a gentle truth in a situation or just say nothing at all. Other than that, honesty really is the best policy.
The third principle is service. As an older student, I have had many opportunities to serve in my family, church and community. As a mother, especially of an adult child with disabilities, service has brought much joy and growth. I also love visiting with elderly people in nursing homes, assisted living centers or in their own homes. They have such wisdom and great stories. It is also gratifying to tutor elementary school students in reading and math. Sometimes great progress can be made by having just a little one-on-one or small group attention from a volunteer over the course of a school year.
Two people who have influenced my life are my 86-year-old mother and my 27-year-old son with autism. I have been going to doctor appointments with my son his whole life and with my mother for the last 15 years.
My son has severe difficulty with processing language and with tactile sensitivities. He had to be sedated even for basic procedures like getting his teeth cleaned. Then we went to a wonderful dentist who specialized in working with children with disabilities. He gave me a mask and a battery powered toothbrush and had me brush my son's teeth every day while he was laying back in a recliner. In just a few weeks, my son was able to have his teeth cleaned without anesthesia. This same desensitization process worked for other difficulties and his life improved.
From this experience, I learned the importance of finding knowledgeable professionals who have developed problem solving strategies and treatments that work. I also learned the importance of continuing to seek new knowledge and techniques.
Caring for my aging mother has been a journey. She's amazingly healthy and feisty for her age and a joy to have in my life. The thing that has really hit home is the importance of exercise and keeping the body moving. When she can be active, she is healthier physically and mentally. My brother passed away a few years ago, and it made my mother really depressed. I didn't recognize what was happening at first. I thought she was just suffering from allergies or the illnesses that were going around. It was only after she started getting better that I saw how she had withdrawn and how sad and lethargic she had become. Grief has its own timetable, and I learned I need to be more aware of the symptoms.
As a future nurse, I feel these values and life experiences will help me be more optimistic, more dependable and trustworthy and happier in my role of caring for others. I especially hope to help people, especially the handicapped and the elderly, improve their physical and mental health.
Related Topics