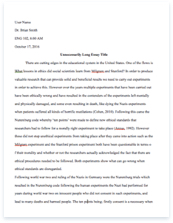 The whole doc is available only for registered users
A limited time offer! Get a custom sample essay written according to your requirements urgent 3h delivery guaranteed
Order Now
Traditions are customs or beliefs handed down through a family and sometimes created without even realizing it. The routines or foods shared when we come together are repeated and become a part of who we are. A detail made clear, a few weeks ago, as my daughters and I shopped for groceries the day before our Super Bowl gathering. As we grabbed chips, dips, sodas, baked beans, chicken, and barbeque sauce, one of my daughters said, "Don't forget the ingredients for 'Mom's ChickenEnchiladas'." I never realized, until then, that it had become a traditional dish served at all our family functions.
As we continued shopping, we gathered everything needed for our entrée: 10 pounds of chicken leg/thigh quarters, 3 8-ounce bags of mixed cheddar/monterey jack shredded cheese, 1 large and 1 medium yellow onion, 4 4-ounce cans of chopped green chilies, 4 4-ounce cans of sliced olives, 2 16-ounce cans of enchilada sauce, and 3 dozen small corn tortillas. I knew what was needed, even without a list, since I created the recipe and have been cooking it for years. The only time I vary from my original recipe is when I am short on time. When this happens, I purchase cooked chicken from my local store's deli. Since we shopped the day before our party, I had plenty of time to start from scratch.
Boil the 10 pounds of chicken and the large onion in a big pot of water. Cook until the chicken falls apart. Drain the water and put the chicken in a large covered bowl where it will sit overnight in the refrigerator. The next morning, debone the chicken. In a large mixing bowl combine chicken, diced medium onion, chopped green chilies, sliced olives, and two bags of cheese.
In a 17 ½ x 12 x 4-inch roasting pan, pour one can of the enchilada sauce. Pour half of the second can of enchilada sauce into a medium microwavable bowl and heat about 1 minute until sauce is warm. The remaining sauce will be used preparing the second layer of enchiladas. Wrap five tortillas in a paper towel and heat in microwave between 30 seconds and 1 minute. The tortillas will be soft and easy to roll. Dip one tortilla into the heated sauce and set on a plate. Fill tortilla with chicken mixture, roll up, and place seam side down in the corner of the pan. After the fifth heated tortilla is used, heat five more. Continue this process until the bottom of the pan is filled and then start a second layer. After the second layer is done, pour any unused sauce evenly over the top of the prepared enchiladas; top with remaining chicken mixture. Sprinkle the last bag of cheese over all. Bake, covered, in a 350-degree oven for 30 to 40 minutes or until cheese is bubbly. Let stand for 10 minutes. Serve with sour cream.
We eat 'Mom's ChickenEnchiladas' at all our special gatherings or events, and everyone loves them. Friends and family enjoy the distinctive taste, and they provide an added tradition to our classic meal of barbecue chicken, baked beans, and potato salad. Our traditions help us define our identities and strengthen our sense of family belonging. Hopefully, my small contribution will establish a tradition that my children will carry down to their own families.
Related Topics