Mental Models/Mindsets Paper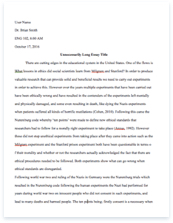 The whole doc is available only for registered users
A limited time offer! Get a custom sample essay written according to your requirements urgent 3h delivery guaranteed
Order Now
This paper is going to identify and explain how the four steps to change the mental models/mindsets can help Pfizer pharmaceutical. Pfizer is on the correct path and currently uses the four steps to creating change within their organization. Pfizer is one of the world's largest pharmaceutical companies. "Pfizer's purpose is helping people live longer, healthier, happier lives. The route to that purpose is through discovering and developing breakthrough medicines; providing information on prevention, wellness, and treatment; consistent high-quality manufacturing of medicines, consumer products; and global leadership in corporate responsibility" (Pfizer, 2007). They recognize that people are the cornerstone of Pfizer's success, they value their diversity as a source of strength, and they are proud of Pfizer's history of treating people with respect and dignity.
Pfizer is deeply committed to meeting the needs of their customers, and they constantly focus on customer satisfaction. They play an active role in making every country and community in which they operate a better place to live and work, knowing that the ongoing vitality of their host nations and local communities has a direct impact on the long-term health of our business. By doing the above mentioned Pfizer has already covered the first step of creating change which is understand your mental models/mindsets. They are very aware of their employee's mindsets and their customers as well.
The next step would be to test new approaches. Innovation is the key to improving health and sustaining Pfizer's growth and profitability. Pfizer needs to know that to be a successful company they must work together, frequently transcending organizational and geographical boundaries to meet the changing needs of their customers and employees. They strive for continuous improvement in their performance, measuring results carefully, and ensuring that integrity and respect for people are never compromised. Pfizer fully understands how to test new approaches and create success for change. (Roth, 2008)
It is important to overcome inhibitors to change. This starts with your employees and then needs to move to your consumers. To achieve these goals and grow Pfizer is already working to earn the trust of all stakeholders. They understand that earning trust demands hard work, sharp execution, integrity and transparency. Pfizer understands that they must start small when it comes to change and make it transparent throughout the company. With their recent merger they were able to make this happen in a very short amount of time.
Achieving the potential of global operations requires a mix of soft and hard approaches, optimizing global processes requires cultural change management, proactive team- and relationship-building, and also more traditional budgetary and accountability mechanisms and metrics. Looking at the entire Pfizer's portfolio, including products from the recent merge or globally acquired Pharmacia, there is a globally integrated enterprise. Pfizer has integrated operations horizontally and globally – performing as a cohesive whole, not as a hub with outposts. It is a company focused on connecting and leveraging sources of production and creating value, regardless of the physical location. (Roth, 2008)
The last step to creating change to a company's mental model/mindset is to make the change to the mental models/mindsets. Pfizer is well on their way with this final step. Pfizer believes that leaders empower those around them by sharing knowledge and rewarding outstanding individual effort. Leaders are those who step forward to achieve difficult goals, envisioning what needs to happen and motivating others. On a day to day basis Pfizer continues to show how they can development their management and their sales force to create change in the industry and grow the company.
Globalization is driving a wholesale reinvention of organizational structure and management at Pfizer, the need for global scale and process efficiency is challenging corporate leaders to replace old paradigms of centralized control and decentralized autonomy with new models. With the drive to go global Pfizer has been a step ahead of the industry in creating new mental models/mindsets. They are focused on creating the change and being successful.
Organizational change, whether grouped together, or integrated by product, geography, function or matrix, is essentially the hardware of the company. The control mechanisms, which include the organizational culture, networks, reporting systems, cross-cultural teams, rewards and incentives, are the software of the company. The key insights for a business going global are to realize by creating a new company and customer mental model/mindset and Pfizer is well on its way to creating this change. (Pfizer, 2007)
References
Pfizer. (2007). About Pfizer. Retrieved February 15, 2009 from http://www.pfizer.com/pfizer/are/mn_about_company.jspRoth, Gil. (2008) "Top Pharma Newsmaker Interview." Contract Pharma. Retrieved February 15, 2009
Related Topics