Volunteering in Therapeutic Riding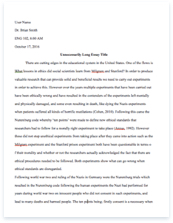 The whole doc is available only for registered users
A limited time offer! Get a custom sample essay written according to your requirements urgent 3h delivery guaranteed
Order Now
It was the summer before senior year of high school, the hardest part junior year, filled with the daunting SATs and ACTs on top of numerous AP courses was finally over. The only major task left was writing an essay for college applications and the rest of senior year would be a breeze said, my counselor. I was a bit skeptical, to say the least, being a first generation American and the first in my family to go to college I was borderline paranoid about the process. I researched the process in depth, I knew what classes I had to take, what scores to get, and how to get them. I used multiple sources for information and double checked to make sure what I understood was correct. I also knew that it wasn't all about test scores, so I volunteered regularly with several different organizations.
Overall, I was feeling relief as I had put in the hard work and got the results I wanted. My mother although not too familiar with the US education system highly stressed the importance of education. She has always been supportive and helped in her own way by asking her coworkers who had kids in high school or college about the process and eagerly relaying that information to me when she got home that day. One day two weeks into summer vacation she came home and told me about a volunteer opportunity she learned about through a coworker. It was for the 4H Therapeutic Riding Program which after some research I found provides a recreational experience and therapeutic regimen to Frederick County citizens with medically certified mental, physical, and emotional disabilities through equestrian activities. My previous volunteer experiences were the typical ones at the local food bank, elementary school, and nursing home.
This was unique and as someone who is looking into the nursing major sounded like an excellent opportunity not to mention the resume boost. I decided that I would try it since I had the free time. The first time I went, I did not know what to expect other than helping kids ride horses. As I pulled into the gravel driveway I was surprised at how spacious the facility was. I suddenly became nervous and as I stepped out of the car an odor similar to that of the Frederick County Fair animal section hit my nose. I had only been around horses a couple of times and all of them were at the fair, my sister loved pony rides. There was a large outdoor ring set up with the horse stables across from it. I walked up to a table set up in front of the ring and met the head director Debbie. She was a kind elderly women who told me that she too had started out just like me, volunteering for therapeutic riding in 1983, working in the ring as a side walker and now owns the place. I was amazed to learn that she studied under equestrian para-Olympian Robin Brueckmann, her passion was genuine, and it showed through our simple conversation. After signing in a regular volunteer explained what I would be doing once the kids arrived. I was shown how to groom the horses and properly saddle them for the riders. All the volunteers were very friendly, they even had donuts for us since it was early in the morning for summer vacation as a way to say thank you to the volunteers.
There were two classes today and I would be a side walker for the second class until then I was to help clean stables. I was not prepared for the physical aspect of this job. At times I felt tired of shoveling horse manure; working in the stuffy stables was a brutal task. Within a matter of minutes, a sheen of sweat coated my body as I labored away in the 90-degree weather. As I swatted the annoying horse flies that never seemed to go away, I thought about how difficult this volunteering task would be. My arms ached as I lifted the heavy pitchfork over and over, and I started to feel discouraged about coming back to the program. Sighing deeply, I decided to step outside the stable and take a break. I sat on a bench and sipped some water watching the other volunteers walking the horses with riders.
The kids riding the horses were excited and lively while talking with volunteers. Some were the opposite, instead sitting peacefully, as this was a time for them to get away from the rest of the world. As I walked back to the stable, I thought about how these kids really benefitted from their riding time. I was so focused on myself that I didn't realize that for this program to work we all must take turns doing the hard work. This wasn't just going for a pony ride at the fair for these kids. Volunteering at the food bank, elementary school and nursing home was easy and out of touch for me. With this realization, I got back to shoveling, and oddly enough the ache in my arms did not seem to bother me that much. Finally, I got my chance to be a side walker in the second class of kids and meeting them was eye-opening. Some children needed constant assistance with physical and verbal tasks, while others were struggling with minor motor impairments or deafness. Though the range of disabilities varied, one detail was the same for each child the excitement in their eyes and their faces lighting up upon arrival. 
Related Topics