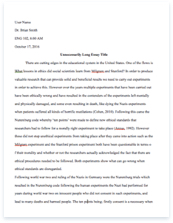 The whole doc is available only for registered users
A limited time offer! Get a custom sample essay written according to your requirements urgent 3h delivery guaranteed
Order Now
Company Analysis
Mediquip S.A., a subsidiary of Technologie Universelle, is a manufacturer of CT scanners, X-Rays, ultrasonic, and nuclear diagnostic equipment. Their competitors consist of other European companies such as Sigma FNC, Eldora, Magna, and Piper. Even though Mediquip is a fairly new player in the medical equipment market compared to their competitors, they hold a global reputation for having advanced technology and proficient after sales service. Mediquip's sales organization consisted of eight country sales subsidiaries, each headed by a managing director. Within each of these areas sales engineers reported to their regional sales managers, who are responsible for reporting to the regional managing director.
Product Analysis
This case focuses on the sales for computer tomography (CT) scanners, developed in the 1960's. CT scanners are medical devices that allow examination of cross sections of the human body through a display of images for diagnostic purposes. The end result of a CT scan is much like an X-ray image, differentiated by the ability to see sections of the body that could not be seen before on screen, such as an organ. CT scanners are generally priced around 1.5 to 3.0 million per unit. Due to technological superiority Mediquip's CT scanners tend to be in the higher price range compared to their immediate competition.
Market Analysis
The European market for CT scanners is estimated to at around 200 units per year. The typical clientele for CT scanners consists of private and public sectors. The public sectors are government owned or non-profit organizations such as universities or charitable institutions. The public sector buying format tends to be budgeted a year in advance, and involves many different people in the buying decision, which makes it more complex. The public sector represents a much higher percentage of CT scanner sales compared to the private sector. The private sector consists of profit oriented organizations such as private hospitals or private radiologists. The supplier market of CT scanners consisted of European companies such as Mediquip, Sigma FNC, Eldora, Magna, and Piper.
Situational Analysis
Kurt Thaldorf, a sales engineer for a German sales subsidiary of Mediquip, S.A., learned on May 5th, of a potential prospect for a CT scanner at Lohmann University Hospital (LUH) in Stuttgart. LUH, a public sector hospital, and a part of the universities medical school. The key groups in the purchase of a CT scanner are radiologist, administrator, physicists, and supporting agency. In this particular case the key decision makers are Professor Steinborn, Radiologist; Carl Hartman, Hospitals General Director; and Dr. Rufer, the hospitals physicists. Hartman's secretary played an important indirect role in the buying decision of the CT scanner. On December 18th Kurt Thaldorf, was notified about the LUH deal being lost to Sigma, a direct competitor of Mediquip. The loss of the deal centered on the price structure of the product in comparison to the competitors offers to LUH.
Problem Analysis
Mediquip's prime and most simple problem was the failure to acquire a contract with LUH. One reason for this failure was that Mediquip's CT Scanners were higher priced than their competitors. Kurt did a poor job in justifying the higher price bundled with their "superior technology", and how it would benefit LUH. Thaldorf failed to convey his products features and reason for high price to LUH. He was not responsive enough to LUH's several comments about price sensitivity, failing to initiate any type of adaptive selling. His one attempt to possibly demonstrate its superior technology, to invite LUH personnel for a three day trip to Mediquip's facility, was refused by management, only to be accepted by Thaldorf without second thought. He should have tried harder to get managements approval. He also did not thoroughly investigate his prospective customer enough, leaving too much information in the dark. He was unresponsive to the fact that other competitors were already bidding for LUH, before, and during the same time as he was. Thaldorf had trouble creating a sufficient relationship with most of the members of the buying center, and used the inappropriate methods for trying to make a sale, and not meeting the customer's needs.
Alternatives
1. Perform a product demonstration by inviting prospected buyers for a tour of the facilities.
+ Customers become better acquainted and more knowledgeable about the product.
+ Easier for customers to evaluate and reach their final decisions.
+ Possibilities of selling product at desired selling price if the customers have the opportunity to experience the product.
– Time and cost consuming.
2. Better presentation method and explanation of the product.
+ Customers have better understanding of quality, benefits, and cost of the product by showing the value of the product.
+ Improve communication by engaging in discussions or question/answer session in order to build a concrete relationship.
– Time consuming
3. Prepare more appropriate sales personnel with proper selling strategy for the deal.
+ Effective selling – when more qualified sales personnel involved, better ideas and on how to approach prospects are expected.
– Training, labor and administrative cost.
4. Create customized cost/benefit analysis.
+ Better opportunity of acquiring a deal by asking a reasonable price.
+ Obtain value driven profit.
– Requires more time to prepare the formal proposal.
– Requires the buyer's cooperation in providing personal data.
5. Perform an in-depth market research on competitors' price and product.
+ Mediquip become more aware of what goes on in the marketing, which allow the company to compete effectively by knowing the competitors.
+ Comparison of products enables Mediquip to recognize specific superior features and benefits that could be appealing to customers
6. Mediquip should also tap in the private sector.
+ Mediquip can expand territories with the new target market.
+ They can become more profitable by selling product at desired selling price.
– Possibilities of failure of the selling program.
7. Pulling the right string and focusing on the right person.
+ More chance of obtaining the sales if approached the right person with the right information.
+ Build a strong relationship with each decision maker in the buying center.
+ Enable company to communicate information efficiently and effectively.
Recommendations
To improve the effectiveness of the sales program, better formulation of sales strategy by performing a broader research on external and internal factor surrounding the company is required. Mediquip can come up with a clear strategy of adaptive selling by considering the use of SPIN method when approaching prospects.
Because only minor share of Mediquip's CT scanner sales goes to the private sector, we believe that Mediquip should prepare a program for private sectors, such as private hospitals or private radiologists, in case they fail with the public sectors. They would have more opportunity generate sales and profit for the company since private sectors are profit-oriented organizations.
In addition, to have competitive advantage over the competitors, Mediquip should carry out a thorough research on the market before approaching prospects. The idea of a sustainable competitive advantage should be integrated with a greater sense of adaptive selling. Company should be aware of price quotations of competitors'. They should perform cost/benefit analysis to come up with a reasonable price to offer. Overall have more information and be better prepared, and most importantly more responsive to the customers concerns and needs.
Related Topics