Mcdonald's Global Presence and Cultural Issues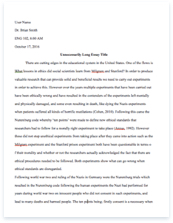 The whole doc is available only for registered users
A limited time offer! Get a custom sample essay written according to your requirements urgent 3h delivery guaranteed
Order Now
McDonald's is a global fast food restaurant chain which can trace it's roots back to humble origins. Originally started in 1940 as McDonald's Bar-B-Q by brothers Dick and Mac McDonald, the restaurant was eventually bought out by Ray Kroc, the founder of the modern McDonald's Corporation. Kroc was originally a franchisee who became a pioneer of the fast food industry by aggressively expanding the business into all parts of the country and the globe until his death in 1984. Today there are over 34,000 McDonald's restaurants in 119 countries. The company employs over 1.8 million people and serves approximately 69 million people each day.
During the last quarter of 2012, McDonald's had net income of $1,396,100,000.McDonald's is in Stage 6 of the internationalization process, they routinely make direct investments (opening company owned stores) in foreign countries, as well as grant franchises to independent owners.
McDonald's is definitely a global company. Although they operate and oversee thousands of restaurants in over one hundred countries, they are still very much based in the U.S. About one third of all their restaurants are located here in the United States and the McDonald's corporate headquarters is located in Oak Brook, Illinois. They are a publicly traded company and are listed on the New York Stock Exchange.
I was not able to find details about McDonald's expatriate system, but a small section on their corporate website described their "Global Mobility" program which gives an opportunity for managers and executives to "experience working and living in a new global location." Although no details are offered, based on the size and global breadth of the company it would be impossible for them NOT to have a very organized expatriate system. It would be very difficult to break into new markets, manage company owned stores, and to help new franchisees with the development of their business without "boots on the ground".
With such a long standing global presence, McDonald's has become aware of many different cultural issues and has adapted their business practices to harbour better feelings from it's host countries natives and to increase sales. One way in which it is apparent that mcdonalds has altered their business practices to cater towards different cultures is in the design of their websites. for example, on the Indian ]McDonalds homepage, a video immediately begins playing which shows a young group of friends who decide to go to McDonald's. This kind of advertisement is probably used because India is more of a collectivist culture which values groups, especially family and friends more than the self interest of the individual. The german website, in comparison, profiles a Big Mac and a McChicken as the most prominent point of the page.
It is easy to see that they have customized their web experience for more individualistic cultures by emphasizing products or promotions rather than showcasing the group dining experience. The most prominent way in which McDonald's individually tailors it's strategy is through the food itself. In India, a mostly Hindu nation where the cow is considered sacred, McDonald's does not serve beef. Instead, it serves vegetable patties and such items as the Chicken Maharaja Mac. The McDonald's menu in Japan includes shrimp burgers, shrimp nuggets, and a sandwich with mashed potatoes and cabbage. In Finland and Norway, McDonald's has created menu items to include salmon called McLaks and Laksewrap. In Germany and many other european countries, McDonald's serves beer right off the tap. It is obvious that McDonald's has realized that competing overseas presents many different challenges than here in the US and they have begun to individually tailor different strategies for the huge variety of cultures and customs in the 119 countries that they operate.
Sources:
"McDonald's:Our Company." 01 Feb. 2013 .
"History of McDonald's Restaurants." McDonald's. 01 Feb. 2013 .
Guffey, Mary Ellen., and Dana Loewy. "Page 81." Business communication: Process and product. Mason, OH: South-Western/Cengage Learning, 2011.
Related Topics