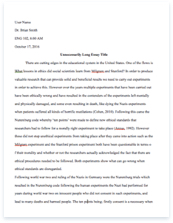 The whole doc is available only for registered users
A limited time offer! Get a custom sample essay written according to your requirements urgent 3h delivery guaranteed
Order Now
McDonald's is one of the world's most well-known and valuable brands and holds a leading share in the globally branded quick service restaurant segment of the informal eating-out market in virtually every country and the leading global foodservice retailer with more than 30,000 local restaurants serving nearly 50 million people in more than 119 countries each day.
McDonald's Vision
McDonald's vision is to be the world's best quick service restaurant experience.
McDonald's Culture:-
McDonald's culture is the love towards McDonald's brand and the respecting the company values imbibed in its rich history.
History of McDonald's:-
* Started in 1940, when two brothers, Dick and Mac McDonald opened the first McDonald's restaurant in California. * In 1954, an entrepreneur and milkshake-mixer salesman, Ray Kroc, acquired the franchise of McDonald's * In 1961, Kroc convinced the McDonald brothers to sell the business rights to him for a sum $2.7milion. * In 1963, the mascot Ronald McDonald was born as a part of a marketing strategy in US. Happy Meal was introduced in US in 1979. * The year 1984 was marked by the death of Ray Kroc.
* In 1994, McDonald's bagged the Catalyst Award for its program for 'fostering leadership development in women'.
* In 1996, the first INDIAN Restaurant was opened.
* In 2003, the company launched the 'I'm lovin' it' campaign.
Employment
* Total employees = 1.5 million (398,000 company staff, 1.1 million franchisee staff)
* Total 2500 employees across India.
* 57% of staff are male
* 43% of staff are female
* Two-thirds of hourly paid staff are aged between 16 and 20 years of age
* 90% of staff work for 35 hours per week or less
Restaurant Operations Leadership Practice:-
In McDonald's Restaurant Operations Leadership Practices training, participants learn to: a. Use appropriate leadership approaches to develop high-performing teams and individuals b. Recognize the importance of team building and use appropriate tools and techniques to help teams reach their full potential c. Develop skills in leading teams
d. Prioritize restaurant needs to improve people, QSC&V, profit and sales e. Diagnose and correct factors leading to poor quality food f. Develop a Restaurant Improvement Plan
g. Use tools and techniques to develop teams
h. Identify strategies to build employee commitment
i. Prepare and conduct performance reviews
Training forums
The various training forums applied under MANAGEMENT DEVELOPMENT PROGRAMME:-
1. Basic Shift Management
a. The BSM takes place at the management trainee level.
b. Addresses the why's and how to's of McDonald's procedures and standards rather than 'what-to-dos' and 'what-to-knows'.
2. Advanced Shift Management
a. ASM is intended for second asst. manager.
b. Deploys the manager's ability to observe and gather facts, analyse information and then act/communicate accordingly.
3. Systems Management Course
a. SMC is an opportunity for first asst. managers.
b. To gain knowledge of recognizing various real world problem within the restaurant.
4. Restaurant Leadership Programme
a. RLP is designed for a promotable first asst. manager.
b. Focuses on the skills and behaviors necessary to drive business results within restaurant's environment. c. Includes focus on leadership skills, team-building, decision-making strategies and problem solving
5. Operations Consultancy Course
a. Designed to help the McDonald's consultants develop a strong business relationship with managers. b. Use of effective communication, leadership, operations and consulting skills. c. Participants learn how to implement problem-solving techniques with their restaurant managers, link restaurant support tools to restaurant system and measure store and patch performance. 6. Training Consultant Course
a. How to present and facilitate training effectively
b. Maximize learning and performance of participants
c. Designed for training consultants.
RESTAURANT MANAGEMENT STRUCTURE
Restaurant Manager
First Assistant Manager
Second Assistant Manager
Trainee Manager
Trainee Floor Manager
Floor Manager
Crewmember
TAYLOR'S PRINCIPLE AT MCDONALD'S
About Frederick W. Taylor.& Taylor Theory
Taylor was the first modern efficiency expert in world history. Around the Twentieth Century, he formalized the principles of Scientific Management and developed a set of ideas designed to get employees in manufacturing industries to produce more output. Taylor contracted with companies to rearrange their production processes to simplify the tasks each employee performed. Instead of doing many different things, workers in Taylorized factories would execute the same simple tasks over and over. The principles of Scientific Management still have an important impact globally and some of the world's biggest companies still apply the Scientific Management principles in their business operations.
About McDonalds:-
McDonald's is one of the world's most well-known and valuable brands and holds a leading share in the globally branded quick service restaurant segment of the informal eating-out market in virtually every country and the leading global foodservice retailer with more than 30,000 local restaurants serving nearly 50 million people in more than 119 countries each day.
Scientific Management at McDonalds:-
Scientific Management principles in McDonald's business operations are implemented from three perspectives:-
1. Systems of rewards for meeting the goals
2. Scientific education and development of the workman
3. Standard method of performing each job.
McDonalds's apply the Scientific Management principles in their business operations because the company establishes systems of rewards for meeting the goals. Taylor stated that the non-incentive wage systems encourage low productivity if the employee will receive the same pay regardless of how much is produced. Taylor's concept of motivation is to institute a system of inequitable pay for workers and a bonus system will create monetary incentives. McDonalds Employee Encouragement strategy using Taylor's principles:- McDonald's employs a wide variety of techniques to keep its employees motivated. As the job is intense, and requires a lot of traits such as punctuality, precision & long working hours. McDonalds encourages employees through many effective ways which are given below:- Employee Of the month Strategy:-
Except for the base pay paid to each employee, McDonald's establish competitive wage and promotion programs, hard work, dedication, motivation and results are recognized and rewarded at McDonald's. Appreciation comes in many forms – from a simple encouragement for a job well done, to restaurant-wide recognition through programs such as the 'Employee of the Month. Incentive Programs:-
McDonald's also offers great incentive programs with access to gift certificates, merchandise, free food, etc. In addition, McDonald's also establish an incentive pay system and provide employees with the opportunity to earn competitive total compensation when performance meets and exceeds goals. The company pays a bonus on top of employees' base salaries based on business performance and their individual performance. Long Term Incentives:-
Long term incentives are granted to eligible employees to both reward and retain key employees who have shown sustained performance and can impact long-term creation at McDonald's. Not only they establish the bonus system for the employees to perform efficiently, but also they institute other kinds of systems to increase monetary incentives such as recognition programs and company car program. Scientific Training:-
Scientific training is one of the most important principles of Scientific Management. Taylor states that each company should train the workers scientifically rather than passively leave them to train themselves. It aims to unearth and cultivate workmen's endowment, let them have the best performance in their work and obtain the highest efficiency farthest. McDonald's have a strong tradition of, and belief in, training, they know its value to the bottom line of their business. At crew level there is considerable initial and ongoing training that is consistently applied to everybody in the business, whether part, full time, hourly paid staff or salaried managers undergoing their compulsory restaurant training. Moreover, a new employee will accept training as soon as he joins McDonald's and starts his first working day. He must pass tests of three posts in the first month. Therefore, high requirements create high quality food.
Standardized Method to Improve Employee Efficiency:-
Lastly, a company should develop a standard method of performing each job efficiently. Taylor taught that there was one and only one method of work that maximized efficiency. And this one best method and best implementation can only be discovered or developed through scientific study and analysis. This involves the gradual substitution of science for 'rule of thumb' throughout the mechanical arts. Taylor was not really concerned with other organizational or management issues. His focus was on efficiency, and he suggested that people had to follow what his method. McDonald's establishes a series of detailed and strict working standards which ensure that every product from any chain restaurant has high quality. No matter people is a cook, a counter person or a hall cleaner, each kind of works has normative operational standards and written regulations.
The cook time and the amounts of materials are prescribed with accurate numerical value and controlled by machines. In addition, they also establish a computer system that transmits orders to the kitchen, where in the kitchen; the holding bins will regulate the temperature to keep the food hot and fresh. Stress on Production Procedure (Effectiveness & Efficient):- McDonald's staff is specialized in different production procedure. The counter person accepts the order and typically uses a suggestive sell-up to add a missing item such as dessert. Then they use the register display to confirm, assemble, and check the order. The order is assembled by collecting food from the appropriate machines and bins. Besides, some of the staffs play a role in the burger production and some others perform in the production of French fries. McDonald's has developed a standard method of performing each job and the employees can perform effectively and in a lot more efficient manner. Conclusion of Taylor's Principle strategies:-
In conclusion, Scientific Management became a powerful force as it contributed to increased efficiency in industrial establishments. McDonald's shows the evidence of applying the principles of Scientific Management. They institute bonus systems to encourage the employees to perform well to meet the goals. Also, they train the workers scientifically rather than passively leaving them to train themselves. It aims to bring everyone's production efficiency into full play to accomplish maximum profit. Moreover, they cooperate with the workers to ensure that the scientifically developed methods are being followed and it will be eligible to improve the production efficiency. Scientific Management has dramatically affected today's management approaches.. The ideas generated by Frederick Taylor still have a place in current management thinking. Because of Taylor, production efficiency has improved, products become more and more plentiful. Nowadays people can have a rich and colourful life like a king in the past. Much of core of Scientific Management remains with us today, only been modified, updated and given a human face.
APPLICATION OF FAYOL'S PRINCIPLE AT MCDONALDS
About Henry Fayol & Fayol Theory
Henry Fayol is considered to be the father of Modern Operational Management Theory. He was one of the most influential contributors to modern concepts of management, having proposed that there are five primary functions of management:-
(1) Planning
(2) Organizing
(3) Commanding
(4) Coordinating
(5) Controlling
Application in the Modern Workplace
Fayol's elements of management are recognized as the main objectives of modern managers. Fayol believed management theories could be developed, then taught and suggested that it is important to have unity of command: a concept that suggests there should be only one supervisor for each person in an organization. Fayol suggested that management is a universal human activity that applies equally well to the family as it does to the corporation. Application of Fayol's 14 principles of Administrative theory at McDonald's 1. Division of work-
The first thing one would notice in a Mc Donald's kitchen is the tools, the work process and the actual food. Each food item has its own machine. There is one toaster-grill for each kind of bun, and one fryer for each kind of burger. The area is laid out for maximum efficiency and minimum movement by the worker – for example the buns, toaster grill and trays all being one on top of the other.
In this way the job becomes very well-defined each employee knows exactly what he has to do. For example when three people are working on Cheeseburgers one works on laying out burger, second on filling the burger and the third one on taking burgers out of the grill. After which the "controller" (the employee who supplies orders to customers) collects the burger and provides it to the customers while cashiers collect the payment. 2. Authority.
The branch manager has full authority to give orders to the employees. The Training Squad Members, Dining Area Host/esses, Party Entertainers, Administrative Assistants, Security Coordinators, Maintenance Staff, Night Closers, Floor Managers and Shift Running Floor Managers all report to the branch manager and it is the branch managers job to ensure that the work is done. At restaurant level the hierarchy is: –
General Manager
Restaurant Manager
1st Assistant Manager
2nd Assistant Manager
Shift Running Manager
Floor Manager
Staff Training Crew
Crew Members.
3. Discipline:-
All the employees of Mc Donald's have a clear understanding of there job. The jobs are well-defined and they also have a clear understanding of the company's vision-mission statement which is to provide "quickest and friendliest service". Employees are allowed a five minute break every two hours and a half an hour break every four hours; they respect such rules that govern the organization. 4. Unity of command:
All the jobs in Mc Donald's are well-defined and streamlined such that each employee reports to a particular manager whereas all of them report to restaurant branch manager. For example the information regarding maintenance would flow from:- General ManagerRestaurant ManagerFloor Manager Maintenance Staff 5. Remuneration:-
Employees of Mc Donald's are paid on an hourly basis which is why the attrition rate is very high. Mc Donald's also follows the Pay and Reward policy wherein the better an employee performs the more salary he receives.
6. Centralization:-
Mc Donald's has a mechanistic organizational structure, authority is highly centralized and the tasks and rules are clearly specified. Yet every employee listens, communicates freely and honestly and acts in the interest of all other employees.
7. Order:-
Each food item has its own machine. There is one toaster-grill for each kind of bun, and one fryer for each kind of burger. As mentioned earlier the materials are at the right place at the right time for example the buns, toaster grill and trays are all one on top of the other. Moreover in order to ensure that the right person is hired for the right job Mc Donald's ensures McDonald's inducts all new employees into the business through a Welcome Meeting, which they must attend. The Welcome Meeting gives an overview of the Company, including: job role, food, hygiene and safety training, Policies and procedures administration benefits. New employees also meet their trainer, and tour the restaurant. The company operates a 3-week probationary period, after which employees are rated on their performance and are either retained or have their employment terminated.
8. Equity :-
Managers at Mc Donald's treat their subordinates, i.e., maintenance staff, training staff and crew members indifferently.
9. Stability of tenure of personnel:-
Employees of Mc Donald's are paid on an hourly basis which leads to high employee turnover. But however Mc Donald's pays a lot of attention to recruiting the right employees for its restaurants. Management spends a lot of time and effort in training the new recruits and is hired after an "on the job experience" training session.
10. Esprit de corps:-
Mc Donald's inculcates team spirit amongst the employees of a restaurant by providing performance – driven incentives to branches on the basis of their performance. This promotes a feeling of harmony and unity amongst the employees.
APPLICATION OF SYSTEMS APPROACH THEORY
McDonald Corp. has revolutionized the use of technology in restaurants by enabling the serving of fries and burgers in a matter of minutes. Technology has been used extensively in order to serve the customers more efficiently and effectively. The company moved from traditional way of keeping cash-registers to a modernized way of computerized-point-of sale systems that could track huge amount of data in seconds in 1970s. Further more, in 1990, the company was a pioneer in the quick service chain to install the touch screen computers at the front counter and in the drive-thru, making it easier for servers to input orders. The Systems Approach is applied in McDonald's case at various stages of the company. including the management along with the use of latest technology are highly integrated to accomplish their goal of being at the top in the fast food retail stores. It has a systematized way of taking the orders from its customers and processing it which finally leads to customer satisfaction. NEW CHANGES AT MCDONALD'S
1. McDonald's is evaluating a customer order center concept that involves drive-thru orders taken by employees working remotely at two customer order centers. 2. High-speed data connections are used to transmit the orders from the drive-thru to the centers as well as from the centers back to restaurants' kitchen staff. 3. Standardization is a key to success at McDonalds. Its philosophy has been "ONE WORLD, ONE BURGER". Its standardized way of working helps the company to serve the customers with greater efficiency and at a lower cost. 4. McDonald's is also trying to reduce their waiting time. After placing their orders, customers wait until the counter personnel assemble the order and then pay the bill. For years, McDonald's had targeted service times (time from entering queue until payment completed) of 1.5 minutes.
SUPPLY CHAIN MANAGEMENT AT McDONALDS
McDonalds unmatched supply chain not only ensures timely delivery of raw materials and supplies to McDonalds but also helps the Co. to save on cost and maximize profit along with maintaining highest quality standards of its products. McDonald's initiative to set up an efficient supply chain and deploy state-of-art technology changed the entire Indian fast food industry and raised the standards of performance to international levels. US-based fast food giant, McDonald's success in India had been built on four pillars:-
1. Limited menu
2. Fresh food
3. Fast service
4. Affordable price.
McDonald's aimed to be the world's best quick service restaurant experience. In accordance with the systems approach, the Co. has a synchronized way of working for procurement, storage, inventory management, deliveries to the restaurant and data collection, recording and reporting.
TRADITIONAL WAY OF WORKING AT MCDONALDS
1. Not more than 5 people grilled the hamburger patties along with caramelizing the buns and dressing the sandwiches. 2. There were separate grills for regular-sized and quarter-pound patties. 3. All patties were manually seared on both sides and were removed in pairs when the light and buzzer system signaled a completed cooking cycle. 4. After each batch, the grills were cleaned.
5. Hot plates were used to heat the buns one side at a time. 6. Condiments in premeasured doses were applied on the buns by a worker in the grill area and dressing was done by hands. 7. Then the trays of buns were moved to the grill where patties were added and the sandwiches were capped. 8. Then the completed sandwiches were placed for wrapping.
THE BEHAVIOURAL SCHOOL OF MANAGEMENT THEORY
The behavioral school of management thought was developed because of perceived weaknesses in the assumptions of the classical school as it emphasized only on efficiency, process and principles. The behavioral school focused on trying to understand the factors that affect human behavior at work, interpersonal communication, and motivating and leading workers. It focuses on issues of communication, leadership, motivation, and group behavior. Behavioral science and the study of organizational behavior emerged in the 1950s and 1960s as it was a natural progression of the human relations movement. It focused on applying conceptual and analytical tools to the problem of understanding and predicting behavior in the workplace. It focuses on personality, attitudes, values, motivation, group behavior, leadership, communication, and conflict, among other issues.
APPLICATION OF BEHAVIOURIAL SCHOOL OF MANAGEMENT AT MCDOANLDS In order to improve its efficiency, McDonald's has undertaken a program in which employees from the same immediate family can fill in for one another without clearing it with the boss, a new twist in job sharing. When the workers felt stressed, their family members could sign in and take each others shift. This enables the workers to put in their best efforts and work efficiently as there is efficient communication between the workers and management. McDonald's merges the growth of the organization with the growth of an individual and hence extracts the best out of its employees McDonald's has applied the various applications of The Behavioral school of management to improve job satisfaction, efficiency & goal achieving skills of an individual:- 1. McDonald's always focuses on getting employees involved in the planning process will help them understand the goals of the organization, what needs to be done, why it needs to be done, and how well it should be done.
2. The regulatory requirements for planning employees' performance include establishing the elements and standards of their performance appraisal plans. This makes the employees feel that they are a part of the organization and that their opinion holds a lot of importance in their decision- making process because of which there are good relations between the management and employees. 3. Individuals are motivated by social needs and good on-the-job relationships and respond better to work-group pressure than to management control activities. In case of Mc Donald all the employees are familiar with the different tasks that are involved, for instance if one is at the billing counter taking orders, another employee is making the order instantly ready and keeping the service ready without much delay which shows that work flow is well coordinated.
4. Mc Donald organizes "Employee Orientation Programme" twice every year which places a very high value on providing exceptional customer service since they recognize the importance of providing their employees with the skills and resources necessary for meeting that standard of excellence, beginning with their very first day of employment. 5. In McDonald's training program the existing employees are also permitted to attend so that they become updated and familiar with the new techniques and regulations. Personality traits are also considered having a relation with job satisfaction. That is the reason why, McDonalds reviews their applicants' personality wise because after all, it is service with a smile that is being offered to the customers. 6. McDonalds extends their support to all its employees by providing them with Medicare, insurance and other non monetary incentives given to employees. This further motivates their performance and helps them to improve their commitment towards the organization.
7. McDonalds also considers the importance of interpersonal relations in the day-to-day operations of the company. Interpersonal communication is the key to achieving cooperation among the employees performing related tasks. During peak hours, the members of the crew are designated in areas needing assistance. When the kitchen is lagging behind in meeting orders employees on the floor are asked to help until normal operations is achieved. McDonalds' employees are versatile. 8. The manager plays a vital role in the achievement of a good employer-employee relationship in the branch. Here, a senior manager is appointed who directs the employees and the workers and leads the entire crew to work together as a team rather than as individuals and also creates a friendly environment when working together.
CONCLUSION
McDonald's has implemented all the schools of scientific management to attain utmost efficiency in all spheres. McDonald's had a strong business philosophy and they successfully applied & incorporated the contemporary schools of management in their business philosophy to reap enormous benefits.
This is completely evident by the fact that McDonald's has achieved huge success & emerged as a pioneer in the food industry. McDonald has spread across the world in almost all the major cities of the globe.
Hence, it's pivotal for an organization not just to focus on the business and competitive strategies but also on its resources viz labour, people, environment & the theories of organizational behavior.
Related Topics