McCandless Wilderness Journey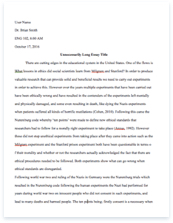 The whole doc is available only for registered users
A limited time offer! Get a custom sample essay written according to your requirements urgent 3h delivery guaranteed
Order Now
This essay will prove that McCandless was searching for life's meaning and a new way to live, independence and happiness, and a journey that he has never experienced. Chris J. McCandless aka Alexander Supertramp was an American hiker who sought an increasingly nomadic lifestyle. He was a man that when he had a purpose in life and knew what he wanted to do, he would go and create a journey he knew he wanted. He wanted to escape reality to be able to find true happiness and the meaning to his life. He wanted to be able to live his life on his own time and the way he wanted. McCandless was searching for happiness because of the way he felt society was treating him and how he felt during his lifetime.
Christopher McCandless felt that he needed time to be by himself and find his true happiness that was trapped within his soul. (Place Quote Here) McCandless had been living a double-life because he wanted to be happy and live a normal life, but was unable to because of his father's abuse towards him and his family. He wanted to escape reality because he couldn't handle this abuse that was tearing him down and being able to live a life that was filled with joy not misery. He was not going to tolerate walking around with a storm cloud over his head and wanted to be set free from his past life. He wanted to go into the wild with determination to start a fresh life and become a new man and live a life full of happiness. McCandless was searching for answers to life. A quote to support this is " No longer to be poisoned by civilization he flees, and walks alone upon the land to become lost in the wild." (pg.#163). Another quote to support what he was searching for is "The joy of life comes from our encounters with new experiences and hence there is no greater joy than to have an endlessly changing horizon, for each day to have a new and different sun." (pg.#57).
McCandless was a man who went into the wild with very little items which were a bag of ten pounds of rice, a rifle, and a book on wild plants. He wanted to live a life without responsibility, people, money, and anything he owned. McCandless went into the wild without a map to help direct him, due to this he had made some mistakes that affected his journey. His mistakes he made left him having to go back to the bus and try to survive. He had ended up dying due to starvation because he was too weak to move to get help. He wanted to have a journey with nothing to distract him or guide him. He wanted to let the wild guide him in his endeavors. (ADD 2 QUOTES)
McCandless wanted a journey of a lifetime when he went into the wild. He wanted more adventure and freedom in his life than what he was given. He didn't want to be held back from what he wanted to do. He wanted to have a journey that would give him an adrenaline rush, but he didn't take risks that would kill him. He chose to go into the wild with little amounts of items and he chose not to cross the Teklanika River. His journey provided with great pleasure everyday and he looked forward to continuing his journey. McCandless had walked this journey to find something he had never known about himself. (ADD 2 QUOTES)
In this paper, I had proved that McCandless was more than what he shows on the outside. He wanted to live a life full of adventure, find happiness, and prove that he could be independent. His family, money, and life he lived didn't mean anything to him if he couldn't have the one thing he wanted which was happiness. He had to prove to himself that he could find what he was truly looking for, even though his life was cut short he had time to prove to himself what he had been looking for. He left everything that he had ever known at such a young age, to prove that he could be the man he wanted to be.
Related Topics