Mc Donald's Competitive Five Forces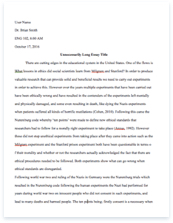 The whole doc is available only for registered users
A limited time offer! Get a custom sample essay written according to your requirements urgent 3h delivery guaranteed
Order Now
Threat of New Entrants
The threat of new entrants, both potential and existing competitors influences average industry profitability. The threat of new entrants is usually based on the market entry barriers. Some of the barriers include cost of entry, the cost you need to bear in order to enter the particular market. Rules and regulation set by Government may also considered barriers for new entrants to enter markets. The operations of McDonald's Malaysia are affected with the government rule and regulation of fast food operation. As a certified fast food operator, there are many regulation and procedures that McDonalds should follow.
For example is the Halal certification that becomes a concern to Muslim consumers. McDonalds protect its honesty and consumer confidence by ensuring all materials and process are as claimed or must followed. The threat of new entrants is high because there are no Many people go there and the first priority for McDonald is to deliver best restaurant experience for the customers. For that, McDonald has to use the POS system "point of the scale system" to ensure fast and accurate order because this system is used to speed the business process, it can follow the very big amount of data in seconds. With this system each order is instantly transmitted to several workstations throughout the facility, the cashier instantly knows what payment is due. The kitchen knows what orders are coming up, and how long a customer has been waiting.
Bargaining power of buyers
Buyer power refers to the ability of customers of the industry to influence the price and terms of purchase. (Ryszard Barnard, 2012). The bargaining power of buyers is high when the items being purchase is standardized among sellers; the supplying industry is comprised of large numbers of relatively small sellers. While the bargaining power of buyers is low when the product is differentiated from other substitutes; customers are less price sensitive. The bargaining power of buyers for McDonalds is low, although there are many fast food chain in the industry, McDonalds keep competitive prices and have added a value menu for those customers that make their decisions based on price. The value menu has likely kept customers from giving up fast food. Sometimes what is on the value menu is cheaper than cooking a meal and definitely cheaper than going to a restaurant to eat. They also add to their menu based in customer's changing tastes. They offers healthy alternatives to match the consumer needs and wishes. For example, they offer diet coke for customers who are concerning about the health factors. Mc Donalds is attracting customers through quality, pricing and promotion.
Bargaining power of suppliers
Supplier power refers to the ability of providers of inputs to determine the price and terms of supply. (Ryszard Barnard, 2012). The bargaining power of suppliers is high when the buying firms are not important customers of the suppliers group; when the suppliers of an input do not have to compete with the substitute inputs of suppliers in other industries. The bargaining power of supplier is low when there are substitute products for the particular inputs; the market is dominated by large suppliers rather than a fragmented source of supply. The bargaining power of suppliers for McDonalds is low, because the market is subject by large number of suppliers. Since McDonalds is a large fast food chain, McDonalds can take lower price due to buying in a large quantity. The suppliers do not have much power to drive up the prices of materials because they want to keep McDonalds as a customer and they know the suppliers' competitors would love to gain McDonalds as a customer.
Threat of substitutes product
The threat of substitute products or services, basically is the existence of products that are different from the realm of the common products that consumer can consumed as an alternatives. In the fast-food industry the threat of substitute product high, more than ever with the convenience food industry growing such as KFC, Pizza Hut, Domino Pizza, A&W, Burger King and other convenience food store are offering similar product as the fast-food restaurant. For example the convenience store such as gas station, sells many food item such as hot dogs, egg rolls, and pizza stuffed bread sticks. This means they are not supplying a unique product so buyers have to choice to other place and due to the credit crunch people may substitute by eating at home and not paying extra money on their meal which might weakens McDonalds. Therefore, McDonalds will come out with some new ideas to gain back the customers from competitors. For example, In Malaysia, every Chinese New Year, there will be a prosperity burger. Thereby, they have found a way to differentiate, which gives them a bit more space to move in and make little less fierce competition. The rivalry among competitors
Rivalry is a lot of companies will selling essentially the same products there will always end up being a price war which hurt the company' profits. The rivalry is high, because there are intense competition in fast food industry that many small fast food businesses such as Burger King, KFC and Wendy's fights with each other to improve their customer base. This makes a competition of major focus between businesses. If buyers don't get a good deal from McDonalds, they'll go elsewhere. Therefore, McDonalds need to be continually innovative to create new products at regular intervals to attract and keep customers. For example, McDonalds offers promotion that buy one burger will get another one for free. Although McDonald has more than 32000 local restaurants serving more than 60 million people in 117 countries each day and a number of fast food outlet competitors across the countries , the adapt to change culture of McDonalds lead them as the current leader of the industry in the market capitalization.
References:
http://dc445.4shared.com/doc/nAYYRGF9/preview.html
http://www.strategy-formulation.24xls.com/en113
http://www.themanager.org/models/p5f.htm
http://www.strategy-formulation.24xls.com/en112
http://www.strategy-formulation.24xls.com/en110
Related Topics