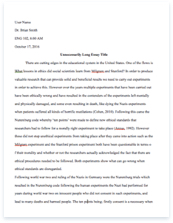 The whole doc is available only for registered users
A limited time offer! Get a custom sample essay written according to your requirements urgent 3h delivery guaranteed
Order Now
What is Matrix organization structure?
Matrix management is a type of organizational management in which people with similar skills are pooled for work assignments. For example, all engineers may be in one engineering department and report to an engineering manager, but these same engineers may be assigned to different projects and report to a different engineering manager or a project manager while working on that project. Therefore, each engineer may have to work under several managers to get their job done.
In other words,
* A matrix organization is a cross-functional work team that brings together individuals from different functional departments, product departments or divisions to accomplish a specific goal. * As a result, a dual-reporting organization structure is formed where each member of the matrix organization reports to the manager of the cross-functional team as well as the manager of the department that sourced the team member. The matrix organization is an adhocracy design that has four major disadvantages i.e. psychological stress, conflict, inefficiency and cost. Psychological Stress
* The matrix organization is dynamic in terms of both form and function. The team members, team structure, work roles and work role interfaces lack stability even within a project life cycle. However, the ability of an individual to adapt to change is in part based on the individual's aptitude for establishing human relationships. This conflict between the somewhat rapid fluctuation in the structure and function of the team and the individual's need for stable relationships can lead to team members experiencing psychological stress. Conflict
* A matrix organization does not exhibit clear lines of authority or responsibility in that the boss-subordinate relationship may not be clear. In addition, a cross-functional team member may receive one direction from a functional manager and a different direction from the cross-functional team manager. As a result, some individuals become disturbed by the ambiguity, and conflict may arise. In turn, high worker dissatisfaction and employee turnover may result. Inefficiency
* Multiple managers, conflicting policies and procedures, and contradictory loyalties can lead to ineffective management. In addition, infighting may occur between functional managers and cross-functional team managers who are each forced to compete for the time of the individual team members. Matrix organizations benefit from neither structural stability nor consistency of function, which also can lead to inefficiency of both the individual worker and business processes. In addition, the cross-functional manager may lack the authority to make critical decisions — which greatly impedes project progress. Cost
* Workers are frequently chosen to participate on cross-functional teams because they possess a broad and diverse skill set. However, in general, the wages earned by an individual increase in relation to the skills he possesses. In addition, an individual usually performs functions in support of both the matrix organization and the functional organization, which can increase overtime costs for the organization. Also, more managers may be hired for the matrix organization, which also increases personnel costs. Finally, the lack of structural stability or routine functions leads to operational inefficiency and increased costs. Other disadvantages include:
* A conflict of loyalty between line managers and project managers over the allocation of resources. * Projects can be difficult to monitor if teams have a lot of independence. * Costs can be increased if more managers (i.e. project managers) are created through the use of project teams. Example:
1. I have worked in the Matrix Organization in my earlier organization, M/s. Mahindra and Mahindra Limited, Tractor division, Mumbai for 2 years, for the New Tractor (Horizon II – Arjun tractor) Hydraulics development Project.
2. I was from Sourcing department, Mahindra and Mahindra Ltd Nagpur. But I was deputed to Mahindra and Mahindra Mumbai for this project for 2 years.
3. This was the Matrix Organizational structure. I was working as a member of Cross function team for this project. The Cross functional team consisted of members from various functions like * Design
* Process Engineering
* Sourcing i.e. me
* Finance
* Quality
* Marketing
4. Being a Sourcing person, I was supposed to report to the Sourcing head who was operating out of M&M Nagpur. At the same time, being a member of the project team I was supposed to report into the Project lead at M&M Mumbai. So it was a dual reporting.
5. Being worked in the matrix organization structure for 2 years i.e. from Apr'98 to Apr'2000 – I have encountered/witnesses the following issues /problems of Matrix type of organization structure : Priority clash leading to Psychological stress:
* My project lead will have priorities as per the project plans/ deadlines/ expectations. My Sourcing lead will have the priorities as per the Sourcing Dept plans/deadlines. E.g. I was supposed to develop and increase the capacity of one component named "Control Lever shaft" for Hydraulics operation.
* The design for this shaft was upgraded in the new tractor hydraulics. I was supposed to create the capacity with the supplier for the new design shaft. This required the modification in the current manufacturing process to suit to new design without hampering the regular supplies for current design.
* However, my Sourcing lead was concerned more about the regular design shaft being fed to production lines for current Tractors. And he did not allow me to modify the manufacturing line to suit both the designs as per the project deadlines. This resulted into conflict of priorities for the supplier as well as both the teams, leading to stress for me. Conflict:
* I have described only one example above. There were several similar examples leading to conflict between the functional and the project team.
* The functional team always thought that I am giving priority to Project team at the cost of priorities of Sourcing function and at the same time the project team felt that I am delaying the project work under the pressure of departmental priorities…
Inefficiencies:
* Being a Cross function member from the Sourcing function seating away from the function lead to many inefficiencies in the entire process of Sourcing of parts for the project team.
* For any approval on the Sourcing related activities like selection of supplier, settlement of commercials, Release of Letter of intent OR Purchase Orders etc I was dependent on the Sourcing head. I had to travel frequently between Nagpur and Mumbai for the approvals that too as per the availability of Sourcing personnel and Supplier representatives on a particular date.
* This has severely impacted my efficiencies and standard jobs which will take max 2-3 days had taken 1-2 months.
Cost:
* Since I was in the project team for Horizon 2, I could only work for the Horizon II project. If I would have been working in my function, I would have handled so many additional responsibilities. Since I could not do so in this situation an additional person was required to be appointed in the Sourcing function to handle the Sourcing job for M&M Nagpur i.e. Current products. The same situation holds true for other functions, as well.
* Also, the frequent travels and the added inefficiencies resulted into additional cost for the organization.
6. These feedbacks were captured from all the functional levels and finally in 2001, the matrix organization structure was dissolved. We were then operating through the Commodity driven Strategic Sourcing department where one sourcing manager may handle the Sourcing responsibility for various projects.
Related Topics