Mary Queen of Scots vs. Elizabeth I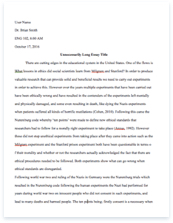 The whole doc is available only for registered users
Pages: 7
Word count: 1599
Category: England
A limited time offer! Get a custom sample essay written according to your requirements urgent 3h delivery guaranteed
Order Now
For my topic of my document based question, I chose to describe the different tensions between Elizabeth I and Mary Queen of Scots. This is an important topic to discuss during the Elizabethan era. The aggressive tensions between the two rulers were crucial to the lifestyles of the commoners. During the reign of Elizabeth I, 1558-1603, and Mary, Queen of Scots, 1542-1567, tensions between England and Scotland entered a climactic point. Mary, Queen of Scots experienced a riotous reign as queen. As soon as she was forced to abdicate the throne, Mary fled to England. Religious difference heightened the political tension between Elizabeth and Mary. When Elizabeth came to the throne in 1558 she made England Protestant.
Consequently she had many Catholic enemies who wanted to see her replaced by Mary Queen of Scots. In 1558 Mary Queen of Scots, granddaughter of Henry VIII's elder sister Margaret, had challenged Elizabeth for the throne of England, but had failed. The Catholics believed that because Elizabeth had been declared illegitimate in 1536, Mary's challenge to the throne was stronger than Elizabeth's. Political discrepancy threatened the internal stability in England and Scotland. Furthermore, Mary's Catholicism threatened Elizabeth's Protestant state. In 1586 letters sent to Mary by a Catholic called Thomas Babington, were found. The letters revealed a plot to kill Elizabeth and replace her with Mary. Elizabeth had no choice but to sign Mary's death warrant. Mary Queen of Scots was beheaded for treason at Fotheringay Castle on February 8th 1587.
Question:
Explain the different tensions and the relationship between Elizabeth I and Mary Queen of Scots. Documents:
Document 1:
The following painting depicts the 1569 Rising of the North, which was led by Catholic aristocracy and plotted to overthrow Elizabeth I and put Mary, Queen of Scots on the throne.  "Rising of the North." Painting. Hulton Archive. 17 January 1764. Document 2:
"Her lips stirred up and down a quarter of an hour after her head was cut off. Then Mr. Dean [Dry Fletcher, Dean of Peterborough] said with a loud voice, 'So perish all the Queen's enemies,' and afterwards the Earl of Kent came to the dead body, and standing over it, with a loud voice said, 'Such end of all the Queen's and the Gospel's enemies.'" "Primary Sources: The execution of Mary, queen of Scots, 1587." EnglishHistory.net. N.p., n.d. Web. 8 February 1587 . Document 3:
"Mary,
You have in various ways and manners attempted to take my life and to bring my kingdom to destruction by bloodshed. I have never proceeded so harshly against you, but have, on the contrary, protected and maintained you like myself. These treasons will be proved to you and all made manifest. Yet it is my will, that you answer the nobles and peers of the kingdom as if I were myself present. I therefore require, charge, and command that you make answer for I have been well informed of your arrogance.
Act plainly without reserve, and you will sooner be able to obtain favour of me. Elizabeth"
"Primary Sources: The execution of Mary, queen of Scots, 1587." EnglishHistory.net. N.p., n.d. Web.8 February 1587.
Document 4:
"Tonight, after dinner, I have been advised of my sentence: I am to be executed like a criminal at eight in the morning. I have not had time to give you a full account of everything that has happened, but if you will listen to my doctor and my other unfortunate servants, you will learn the truth, and how, thanks be to God, I scorn death and vow that I meet it innocent of any crime, even if I were their subject. The Catholic faith and the assertion of my God-given right to the English crown are the two issues on which I am condemned, and yet I am not allowed to say that it is for the Catholic religion that I die, but for fear of interference with theirs." "Primary Sources: The execution of Mary, queen of Scots, 1587." EnglishHistory.net. N.p., n.d. Web. 8 February 1587. Document 5:
"VERY DEAR SISTER,—If it were not a thing impossible that one should forget her own heart, I should fear you suspected that I had drunk of the waters of Lethe. But I assure you that besides there being no such river in England, so of this fault you are the principal cause. For if the waiting for your messenger, who, as you wrote to me, ought long since to have come hither, had not so much delayed [me], I would have visited your by my letters according to our previous custom. But when I heard that you were going on such a long pilgrimage to so great a distance from hence, I thought that would hinder you [from receiving my note]. On my part there was another occasion which hindered me greatly, the fear of tiring you with hearing the tragedies, with which every week my ears have been all too much wearied." "Queen Elizabeth I: Letter to Mary Queen of Scots.." Luminarium: Anthology of English Literature. Web.15 October 1587.
Document 6:
"RIGHT EXCELLENT, RIGHT HIGH etc.,—where by your lettres brought to us the last moneth by our syruant syr Peter Mewtas, it appeereth that yow did very hartely accept our good wille in sending our said seruant to visite yow on our parte, and further did referre to his raport thanswer made by yow to the message proponid by him on our behalf : we be gladde to see our good will so well enterpreted and allowed. By which meanes amytie principally encreasseth betwixt freends. And to the answer (as he reporteth it) we see no cause to be therein so well satisfied as we looked for. And yet considering (we trust) that your meaning is as our is, sincere, iust, and direct towards the reparacion of all former strange accidents, and to make a perpetuall amytie betwixt us, we have thought meete, not to permit so good a mater for our amytie, to remayne unperfected.
And therfore, where we onely require the ratificacion of a tratye passed by your commissioners, authorized thero with your hand and seale, and your staye therin for that manye things be conteyned in the same aperteyning to your late husbande the french king, and therfore wish it wer revisited by some, on both parts ; we thinke your counsellours that be of experience in such cases, can enfourme yow that although ye ratifye the same Treatye as it is ; yet shall the same tend but so farre as shall concerne your self, and not anye others." "Queen Elizabeth I: Letter to Mary Queen of Scots.." Luminarium: Anthology of English Literature. Web. 15 October 1562. Document 7:
"Without betraying any astonishment, the Queen thanked them for their good news, saying that nothing could be more welcome to her, since she longed for an end to her miseries, and had been prepared for death ever since she had been sent as a prisoner to England. However, she begged the envoys to give her a little time in which to make herself ready, make her will, and place her affairs in order. It was within their power and discretion to grant these requests. The Count of Shrewsbury replied rudely:
'No, no, Madam you must die, you must die! Be ready between seven and eight in the morning. It cannot be delayed a moment beyond that time.' " "
"The Execution of Mary, Queen of Scots, 1587." EyeWitness to History – history through the eyes of those who lived it. N.p., n.d. Web. 1587.
Document 8:
"Then she repeated to him all that she had said to him in her room about what he should tell her son. Standing on the scaffold, she asked for her almoner, (chaplain) begging the officers present to allow him to come. But this was refused point-blank. The Count of Kent told her that he pitied her greatly to see her thus the victim of the superstition of past ages, advising her to carry the cross of Christ in her heart rather than in her hand. To this she replied that it would be difficult to hold a thing so lovely in her hand and not feel it thrill the heart, and that what became every Christian in the hour of death was to bear with him the true Symbol of Redemption." " "The Execution of Mary, Queen of Scots, 1587." EyeWitness to History – history through the eyes of those who lived it. N.p., n.d. Web.Aug 28, 1667. Document 9:
"The executioner then picked up the severed head and, showing it to those present, cried out: 'God save Queen Elizabeth! May all the enemies of the true Evangel thus perish!'
Saying this, he stripped off the dead Queen's head-dress, in order to show her hair, which was now white, and which she had been afraid to show to everyone when she was still alive, or to have properly dressed, as she did when her hair was fair and light." "The Execution of Mary, Queen of Scots, 1587." EyeWitness to History – history through the eyes of those who lived it. N.p., n.d. Web. 27 Feb 1587. Document 10:
A painting by the Flemish Pieter van der Heyden, a product of the Northern Renaissance, which portrays Elizabeth I as Diana and Pope Gregory XIII as Callisto. In Titian's Diana and Callisto, Diana is all-powerful and Callisto is fallen and weak.
References:
"Queen Elizabeth I as Diana and Pope Gregory XIII as Callisto." Painting. Bridgewater Titian. 23 July 1530. http://www.nationalgalleries.org/collection/online_etour/4:328/6013/4
Related Topics