Are the marriages of Teresa Cornish and Mary Stanhope for Love or convenience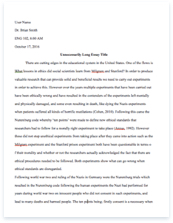 The whole doc is available only for registered users
A limited time offer! Get a custom sample essay written according to your requirements urgent 3h delivery guaranteed
Order Now
'Teresa's Wedding" written by William Trevor and "The Three Sisters' by Jane Austen are short stories that explore the attitudes people hove to Marriage, the reasons for marrying and whether or not the decisions made when choosing a marriage partner are made out of love or convenience. The stories encourage the reader to examine different viewpoints on Marriage and illustrate the reasons the characters have for marrying. The Historical setting and society's etiquette affect attitudes to marriage.
'Teresa's Wedding" was set in the late 1960's and 'The Three Sisters" in the late Eighteenth Century – The marriages of Teresa Cornish and Mary Stanhope are clearly for inconvenience as there is no love, respect, friendship or common interests between the people who are marrying, "Teresa's Wedding" is set in Ireland and it describes how Teresa and Artie had to marry because it was discovered that Teresa was one and a half months pregnant with his baby, "The Three 5isters" Is a story that is told within four different letters. We understand that Mary Stanhope receives a wedding proposal from Mr. Watts, Mary's thoughts and feelings are described to us in the first two letters giving us a personal insight into how she is feeling.
In the third and forth letters we are told about the views of her sister Georgiana. These letters allow the reader to understand the advantages and disadvantages in Mary marrying Mr Watts leaving us with the impression that she is not too sure herself. The expectations of marriage in the eyes of Mary and Teresa are quite different. We are told that Teresa has very limited expectations of marriage the 'two small chairs" in the lounge bar where her party would be held, this shows us that she does not see a wedding party as being a big occasion.
This may be because Teresa may have never thought about getting married or never thought it would happen. If she did not marry Artie then the close knit community and the Church would have frowned upon her and she would have been a social outcast. This is because in the 1960's in Ireland it was considered as being a great shame to the family and to the Catholic Church to have a child without being married. We can tell that Teresa's decision to get married was not an Independent one she was clearly forced to marry, as we are told in the story "In no way did Teresa love him.
She had been aware of that when Father Hogan arranged the marriage". This is quite sad as we come to on understanding that love in marriage is important to Teresa. This is where Teresa's expectations of marriage are quite different to Mary's because Mary will marry for pride, status and wealth. Mary says, "How I will triumph over the Duttons" and this shows us that's she is only Interested in trying to be more superior than her neighbours and is trying To impress them by marrying someone with money.
Also, If Mary does not accept Mr. Watts' marriage proposal, he will ask her younger sisters and she does not wont her sisters to marry before her. Throughout "The Three Sisters" story we see the foolishness that Mary shows towards marriage and it seems that she does not really take it seriously and love is not an issue to her. Mary would "ensure her ever-lasting misery" rather than let her sisters marry before her. She will put up with marrying Mr Watts because "he had a large not really take it seriously and love is Snot an issue To her. Mary would" ensure her ever-lasting misery" rather than let her sisters marry before a her.
She will put up with marrying Mr- Watts because "he hag a large fortune and will make great settlements on me". These words tell us a lot about Mary's character as we come To realise than she is extremely selfish and narrow-minded. Mary will accept Mr. Watt's wedding proposal if he promises to have the wedding carriage that she wants which is "blue with silver spots". Historical settings and society's etiquette had a huge bearing on choices mode when it come down to Teresa marrying Artie and Mary deciding whether to accept Mr. Watts proposal.
For The both of them, to varying degrees, this was not an independent decision. This is shown as Teresa does not love Artie and doesn't feel anything at did for him. Teresa was clearly told by her family and Father Hogan that, because she was pregnant, the issue of love was not significant and 'all that line of talk was irrelevant". This makes it clear that Teresa really had no option but to marry Artie. To conclude I can say that Teresa and Mary are clearly marrying for convenience.
Teresa is being told by Father1 Hogan to marry because pregnancy before marriage is going against the beliefs of the Catholic Church. She has to marry as soon as possible so that it is not obvious that she is pregnant. It is clear' that she does not love Artie, They don't talk nicely to each other at the wedding reception and can't bear to spend any time with each other. Hi questions her about a previous relationship she had with his friend on their- wedding day and the whole day does not feel pedal for Teresa.
For a moment, as Teresa stood there, the last moment before she left the lounge bar, she felt that she and Artie might make some kind of marriage together because there was nothing that could be destroyed no magic, or anything else". She is marrying out of a sense of obligation and duty. She feels she has no choice but to marry Artie even though she knows that their marriage and their life together will not be Special, There will be no secrets between her and Artie and nothing will hurt the relationship because there is not one there. Mary is marrying for convenience because she is clearly marrying for pride, wealth and status.
She claims That she hates Mr Watts but will marry him so that her sisters will not marry before her and +o triumph over the Duttons. 5he is not physically attracted to Mr. Watts, disregarded in both of these situations. One difference between the two stories is that we feel that Teresa is being forced to marry by Father Hogan and her family and she is not given any choice in the matter. However, although there is pressure for Mary to marry Mr Watts/ she is stilI left with the choice as to whether she will marry him or not If she does not marry Mr. Watts, then he will marry one of her sisters.
However, I personally think that even though there is no love to begin with between Teresa and Artie, that love can grow and a child might bring them closer together as They shore the parenting role. This relationship might develop into love and initially there must have been some physical attraction between them for her to have, become pregnant and they did decide to have a sexual relationship. As for Mary and Mr WaTts/1 think it will be a foiled marriage and will not work out because she wholeheartedly detests him and is marrying him for material reasons which will not bring happiness.
Related Topics