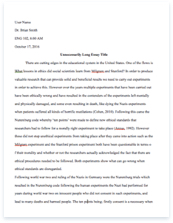 The whole doc is available only for registered users
Pages: 5
Word count: 1051
Category: Marketing
A limited time offer! Get a custom sample essay written according to your requirements urgent 3h delivery guaranteed
Order Now
The majority of successful companies would confirm that they are market driven. Flourishing organizations believe in the value of the marketing concept and the relationship between a market direction and firm accomplishments and profitability. A key component within the marketing concept is marketing research. Marketing Research is the process of gathering information on an industries market through primary methods and secondary methods. Marketing for AT&T is a constant process of changing and developing innovative sales techniques to increase sales.
Although the methods vary they all have the same intended results, to increase profits within the company. The purpose of this paper is to identify techniques utilized by AT&T concerning primary and secondary research methods. Marketing research can be viewed as both a process and outcome of gathering, classifying, and evaluating information concerning the industries market. Marketing research involves assembling and analyzing market information and intelligence in an attempt to enhance organizational decision-making, forecasting, and marketing plan implementation.
A vital source of AT&T's primary research consisted of observing and analyzing past sales reports and identifying trends. The strategic information gathered from this primary research method identified trends like: what days the majority of things were sold, how much the average customer spends, how often the same customers call in, how often they purchased products, and what products were purchased based on AT&T's customer segmentation. AT&T's internal computer system tracks all of this data automatically and organizes it in reports, which are readily available to the management and marketing team.
Another utilization of primary research used to help improve our sales and service was customer satisfaction surveys. Every AT&T customer, regardless of the reason for calling could possibly o be called and surveyed. The feedback from the customers plays a crucial role in identifying tactics to enhance sales and customer relations. Customers can point out processes that are working well, and identify others that are not. By actively contacting and speaking with customers, AT&T can acknowledge important opportunities for growth.
Focusing on the needs of the customers and how successful the organization is in comparison to the competition, which helps AT&T prioritize change efforts. One other advantage of this method of primary research is using customer data as part of a measurement system to warn the organization of upcoming trends, performance issues, or opportunities. Primary marketing research has the major advantage of being designed to address the organization's specific current marketing problem. As a consequence, the primary data generated should be more directly applicable to the organization's information needs.
Another major advantage of primary research is the timeliness of the information generated. However, none of these advantages will be utilized unless the primary marketing research is of high quality. Probably the biggest disadvantage of primary marketing research is its cost. When compared to secondary marketing research, the cost of paying employees to help compile the information, the time to retrieve company records to analyze, is much more expensive to do then simply pay an outside company for their information on the same or similar market.
A major advantage of secondary marketing research is its lower cost relative to primary marketing research. While some market research reports cost thousands of dollars, there are numerous secondary market research sources which cost considerably less, so that an organization can adjust its secondary marketing research demands to fit the company budget. Another cost-related advantage of secondary market research is that the costs are known and fixed.
Primary marketing research, on the other hand, typically involves a range of unknown costs, such as overtime, hiring outside companies to help analyze your information and more. Another advantage of secondary marketing research is that it is already converted into charts, demographics, and organized whereas primary research must be processed prior to understanding and interpreting. The major disadvantage of secondary research is that it was not specifically conducted to address the organization's specific problem or concern.
Other disadvantages include a comparative lack of timeliness, relevance, and accuracy. Secondary research is commonly used at the beginning stages of a more comprehensive research effort in order to determine what is already known and what new data is required. At other times, it may be the only research technique needed. Despite the consequences, secondary research can be extremely beneficial in developing a better understanding of the market, whether it is assessing the competitive arena, market potential, or market trends.
Once the optimal sources are identified, AT&T analyzes the data and incorporates pertinent findings into conclusions and recommendations. The current leading source of secondary data used by AT&T is User's insight. When designing products, companies often look at their customers through rose-colored glasses. To avoid this common mistake, AT&T teamed with User Insight to define the right vision for each unique customer. User Insight's one on one interviews and usability testing on AT&T's web portals allowed the team to identify potential problems and quickly transform them into opportunities (User Insight, 2009).
User Insight (2009) confirmed that AT&T employed them to, "evaluate the new AT&T Powered by Yahoo Portals in every major market in the U. S". AT&T's primary goal was to control the research teams on the road by evaluating the AT&T Spanish Portal, MiPortal, and the Small Business Portals. User Insight (2009) acknowledged it was able to, "gather insight into those areas that would cause problems with the product release", a critical step to prepare customer support for a projected escalation in call volume.
The feedback gained from User Insight paved the way for effective and efficient changes for AT&T. The feedback from User Insight provided a list of features, functionality, and design changes for AT&T portals to be user friendly. These insights inspired AT&T to evaluate other areas of improvement on a more global level. These insights were also leveraged by gaining the perspectives of the Latino community to improve the MiPortal site also. User Insight (2009) also "identified significant areas for improvements in the small business portals".
AT&T has consistently placed emphasis on providing innovative, reliable, high-quality products and services and excellent customer care (AT&T, 2009). AT&T (2009) stated that, "its mission is to connect people with their world, everywhere they live and work, and do it better than anyone else". AT&T is accomplishing this vision by creating new solutions for consumers and businesses and by driving innovation in the communications and entertainment industry by effectively and efficiently using primary and secondary research methods.
Related Topics