Marketing – Primary and secondary data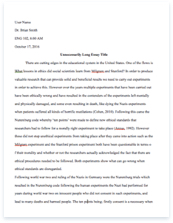 The whole doc is available only for registered users
Pages: 6
Word count: 1429
Category: Marketing
A limited time offer! Get a custom sample essay written according to your requirements urgent 3h delivery guaranteed
Order Now
A market is any set of arrangements that allows buyers and sellers to exchange goods and sellers to exchange goods and services. This could be from anything like a street market in a small town to a large market involving internationally traded goods. Marketing is the management process that involves in identifying, anticipating and satisfying consumer requirements profitably. This means that marketing is essential to the success of a business. Its main aim is to enable businesses to meet the needs of its customers. There are some features of business marketing behaviour, these involve:
Consumers are vital importance: This means that when a product has a greater chance of being successful it satisfies consumer needs. Marketing must be aimed at finding out what these needs are and making sure that products meet them. Marketing research is often used by businesses for this purpose. Marketing is a process: This process does not have a start or an end, but it is ongoing all the time. Many businesses must prepare to respond to the changes that take place. Marketing involves building relationships with the customers:
Profitable businesses are often built upon good customer relations. This might involve dealing with customer complaints in a careful and considered manner. Some customers are likely to develop a favourable view on a business. This will affect the business because they may continue to buy its products over a long period of time. Relationship marketing is now used by some businesses. Marketing is a business belief: This has nothing to do with the activities like advertising or selling products but it involves more on satisfying consumer needs.
A business selling good quality products, cheaply, may be unsuccessful in its marketing if it has dirty, badly organised or poorly lit facilities. Marketing affects all aspects of a business: The production department would not continue making a product that does not satisfy the needs of the consumer at who it is aimed at. In the same way, pricing decisions would not be without knowing how much consumers are willing to pay. Marketing and advertising are not the same: Advertising is one of the number strategies that are used by marketing departments.
Other marketing methods include promotions, such as free gifts and competition. Gurpreet Birdi Marketing is not jus about selling products: Selling is only one part of the marketing process. Before selling their products, many businesses carry out a range of activities that take into account of consumer preferences. These include market research, like testing the products on the consumer and asking them of what they think of the design of the product. Many businesses consider profit making as their main objective: Firms in competitive markets must make a profit in the long term to survive.
This means that marketing must therefore satisfy consumer wants profitably. This is even when profit is not the main objective but marketing has a vital role to play. Many businesses in the past and some today could be described as a product orientation. This means that the business focuses on the production process and the product itself. A market-orientated business is one that continually identifies, reviews and analyses consumers' needs. The market leads this. A market orientated business will have several advantages over one which is product orientated. It can respond more quickly to changes in the market because of its use of market information.
* It will be in a stronger position to meet the challenge of new competition entering the market. * It will be more able to anticipate market changes. * It will be more confident that the launch of a new product will be a success. The effects that take place when market orientating approaches a business: * It must consult the consumer continuously (market research). * They must design the product according to the wishes of the consumer. It must produce the product in the qualities that the consumer wants to buy.
* It must set the price of the product at a level that the consumer is prepared to pay. The business must produce the right product at the right price and in the right place. This must let the consumer know that this particular product is available. This is known as the marketing mix. This involves the product, price, promotion and place. It is wrong to assume that the adoption of a market orientated approach will always be successful but many well-researched products have been failures. Gurpreet Birdi
Influences on the product and market orientation The nature of the product: When a firm operates in an industry at the edge of the new innovation e. g. biotechnology, pharmaceuticals or electronics, must innovate to survive. However, a firm may try to anticipate with the consumer demand and the researcher. The research does not have a specific end product in mind. Policy decisions: The business will consider a number of objectives where these are set in terms of technical quality or safety. This is because the stress is likely to be on marketing. The views of those in control:
An accountant as a managing director concentrate on the record of the cash flow forecast, profit forecast etc, but as for the production engineer, they may give technical quality control and research on the high priority. As for the marketing person they may be concerned with the market research and the consumer relations. The nature and size of the market: If the production costs are very high, then a company is likely to be market orientated. This is because a company will ensure it meets the consumer needs and avoids unsold goods. If this happens they are possibly to be in a loss.
The degree of competition: A company that is faced with a lack of competition may dedicate the resources to be researched. This will only happen if they are concern about a loss in the market share. Businesses in competitive markets are likely to spend more on marketing for fear of losing their share of the market. Asset-based or asset-led marketing is where a business develops the goods or services that make the best use of its major strengths or assets. This means that they need to concentrate on what the business is good at, so that they can approach with the needs of the market.
The use of this approach has certain implications for a business. It must identify the main competences and strengths of the business so that they can aim to produce those products that make the best use of its resources. Gurpreet Birdi Market Research Information about the things people want will help businesses to decide what to produce. This information is often found by marketing research. Marketing research can be defined as the collection, collation and analysis of data relating to the marketing and consumption of goods and services.
For example, a business might gather information about the likely consumers of a new product and use the data to help in its decision making process. The data gathered by this research might include: * Whether or not consumers would want such a product; * What type of promotion will be effective; * The functions or facilities it should have; * What style, shape, colour or form it should take; * The price people would be prepared to pay for it; * Where people would wish to purchase it; * Information about the consumers themselves – their age, their likes, attitudes, interests and lifestyle and What consumers buy at present? Some businesses have a few customers who are well known to them. For smaller or local businesses information about their market can be relatively easy to find.
This will be through the personal and social contact with their customers. Some businesses, however, must be careful that they do not misread their customers' views and actions. Other businesses have more distant relationships with their customers. This is because they have a large number of customers, they need to operate in a range of different markets or market their products in international as well as national markets.
For these businesses market information may be less easy to come by. The uses of marketing research A market involves buyers and sellers that come together to exchange goods and services. Markets are in a continuous state of change. As a result a business is likely to use marketing research on a regular basis for a number of reasons. Descriptive reasons: A business may wish to identify what is happening in its market. This means that the business may want to find the trends in its sales or to find out the types of customers who are buying a particular product.
Related Topics