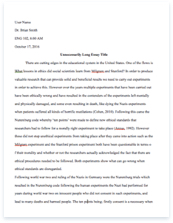 The whole doc is available only for registered users
A limited time offer! Get a custom sample essay written according to your requirements urgent 3h delivery guaranteed
Order Now
There are four questions in this assignment. The first three questions are essay-type questions which require some critical thinking as well as thorough understanding of course concepts. Question 4 is a case study with two sub-questions. Students are advised to write not more than 1500 words for Question 4. The expected length of the whole assignment should be around 2500 to 3000 words.
This is a group assignment. The group size must be limited to a maximum of 5 members within the SAME tutorial group.
Students in the same group should agree between themselves the division of work of each member and indicate clearly on the cover of the assignment the tutorial group and the names and student number of all group members. Your cover sheet should look like this: Course: MGT B240F
Assignment: 1
Due Date: 5:00pm, 1 Mar 2013
Tutorial Group No: XX
Tutor's name: XX
Student names and Student nos: XXXX (s010XXXXX)
XXXX (s010XXXXX)
XXXX (s010XXXXX)
Question 1(30 marks)
(a)A management professor once said that for successful management, studying the present was most important, studying the past was next, and studying the future was least important. Do you agree? Why?
(10 marks)
(b)Another college professor told her students, "The purpose of a management course is to teach students about management, not to teach them to be managers." Do you agree or disagree with this statement? Discuss. (10 marks)
(c)"The development of management thought has been determined by times and conditions." Do you agree or disagree with this statement? Discuss. (10 marks)
Question 2(20 marks)
By now, you should be reasonably familiar with various fundamental management concepts/ theoretical approaches after attending the first few lectures (and after reading the first few chapters of the textbook).
Now read the following website articles (conversation/dialogue with the media or speeches delivered by the Hong Kong business tycoon Mr Li Ka Shing). The conversation and speech implicitly incorporated/touched on different major management concepts and theoretical approaches which you have just learned.
http://www.lksf.org/en/media/interview/20010517_01
http://www.forbes.com/2006/12/29/li-ka-shing-biz-cx_tf_vk_1229qanda.html
Required:
Identify from the above conversation/dialogue at least two relevant passages/paragraphs/ texts which have incorporated some of the basic management concepts and theoretical approaches that you studied recently (10 marks).
Explain why you consider the relevant passages/paragraphs or texts are related to the management concepts and theoretical approaches based on your academic knowledge (10 marks). (Hint: You should begin the analysis by giving an explanation/description of the chosen related management concepts and theoretical approaches in your own words).
Question 3(30 marks)
Please refer to the radar chart below showing 9 Cultural Dimensions of GLOBE study for Sweden, Japan, Israel and Malaysia.
Please choose ANY two countries from the list and then compare and contrast ANY three GLOBE national culture dimensions of the two chosen countries based on the following diagrams:
Source:
National culture and project planning – DiVA
umu.diva-portal.org/smash/get/diva2…/FULLTEXT01
Hint: You should choose the cultural dimensions which allow you to make meaningful comparison. Your answer should include explanation of the relevant cultural dimensions and the managerial implications.
Question 4(20 marks)
Read the Case Application 1 – Out of Control (pp.93-94 of the textbook) and then answer Question 1 & Question 2 (Discussion Questions) that follow. (10 marks for each question)
Related Topics