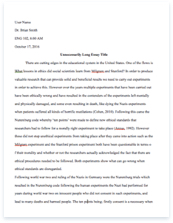 The whole doc is available only for registered users
A limited time offer! Get a custom sample essay written according to your requirements urgent 3h delivery guaranteed
Order Now
In 1960 Theodore Levitt wrote a famous article "Market myopia", which is still famous in todays world. He introduced the famous question "what business you are really in". Market myopia is a strategy that focuses on the product of the company rather than the need of the customer. A good example of market myopia is seen in ford motor company, they built a Edsel in late 1950s with the intent of being fashion able and large vehicle, they did a lot of marketing but at the end the car was immediately failed in the market. Most experts attributed that failure was only because of inability to understand the customer needs.
Discussion:
Companies can do better if they focus on customers needs instead of focusing on selling products. He explained in his article that many companies end growing as of disappointment in their management system only because of myopia. He quoted many examples like, declining of railroads was only because "they were railroad oriented rather than carriage orientated". In other words they were focusing on product not on the customer. Railroads did not decline because of innovation in transportation like cars, airplanes and trucks, though because of its own myopia. (Levitt 1984). Instead of this famous article, still businesses are focusing on their business not on their consumer and as consequences the companies failed to grow.
Most of the marketing is grounded off the models that were formed in 19th century, at this stage the main focus is on efficiency in production of output. At the start the study of marketing focused on exchange of commodities and manufactured products. Then marketing evolved, now producers are more concentrating on consumer needs and trying to increase consumer involvement. Now the focus is transferred from tangibles to intangibles like knowledge, skills and information. (Vargo & Lusch 2004)
Marketers have followed the advice of Levitt's (1960) to avoid market myopia by concentrating on customers. They suggested that stakeholder perspective is next stage, in progression that started with product orientation and changed to market orientation. Authors looked 2 illustrations of new market myopia, the heavy crisis and dilemma of the U.S auto industry. The three major U.S auto companies did not focused on consumer preference; they ignored cleaner and fuel efficient vehicles. (Smith, Drumwright & Gentile 2010)
In 2002 Stock explained that decrease or abolish of myopia is long-term process in logistics. According to this, myopia is big challenge for the strategy makers to deal with.
Those companies that give narrow focus on marketing strategy may give rise to market myopia. He explained that market strategy should be developed on boarder context. Actually this article focusing on market strategies, most companies who are doing business internationally putting more focus on specific regions or area that creates myopia. This problem can be fixed by standardization of strategies. (Douglas 1986)
The importance of myopia is still important in today's academics. After 1960 many authors wrote articles on myopia explaining same view of Theodore Levitt in different style. In fact recent literatures on myopia opened several new concepts of marketing. I believe that many firms still focus on their product instead of focusing on customer.
Market myopia is still present in today's world. You can see the examples of many big companies who did not focus on the customer needs as a result they failed with passage of time. The great example of myopia in today's world is Kodak. Kodak was thinking that they are in the business of photos, that imagination destroyed their business. The fame of digital photos increased and people almost left printing out the pictures. People were able to see their pictures on computer, that is cheap and fast way, which people can share on Instagram and flikr.(Ward 2014) Conclusion:
In nutshell, after the work of Theodore Levitt, companies making the product that satisfies the needs of the customers. Companies not only concentrate on their product but also focus on their customers as well. (E.S.Ehixojie 2013) Market myopia is still present in the World, many companies who were giant in the industries went to floor because of myopia for instance Nokia. Short sightedness should be eliminated, as many opportunities are missed not because they cannot see or do not make plan for future of their business, only because of short sighted. The businesses that are short sighted suffer in long run, they cannot meet up the customer need and as result they ended up to shut down. (Adaeze 2013)
References:
Douglas, SP 1986, 'Global marketing myopia', Journal of Marketing Management, vol. 2, no. 2, pp. 155-69.
Levitt, T 1984, 'Marketing myopia', Journal of Library Administration, vol. 4, no. 4, pp. 59-80.
Smith, NC, Drumwright, ME & Gentile, MC 2010, 'The new marketing myopia', Journal of Public Policy & Marketing, vol. 29, no. 1, pp. 4-11.
Vargo, SL & Lusch, RF 2004, 'Evolving to a new dominant logic for marketing', Journal of marketing, vol. 68, no. 1, pp. 1-17.
Ward, A 2014, 'Do Financial Planners Suffer From Marketing Myopia?'.
Stock, JR 2002, 'Marketing myopia revisited: lessons for logistics', International Journal of Physical Distribution & Logistics Management, vol. 32, no. 1, pp. 12-21.
E.S.Ehixojie 2013, MARKETING MYOPIA, Accessed on 22/08/2014
Adaeze, SG 2013, Marketing Myopia, Accessed on 22/08/2014
Related Topics