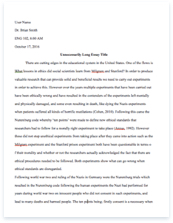 The whole doc is available only for registered users
A limited time offer! Get a custom sample essay written according to your requirements urgent 3h delivery guaranteed
Order Now
Complete Discussion Questions 3, 4, and 5 on page 27 of Business and Society. 3. Identify and explain the major factors in the social environment that create an atmosphere in which business criticism takes place and prospers. How are the factors related to one another? Has the revolution of rising expectations run its course? Or is it still a vital reality? Affluence refers to the level of wealth, and standard of living of the society. As the standard of living is increasing every year, people are becoming well educated. As a result they are expecting a lot more from the businesses. This is one of the factor leading to business criticism. Now a day's people are spending more time using television and Internet especially social media sites where the information is available within minutes after anything happened. So business need to be more careful before making any decisions regarding their products and services. One more factor is that 24/7 news programs who are repeating the information whether bad or good.
If anything wrong happened they will investigate more in that matter leading to severe criticism. Commercials will be beneficial if they sell products. They can also damage business image if not properly advertised. These factors are interrelated because highly educated people have more expectations and they use all the technology to gather information. The belief that the current generation standard of living is higher than its ancestors created revolution of rising expectations. (Carroll and Buchholtz, 2012) 4. Give an example of each of the four levels of power discussed in this chapter. Also, give an example of each of the spheres of business power. The four levels of corporate power includes macro, intermediate, micro, and individual. The macro level encompasses the entire corporate system i.e, total businesses. An example is that corporation's ability to please Congress to pass the necessary laws for their effective operations.
The intermediate level of power exists within particular groups of business which are acting together. This type of power can be seen in industries, such as the auto manufacturers, airlines, banks and pharmaceutical companies. The micro level of corporate power is the level of individual business. The best example of this level is Walmart, with its dominance of the lower prices in the market. Finally, the individual level of corporate power resides in individual business leaders. Steve Jobs, former CEO of Apple, Bill Gates, founder of Microsoft, are good examples of people with the individual level of corporate power. Spheres of power include economic, political, social/cultural, technological, environmental, and power over the individual. The businesses with economic power controls their assets and sales. If any organization enjoys freedom in a particular state with the help of elected person, it sure is having political power.
Cellphones, appliances and automobiles are manufactured and distributed by corporations with technological power. Corporations working hard to produce environmentally safe products. Business also have power over individuals because most people work for corporations and buy most of their products from corporations. 5. Explain in your own words the Iron Law of Responsibility and the social contract. Give an example of a shared understanding between you as a consumer or an employee and a firm with which you do business or for which you work. Is Congress justified in creating new regulations to govern the financial services industry? The iron law of responsibility states that there has to be a balance between power and responsibility and it is the foundation to achieve CSR. A social contract maintains relationship between society and business.
As an employee I am allowed to work 40 hours a week for a corporation, if I am working more than that the corporation must pay me overtime. I have a right to get that pay. Life insurance company's policies are so confusing and the agents try to deceive the consumers to pay every month. To protect the customers from losing money, the federal government must create new regulations which is justifiable act. Complete Discussion Questions 1, 2, 3, and 6 on pages 60 to 61 of Business and Society. 1. Identify and explain the pyramid of Corporate Social Responsibility. Provide several examples of each layer of the pyramid. Identify and discuss some of the tensions among the layers or components. How is the pyramid to be interpreted? The CSR pyramid consists of four components, beginning with the basic building block of economic performance at the base, next comes legal responsibilities, then ethical responsibilities and philanthropic responsibilities.
If a company wants to be economically responsible, they must be able to produce products and services that consumers are demanding and to sell them at fair prices and that will provide business with adequate profits to ensure its survival and growth. I think Burt's Bee falls under this category as it is producing all natural personal care products according to consumer tastes. The second component is legal, because society requires business to operate under the law. There are so many laws like employment law, tax law, data protection laws, insurance laws that each business need to know before making any decision otherwise they are affected by penalties for breaking the law. As an example harassment in the workplace must be controlled with proper rules and regulations otherwise it will lead to lawsuits damaging the business image.
The third level is the ethical responsibility in which society expects ethical behavior of companies. Starbucks is recognized well for their ethical practices. Starbucks is known for producing green coffee by using a guidelines to achieve quality products without hurting the environment and with social and economic responsibility. At the top of the pyramid is the philanthropic responsibility. Society is expecting this type of attitude from corporations, but it all depends on the decisions of the corporation whether it accepts this responsibility at this level or not. These activities are voluntary, guided only by business's desire to engage in social activities. Ben & Jerry's Ice Cream working hard to show respect for employees as well as consumers and for the communities.
They are donating 7.5 % of pretax profits to charitable organizations. (Bob Liodice, 2010) A stakeholder perspective of any business would focus on the CSR pyramid as a unified whole. Their policies, procedures, decisions and actions will represents all the responsibilities described above. 2. In your view, what is the single strongest argument against the idea of corporate social responsibility? What is the single strongest argument for corporate social responsibility? Briefly explain.
Strongest argument against the idea of CSR is that it dilutes the purpose of the business. This might happen when managers are not careful enough to prioritize the activities and goals. They must spend necessary time on social activities too. Strongest argument for CSR is that public support. It is gained easily and customers become loyal to business and their products depending on their actions. They think that company is treating their workers and customers with care and respect. (Carroll and Buchholtz, 2012). 3. Differentiate corporate social responsibility from corporate social responsiveness. Give an example of each. How does corporate social performance relate to these terms? The corporate social responsibility is the company's self-regulation to show their commitment to the communities in which it operates where as Corporate social responsiveness emphasizes on action to encourage companies to have a positive impact on employees and consumers and community.
Business that provides special arrangements for disability employees is displaying corporate social responsibility by following the disability law. An example for corporate social responsiveness is that a company providing maternity leave for mothers to take care of their newborns and themselves for about 12 weeks. Corporate social performance focuses on accomplishments of the businesses specifically, the results of their implementation of corporate social responsibility and achieving corporate social responsiveness. (Irina Iamandi, 2007) 6. Does socially responsible or ethical investing seem to you to be a legitimate way in which the average citizen might demonstrate her or his concern for CSR? Discuss? I think good ethics is good business and in the long run, ethics pays off.
Some people look to the end results of firms that have placed ethics and social responsibility at the forefront of their activities. Firms with highest rankings on a variety of social issues (including charitable contributions, community outreach programs, environmental performance, advancement of women, and promotion of minorities) had greater financial performance as well. Their Financial performance was better by looking at sales growth, return on equity, earnings-to-asset growth, return on investment, and asset growth.
Related Topics