Macbeth is a Good Man Whose Vaulting Ambition Brings Him Down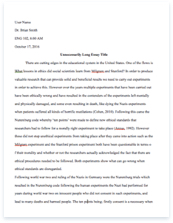 The whole doc is available only for registered users
Pages: 3
Word count: 561
Category: Macbeth
A limited time offer! Get a custom sample essay written according to your requirements urgent 3h delivery guaranteed
Order Now
Macbeth is the story of a man, whose visions of power grew by the ambitions of murder and trust. Before the murder of Duncan, he is portrayed as a brave and loyal soldier who honored his king. The Oracle of Three Witches, the pressure of his wife, and his own ambition easily influenced Macbeth to kill the king and kill his best friend Banquo, in order to get all the power and declare himself as the king.
The final result of the many evil things that they did was death. Lady Macbeth went completely insane from her illness and left Macbeth alone to obtain all of the culpabilities. One day MacDuff and Macbeth fought and MacDuff killed him. As a result, Malcolm was proclaimed the king of Scotland.
The Three Witches appeared after the Macbeth won the fight. Banquo and Macbeth were talking when these witches appeared and told Macbeth what his future was going to be like.
"Macbeth- Speak- if you can. Who are you?
1st Witch- All hail, Macbeth! Hail to you, Thane of Glaims!
2nd witch- All hail, Macbeth! Hail to you, Thane of Cawdor!
3rd witch- all hail, Macbeth! You'll be the king one day!"
(Act one, Scene 3)
After the three witches predicted Macbeth's future, he changed his way of living and became a very ambitious man. The witches' words stayed in his mind and became the reason of his existence. Those words, "You'll be the king one day" were present in every single thing he did; on everything he said or thought he had. His ambition took him to do such things like betraying King Duncan and his best friend Banquo. And in the end the prediction became true. "Macbeth-into the air; and what seemed corporal, melted, As breath into the wind. Would they had stayed!" (Act One, Scene 3)
Lady Macbeth, imposed by his husband's destiny, influenced him to accept and to be her accomplice in Duncan's assassination. She also becomes very ambitious and destroys his husband's life that was already shattered by the Witches' predictions and all that this had caused. "Lady Macbeth-He'll never see tomorrow's sun! Your face, my thane, is like a book. It can reveal strange things to its readers. Avoid suspicious by acting normally. Be full of welcome in your eye, your hand, your tongue. Look like the innocent flower, but be the snake that's lying under it. Our guest must be taken care of. Tonight's great business you must leave to me. It will secure us challenged power for the rest of our lives" (Act One, Scene 5).
At the end, Macbeth and Lady Macbeth died. Lady Macbeth leaves Macbeth alone with all the problems that he had and all the things that he felt. The culpability that he felt because of the death of Duncan made him killed his best friend. Macbeth's story happens to a lot of people. Because of their ambition they do things that they know are wrong, but money and power, may lead to them easier. So I think that this play is for most people a real story, because all human beings want more of what they have. Therefore, that made us do things that we know they are wrong, but we do it because we want more and more.
Related Topics