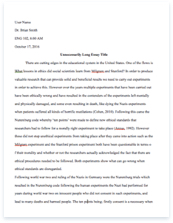 The whole doc is available only for registered users
A limited time offer! Get a custom sample essay written according to your requirements urgent 3h delivery guaranteed
Order Now
Human Resource Management is one of crucial internal factors. If Lufthansa wants to perform in a global way successfully, they have, firstly, to alter their HR strategy along with different cultures or retain some of their own culture and history. In this case, HRM systems in Lufthansa will be illustrated in terms of Hagan's HRM theory, which embodied job design, staffing issues, training and development as well as rewards systems.
I. Job design: The subsidiaries of Lufthansa have become more independent to design their own unique management strategies and can make their own decisions directly. Therefore, employees have more freedom to have their own opinion and they can directly communicate with the managers. In other words, this independent tendency can save more time and let decisions made more promptly.
II. Staffing issues: Lufthansa intended to hire not only people from different cultures to bring more revenue, due to its globalisation inclination because regional staff can make customers feel more familiar and it can also reduce costs of hiring German staff, but also German staff in order to protect their own culture. However, a large number of non-German staffs may contribute to other potential threats with respect to the perspective of Lufthansa's management. For example, because of mixed-culture, Lufthansa will weaken their management cohesion and lose its own culture and style. In addition, is will also lose German employment owing to exporting jobs.
III. Training and development: Nowadays, the staffs in Lufthansa are from not only German but also other countries; therefore, it is important for managers to have the experiences of working in other countries in order to adapt new circumstances efficiently because they recognize more about each staff's characteristic and behaviour before training them.
IV. Rewards systems: Because Lufthansa intended to go globally, it must spend more investments regarding to employees than other local air companies in order to survive. Although Lufthansa has to pay much less wages for Indian staff than those for the German staff, the salaries are still higher compared to local salary levels. Moreover, owing to different cultures, people in Germany do not have the preference to do service jobs; therefore, it seems that Lufthansa has to give a nice salary to German staff so as to attract more German employment.
Nevertheless, not only can the aforementioned Hagan's theory be used to explain what HRM strategies Lufthansa possesses, but also Hofstede's theory, particularly in the fields of individualism versus collectivism, power distance, can assist managers of Lufthansa to understand how cultural differences affect HR in their organizations and management.
I. Individualism vs. Collectivism: In this case, regarding to Lufthansa, its subsidiaries work more individually than collectively and these subsidiaries can set their own business strategies. As a result, they can just focus on achieving their own target. Also, because Lufthansa recognised that it is very difficult for all employees and managers to gather and discuss together to make decisions. If people in each subsidiary act and are treated as separate individuals, it is much clear for managers to supervise which part of the organization is successful and what must be changed. However, this kind of strategy can also emerge risks to some extent. Firstly, if each subsidiary works individually, managers in other branches may not know what another subsidiary's goal and decision are. The whole system of Lufthansa might be got involved into being out of control because subsidiaries may start to do everything on their own. Accordingly, because of different production strategies in each subsidiary, Lufthansa will possess potential risks in terms of its internal system.
II. Power distance: employees do not think that managers have more power and should be respected and will have the solution. In this case, staffs feel more interested and much challenge when working because they have rights to have his or her opinion freely and they have chances to talk to their managers directly. They do think managers are always right because not all managers can understand the operation of each subsidiary. Therefore, Lufthansa has low power distance.
EXTERNAL
As for the external factors that influenced Lufthansa, there existed various perspectives that are necessitated being considered, particularly in the area of German service culture and its alliances with other air companies in other countries.
SERVICE CULTURE
As far as the service culture of Lufthansa is concerned, its emphasis was always on the basis of technical aspects, such as reliability, punctuality and safety (Barlett and Ghoshal, 2000). Nevertheless, according to Porter's five forces framework, it can be seen that this kind of service objective is easily to be regenerated by other similar air firms. In other words, the degree of the threat in terms of new entrants is extremely high. Accordingly, the subsequent alteration for Lufthansa is essential. Lufthansa has developed a new direction with regard to its service perspective, that is, from a fixed characteristic to much more flexibility. Furthermore, due to the prevalence of globalisation, customers with distinct nationalities have to be considered regarding to Lufthansa's service strategy. Again, from Porter's five forces framework's point of view, 'bargaining power of customers' should be positioned a crucial role as it is obvious that in terms of air companies themselves, 'customers' are their principle incentive to establish firms. As a result, conventional service objectives of Lufthansa, which are reliability, punctuality and safety, seem to be insufficient to meet demands of current customers.
As perceived by Barlett and Ghoshal (2000), it is clear that Lufthansa has shifted its service formation from mechanism to customer orientation. Due to the presence of Porter's diamond theory, the service aspect regarding to management strategy of Lufthansa, there existed evidence that if Lufthansa intended to expand its operation and enhance its status successfully compared to other air firms, appropriate adaptation of its service strategy is essential. Furthermore, this customer-oriented service could thus become a specific competitive advantage with respect to Lufthansa's firm strategy. Despite the fact that some may argue the valuation of this shifted service propensity, Lufthansa seems to necessitate altering its attitudes towards customers owing to the great threat of globalisation. Only does Lufthansa consider to emphasise more on its service alteration, it could be clearly understood that facing other competitors, particularly in the Asian area where existed predominance of customer orientation, Lufthansa can possess an advantageous condition to establish its own reputation and stand firmly in the air industry world.
ALLIANCE
In 1997, the deregulation in Europe is complete. For international airlines, this is both opportunities and threats. European deregulation let the European airlines have the opportunities to access to all the European airports and more freedom to operate in the home countries and between any two European countries. However, sometimes the opportunities could be threats. The impacts of European deregulation not only caused to be limited by the large airline companies who control the landing slots at their domestic airports, but also to increase the competitions because of the lower barriers to enter the industry and the companies' structure and in- flight service are easy to replicate, Lufthansa was forging to have partners either through equity investment or alliances with other carriers from different regions which have resembling service levels and complementary skills. They were learning to trust, not because they do but in order to trust. For these strategic alliances, Lufthansa have – Seek better agglomeration economies
– Locate near customers
– Obtain the more spillovers
– Have the possibilities to learn partners' managerial, scientific and financial resources, regardless of their location
Related Topics