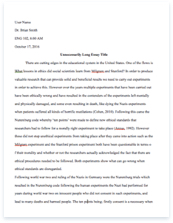 The whole doc is available only for registered users
Pages: 3
Word count: 574
Category: Equality
A limited time offer! Get a custom sample essay written according to your requirements urgent 3h delivery guaranteed
Order Now
In Dave Barry's essay "Lost in the Kitchen" Barry shares his opinion on sexual equality through a personal experience with his family on Thanksgiving. In the conclusion paragraph a point is made that before women's liberation, men took care of the cars and women took care of the kitchen. Now after women's liberation, men no longer feel obligated to take care of the cars. By this, Barry is meaning to say that before women's liberation, women had their specific, "feminine" jobs and men had their "masculine" duties to take care of. After women were liberated, those roles were disrupted and women became viewed as more qualified to take on those more "masculine" responsibilities.
At first, one can imagine that men might have felt their definite masculinity slipping away from them and been insulted, but as time has passed that pride has subsided and men are now giving in to the new role women play in society, or as Barry implies, men have not only succumbed to this, but have gotten lazy. I disagree that the balance of responsibility between men and women is weighted more heavily on women due to men's passive or lazy tendencies because especially in a family situation, there are too many variables for the blame to rest on just one gender.
There certainly are circumstances where, especially in a household, passiveness or laziness is the driving force behind imbalance of roles between men and women. However, this is interchangeable when it comes to gender. For example, my very own parents fit the stereotype Barry creates in reverse. Both of my parents cook, but my father is the chef. My mother has her few special dishes that she'll repeatedly cook and we do enjoy, but my father is always in charge of the specialty concoctions. My dad does the grocery shopping which he takes on after a full day of work, buys more groceries than we need and while attempting and failing to put them away due to lack of room, proceeds to clean the kitchen, which leads to cleaning the living room, garage, office and anything else his to do list of a brain can think up.
My mother is perfectly capable of these tasks, but allows my dad to work himself. Whether that is because getting in my dad's way when he's on a mission is dangerous in itself, or because she simply knows he'll do the work so she doesn't have to, I can't say for sure, but after years of marriage my mother has turned from staying out of his way to passively leaving him to take on a heaping plate of responsibility, that could easily be divided up and passed on out. This family dynamic has absolutely nothing to do with women's liberation or gender in general; it is merely circumstance that is created by individuals in a unique situation.
Though Barry makes a humorous point about the truth behind the stereotype of men, he does not consider the vast amount of variables that can affect this stereotype. As much as I'd like to agree that men are useless, that kind of broad generalization is not truth or fact by any means and therefore I cannot. I have seen firsthand not only the reverse of his example, but a complicated mixture. The roles of men and women are swapped, shared and separated depending on the situation, the individual and the dynamics of certain relationships, not solely on stereotypical gender roles.
Related Topics