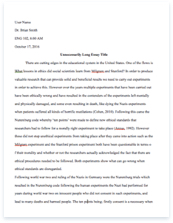 The whole doc is available only for registered users
Pages: 3
Word count: 545
Category: Company
A limited time offer! Get a custom sample essay written according to your requirements urgent 3h delivery guaranteed
Order Now
LEAN manufacturing is a global electronics manufacturing services (EMS) provider located in Flextronics de Mexico (FdM). The company is focused on efficiency and optimization of manufacturing flow. The EMS is a tough business that is driven by thin profit margins. EMS manufacturers rely on leveraging huge economies of scale and purchasing power. These companies focus on return on invested capital (ROIC) as a key metric because it provides a sense of how well a company is utilizing its resources to generate returns. FdM's success relies on how well it can optimize its floor space utilization while increasing capacity. In our case analysis we will examine each of the four different organizations of machinery assuming that the optimal level of production was achieved by introducing the U-shaped cell. Case Analysis:
The initial design that was implemented (long conveyor-paced straight line) required having 24 operators assigned per line with a Takt time of 15 seconds. The actual output of acceptable units was 135-138 pieces per hour totaling 1080-1104 per eight-hour shift. This is below design capacity with only 56.25-57.5% utilization. Reasons for inefficiency include:
* Periodic maintenance of the conveyor belt, defected products and breaks for operators * Conveyor-pace lines have an even rate of movement, therefore, if some workstations are faster or slower in completing their task in the allowed 15 seconds Takt time, a lag of the whole assembly process of the product is created. The second design (long manually paced line) required 22 workers with 15 seconds Takt time. While the efficiency increased the output rate remained constant at 1104 units per shift. Improvement was in labor cost reduction only. Reasons for inefficiency include:
* Takt time was kept at 15 seconds despite the caused stress and variation for workers. This eventually led to more errors, increased waste, thus, driving the production rates to remain the same. The third design (two short lines) required 20 workers with 30 seconds Takt time. Yields increased by 176 units compared to the previous alternative. Improvements are increased yields, increased Takt time and reduced labor cost. Reasons for improvement include:
* Increasing the Takt time to 30 seconds to address the issue of stress. * Cutting the line in half reduce the probability of a lags in the assembly line since it required only 10 operators per line compared to 22. The final design (2 U-shaped cell) required 18 workers with 30 seconds Takt time using only half the space for other alternatives. Improvements, increased yield production to meet the total demand of 1920 units, reduced labor cost and floor space. Reasons for improvement include:
* U-shaped work cells are close and easier to manage thus requiring fewer operators * U-shaped work cells provide better work distribution between operators * Operators could communicate better in this optimal layout, thus, reducing the quality defects of the products as well as the incurred lag time * U-shaped cell required less floor space, thereby increasing the design capacity and the actual output
Conclusion:
FdM's target was to fulfill its customer needs within the allowed time per day. By establishing the U shape design they were able to increase operator productivity and produce more units per labor while eliminating the lag time along production line.
Related Topics